Bruce relishes role on Hooton Foundation board
Relievers Hanhold, Peterson headline first wave of September callups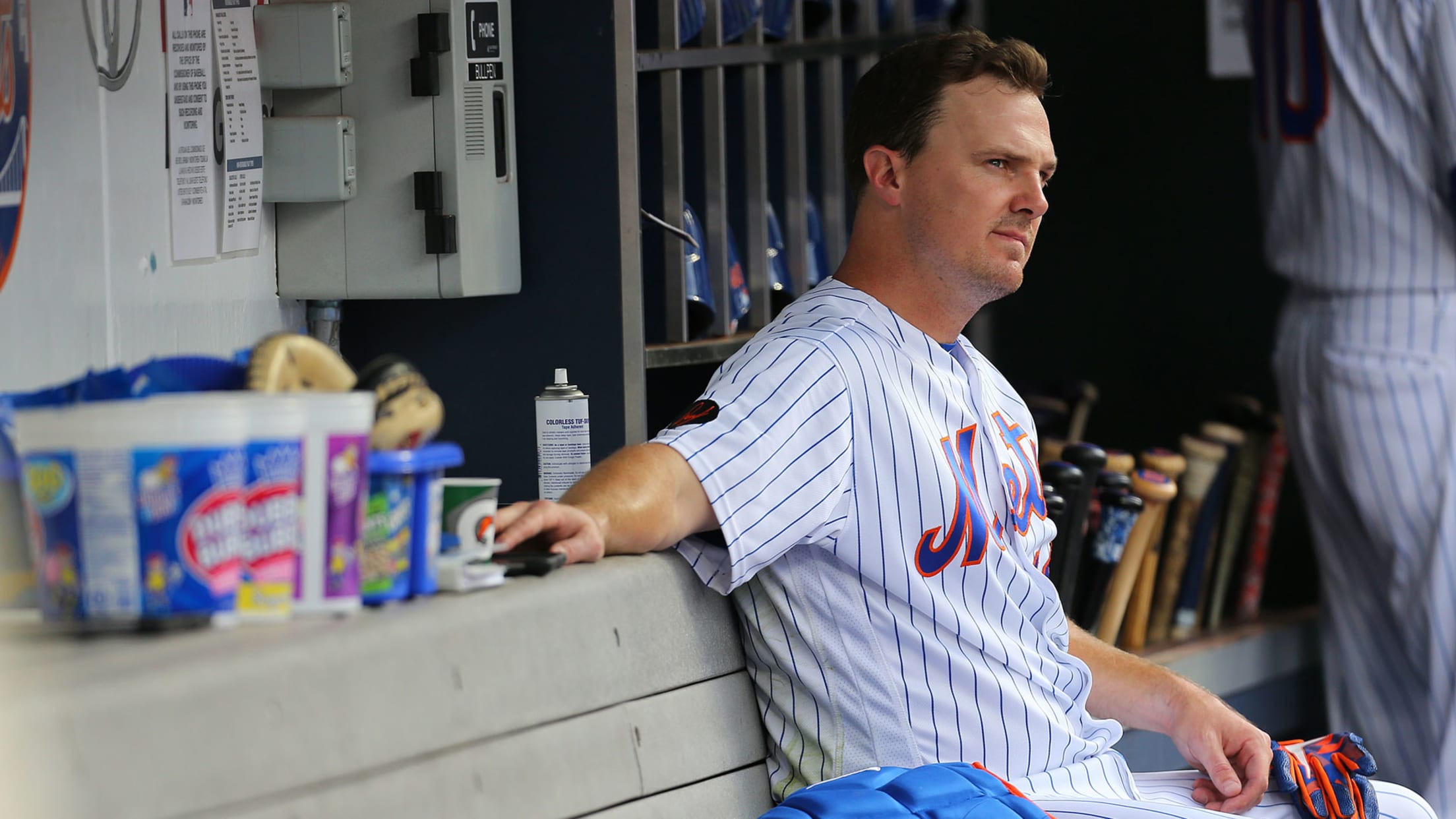 SAN FRANCISCO -- Earlier this year, the Taylor Hooton Foundation approached Jay Bruce, asking if he would like to be a member of its advisory board of active players from around Major League Baseball. Bruce, an 11-year veteran who has spoken out in the past about performance-enhancing drugs, snapped at
SAN FRANCISCO -- Earlier this year, the Taylor Hooton Foundation approached Jay Bruce, asking if he would like to be a member of its advisory board of active players from around Major League Baseball. Bruce, an 11-year veteran who has spoken out in the past about performance-enhancing drugs, snapped at the opportunity.
"It was something that was really easy to get behind," Bruce said. "Once you hear the story and hear who it impacts, it's very serious. … Everyone is looking for a shortcut. And we all found out from our experiences that hard work is the only way you can truly attain those goals and still feel good about your body, and still feel good about your minds as well.
"The reasons are all over the place. But those are some of the things that are very, very important to me."
The Taylor Hooton Foundation was formed in memory of Taylor E. Hooton, a 17-year-old high school athlete from Plano, Texas, who took his own life in 2003 after using anabolic steroids. Hooton's family and friends founded the organization after learning of the growing number of middle school, high school and college students illegally using and abusing anabolic steroids, HHG, unregulated dietary supplements and other performance-enhancing substances.
In 2014, the Hooton Foundation formed its advisory board, recruiting professional athletes to help spread its message. The board has since reached a record 38 players, including Bruce.
"From a personal standpoint, I want to make sure I treat my body well," said Bruce, who became a father in 2016. "I've always had the same mindset, but it's become even more of a reminder for me since I've had children -- to set a good example for them, to be a role model, to be able to hold up my end of the bargain when it comes to what I teach them."
This year, the Hooton advisory board is participating in a public service campaign titled "It's All Me" to continue spreading the word. Members are also taking part in educational activities in their local communities -- for Bruce, in New York City and his hometown in Texas.
"You want a level playing field," Bruce said. "You want everyone to be on the same page. There are so many reasons why, obviously, I do it. … I've always taken a lot of pride in being a guy who does it in a natural way, and I try to take care of my body enough to have a long career and a fruitful career, and be able to hold my head high when it comes to that stuff."
September callups
The Mets' first wave of September callups was a small one. The team on Saturday pulled a pair of relievers up from Triple-A Las Vegas, adding Eric Hanhold and Tim Peterson to the big league roster.
For Peterson, it was his fourth trip to the Majors. For Hanhold, it was his first. A former sixth-round Draft pick of the Brewers, Hanhold came to the organization last summer in the Mets' trade of Neil Walker. He posted a 4.20 ERA with more than a strikeout per inning over four levels this season, missing much of June and July due to an oblique injury.
"It's a life-changing experience," Hanhold said of his debut. "I dreamt of this as a kid and it finally comes true."
The Mets do not plan to make any more callups until the Triple-A season ends on Monday. Among those scheduled to arrive at that time is Dominic Smith, who should receive opportunities at first base and left field down the stretch.