Here are the Mets' 2019 Top 30 Prospects
The Mets played like a playoff-caliber team out of the gate in 2018, winning 17 of their first 26 games through the end of April. Over the next two months, however, the club won just 15 games, posting a 5-21 record in June that marked a low point in their
The Mets played like a playoff-caliber team out of the gate in 2018, winning 17 of their first 26 games through the end of April. Over the next two months, however, the club won just 15 games, posting a 5-21 record in June that marked a low point in their season.
The Mets recovered to play .500 baseball over the next two months, then finished the regular season on a high note, with the team's core starting pitchers and its crop of younger position players all making developmental strides and performing well down the stretch. After the season, the Mets hired former agent Brodie Van Wagenen as their new GM, replacing Sandy Alderson.
Top 30 Prospects lists
| | |
| --- | --- |
| AL East | BAL, BOS, NYY, TB, TOR |
| NL East | ATL, MIA, NYM, PHI, WSH |
| AL Central | CLE, CWS, DET, KC, MIN |
| NL Central | CHC, CIN, MIL, PIT, STL |
| AL West | HOU, LAA, OAK, SEA, TEX |
| NL West | ARI, COL, LAD, SD, SF |
| Division | Team |
Van Wagenen's first move as GM was the blockbuster deal that sent right-hander Justin Dunn and outfielder Jarred Kelenic, the Mets' respective first-round picks from the 2016 and '18 Drafts, to the Mariners as part of the deal to get Robinson Canó and Edwin Díaz. The trade underscored that the new front-office regime was open to pursuing "win now" talent more creatively -- albeit at the expense of the farm system they had inherited.
So while there are 24 homegrown players on the new Mets Top 30 list, it's only fair to wonder how different the list could look a year from now as the front office continues to address its short-term needs.
Speaking of short-term needs, Mets top prospect Peter Alonso, who tied for the Minor League home-run lead and led outright in RBIs last season, could be the farm system's lone impactful contributor in 2019.
The real strength of New York's system is its contingent of young, high-ceiling infielders that it's assembled through aggressive international signings and strong drafting. Within the next couple years, players such as Andres Gimenez, Ronny Mauricio and Mark Vientos all could become household names for Mets fans -- if they're not traded first, that is.
Here's a look at the Mets' top prospects:
1) Pete Alonso, 1B
2) Andres Gimenez, SS
3) Ronny Mauricio, SS
4) Mark Vientos, 3B
5) Shervyen Newton, SS
Biggest jump/fall
Here are the players whose ranks changed the most from the 2018 preseason list to the 2019 preseason list:
Jump: Newton (2018: NR | 2019: 5) -- Signed out of the Netherlands for $50,000 back in 2015, Newton showed across-the-board tools during an impressive U.S debut.
Fall: Jhoan Urena, OF (2018: 17 | 2019: NR) -- In his first Double-A campaign, Urena matched his career high with 14 homers but also moved down the defensive spectrum, going from third base to right field.
Best tools
Players are graded on a 20-80 scouting scale for future tools -- 20-30 is well below average, 40 is below average, 50 is average, 60 is above average and 70-80 is well above average. Players in parentheses have the same grade.
Hit: 60 - Gimenez
Power: 60 - Alonso
Run: 60 - Desmond Lindsay
Arm: 65 - Ali Sanchez
Defense: 60 - Gimenez (Sanchez)
Fastball: 65 - Eric Hanhold
Curveball: 60 - Ryley Gilliam (Thomas Szapucki)
Slider: 60 - David Peterson
Changeup: 55 - Anthony Kay (Peterson, Tony Dibrell, Kyle Dowdy)
Control: 60 - Peterson (Junior Santos, Jordan Humphreys)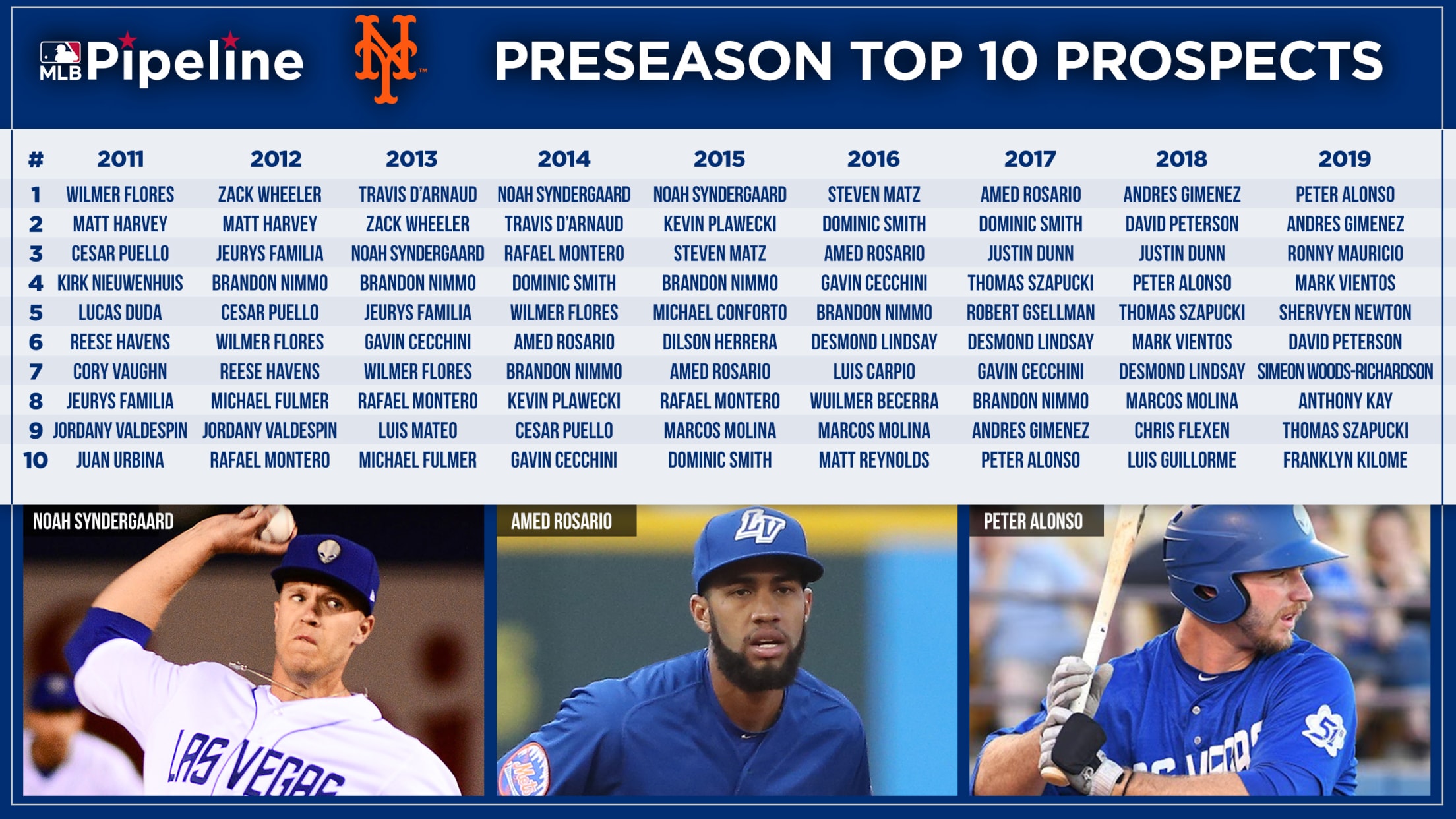 .
How they were built
Draft: 16 | International: 8 | Trade: 5 | Free agent: 0 | Rule 5: 1
Breakdown by ETA
2019: 8 | 2020: 10 | 2021: 5 | 2022: 5 | 2023: 2
Breakdown by position
C: 4 | 1B: 1 | 2B: 2 | 3B: 2 | SS: 3 | OF: 3 | RHP: 11 | LHP: 4