Rumors aside, Syndergaard part of Mets' future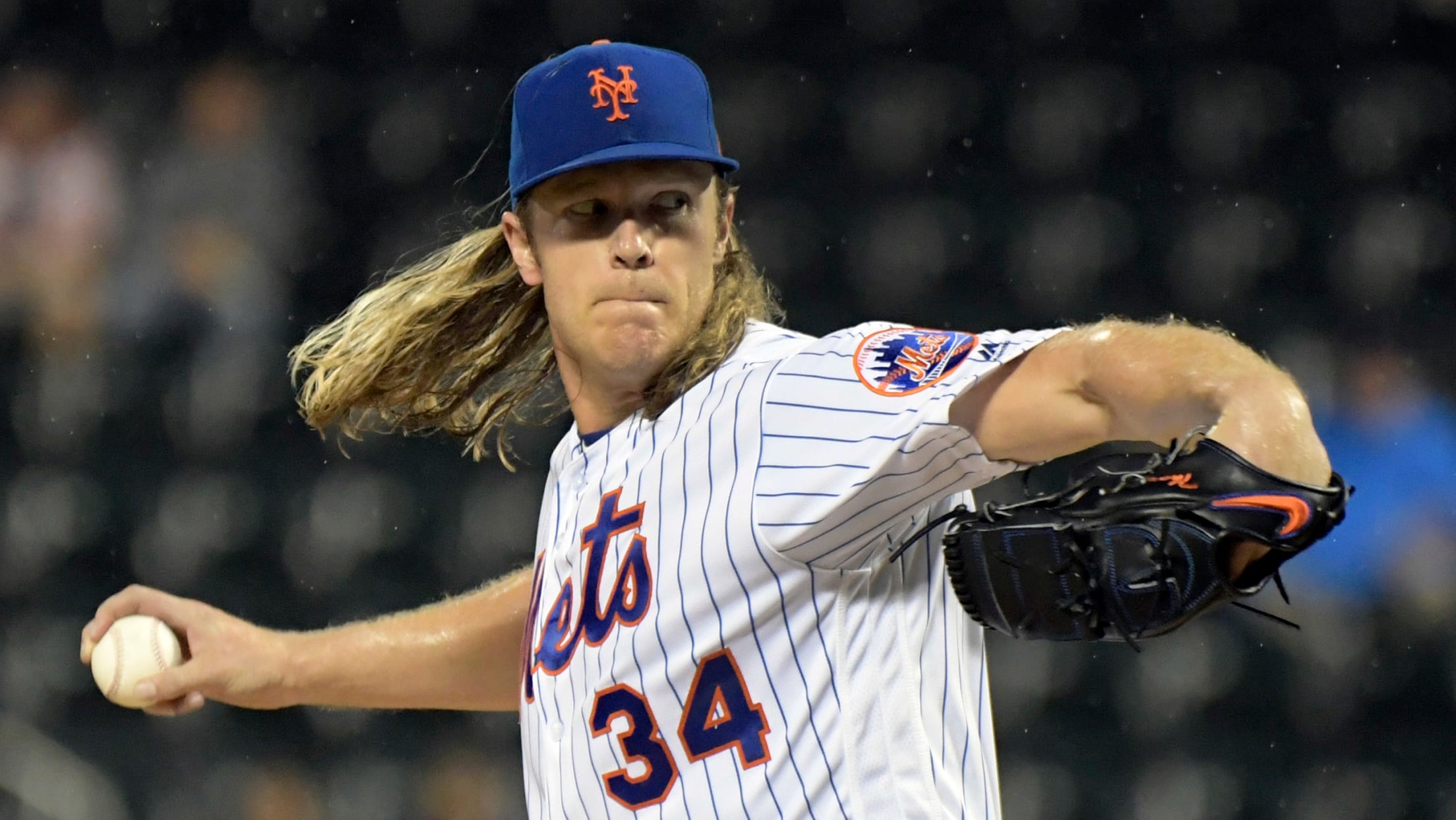 NEW YORK -- Regardless of the rumors that have swirled around him for much of this offseason, Noah Syndergaard does not appear to be going anywhere.After introducing Robinson Cano and Edwin Diaz as the newest Mets on Tuesday, general manager Brodie Van Wagenen said he does not consider a Syndergaard
NEW YORK -- Regardless of the rumors that have swirled around him for much of this offseason, Noah Syndergaard does not appear to be going anywhere.
After introducing Robinson Cano and Edwin Diaz as the newest Mets on Tuesday, general manager Brodie Van Wagenen said he does not consider a Syndergaard trade part of the team's roster makeover.
• Cano, Diaz introduced at Citi Field
"He's critical to what we're trying to do now," Van Wagenen said. "I think it would have to be very special circumstances for us to even consider moving Noah Syndergaard. This deal puts us in a position where now we want to build around this core."
Although Syndergaard has made just 32 starts the past two seasons due to various injuries and illnesses, he remains a dynamic pitcher when healthy. This year, he went 13-4 with a 3.03 ERA, striking out 155 batters in 154 1/3 innings. The Mets are also dependent upon Syndergaard for bullpen depth; beyond him, Jacob deGrom, Zack Wheeler and Steven Matz, the Mets' rotation choices consist of Jason Vargas, Corey Oswalt and a small collection of others without much big league experience.
Regardless, rumors surfaced last month that the Mets were shopping Syndergaard and that various teams, including the Padres and Rockies, had interest. Reports that the Mets are also interested in Indians ace Corey Kluber did nothing to dispel the notion that they could trade Syndergaard -- a notion that Van Wagenen all but put to rest on Tuesday.
• Callaway 'excited' with Cano, Diaz joining Mets
When asked what the return would have to be on a Syndergaard trade, chief operating officer Jeff Wilpon replied: "Big. Big."
"He's a very important part of the team," Wilpon said. "And unless Brodie gets what he feels is more than fair, I don't think he's going to make a deal to pull the trigger on that."
Insurance matters
Wilpon said he is having "ongoing conversations" with the Mets' insurance company regarding David Wright, who remains on the team's 40-man roster despite being medically unable to play. Wright, who is not technically retired, must remain on the roster all winter unless the Mets can strike a deal with their insurance company to remove him from it.
The Rangers negotiated a similar deal for Prince Fielder last year, allowing them to recoup the 40-man spot that Fielder was occupying. While the Mets still have flexibility on their 40-man roster, they could quickly lose it via free agent signings and trades.
The Mets' policy on Wright allowed them to recoup 75 percent of his salary for the games he missed the past two seasons, minus a deductible. In the past, Wilpon has said he considers Wright's full salary part of the payroll. But Wilpon indicated Tuesday that he now intends to invest "some of" the insurance money he is collecting from Wright and Yoenis Cespedes back into player payroll.
"It's absolutely opened up," Wilpon said of the Mets' payroll. "Brodie understands the parameters that we're working in."
Odd man out
Rumored to be a part of the Cano deal, second baseman Jeff McNeil now finds himself without a position. Van Wagenen said the Mariners asked for McNeil in the trade, but the Mets kept the infielder because "Jeff gives us the perfect fit on our roster."
"McNeil's been a really popular player from a lot of teams, and the Mariners definitely were interested in putting him in the deal," Van Wagenen said. "We were resistant to it from the beginning. We like Jeff."
How much McNeil plays will depend on a number of factors, including Cano's health at age 36, Todd Frazier's production at third base and what the Mets decide to do with Peter Alonso and Dominic Smith at first. If nothing else, the team's non-tender of Wilmer Flores opens up a clear job for McNeil on the bench.
Options at catcher
The Mets' decision to tender Travis d'Arnaud a contract was made at least in part with the expectation that he can play other positions next season. In addition to catcher, Van Wagenen listed d'Arnaud as a candidate to see reps at first base, third base and in left field.
Of course, that won't happen if the Mets stand pat at catcher, keeping d'Arnaud and Plawecki as their primary options. But Van Wagenen said the Mets remain active in looking for a defensive upgrade at the position, despite tendering d'Arnaud.
"We like both of our catchers," Van Wagenen said. "We went into this saying if we can improve our defense behind the plate, then we would look to do that. But we're not going to do it at the expense of making our team better. Travis, we're assuming he's going to come back healthy. With his bat behind the plate, it's a competitive advantage for us."
If the Mets are indeed after defense, Martin Maldonado is the free agent who best fits that bill. It appears unlikely the Mets will attempt to sign Yasmani Grandal or Wilson Ramos, the two most prolific offensive catchers on the open market. They are also unlikely to spring a trade for Marlins All-Star J.T. Realmuto.