No concern over Cespedes' slow start
Outfielder 2-for-16 with 7 strikeouts through first 18 plate appearances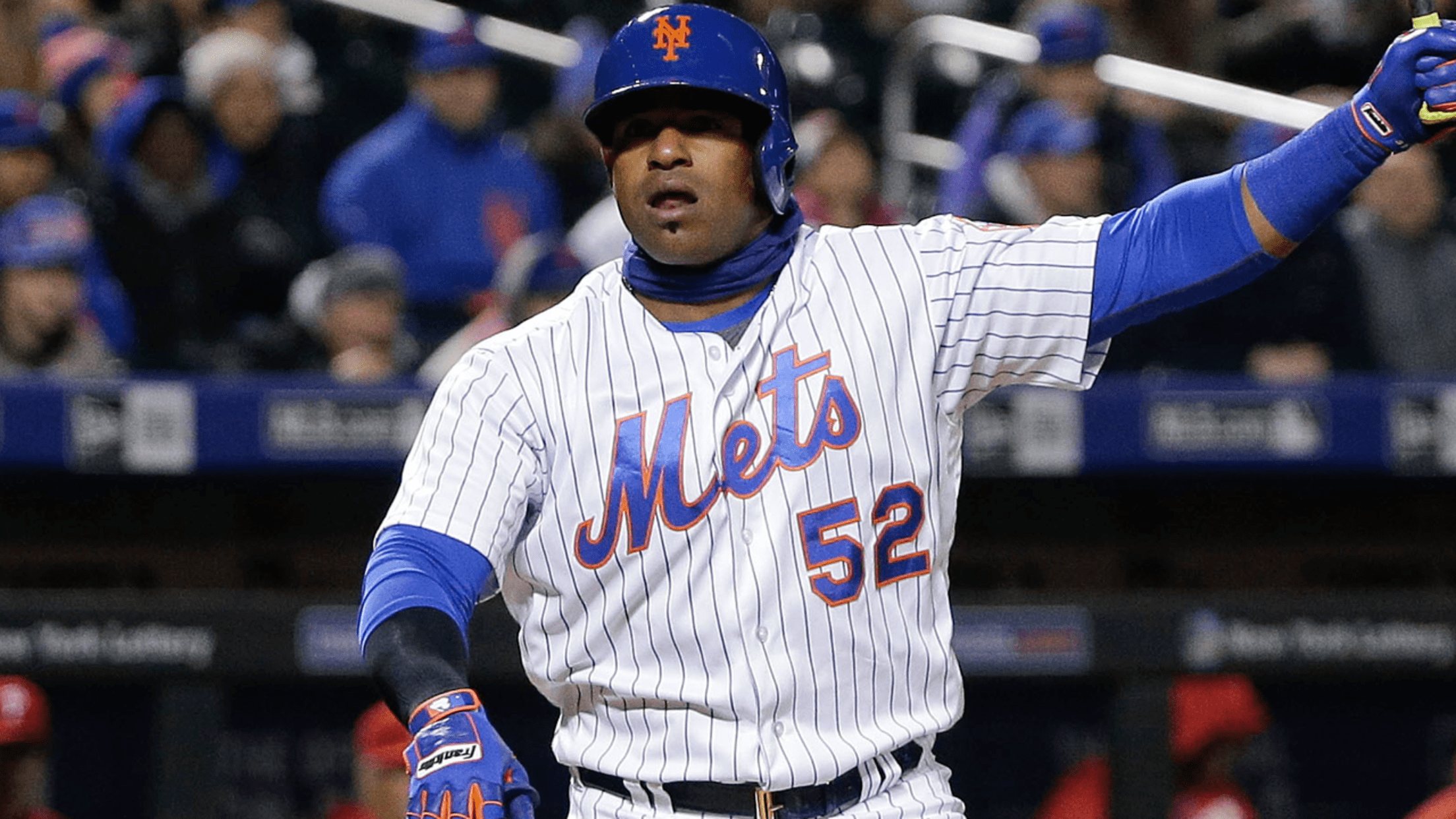 Yoenis Cespedes went 0-for-4 in the Mets' 1-0 loss to the Phillies Saturday night. (AP) (AP)
NEW YORK -- On the day Yoenis Cespedes showed up to his first Spring Training with the Mets, hitting coach Kevin Long spoke to the importance of shrinking Cespedes' strike zone. To make sure Cespedes could replicate last year's career-best offensive numbers, or perhaps even improve upon them, Long knew
NEW YORK -- On the day Yoenis Cespedes showed up to his first Spring Training with the Mets, hitting coach Kevin Long spoke to the importance of shrinking Cespedes' strike zone. To make sure Cespedes could replicate last year's career-best offensive numbers, or perhaps even improve upon them, Long knew his pet project would need to curb his aggression.
Through four games, the Mets have seen none of that from their $75 million investment. Striking out three times in four at-bats during Saturday's 1-0 Mets loss to the Phillies, Cespedes twice elicited boos from a frozen Citi Field crowd. He is 2-for-16 with seven strikeouts in 18 plate appearances, though the sample size remains small enough to quell concern for now.
"I'm not worried at all," Cespedes said through an interpreter. "It's just a timing issue, I think. Over time, when the games start kicking in, everything will settle in."
Cespedes' final at-bat Saturday was a case study in what Mets manager Terry Collins and Long are trying to prevent. After working his way into a 3-1 count against Phillies reliever David Hernandez, Cespedes swung through a 92-mph fastball at the letters to run the count full. Hernandez then threw a breaking ball into the opposite batter's box, which Cespedes flailed at for strike three.
"I think he's chasing out of the zone a little too much," Collins said. "But we certainly think he might duplicate what he did last year when it starts to get a little warmer."
Defensively, Cespedes has also looked out of sorts early in the season. In addition to his dropped fly ball on Opening Night, which resulted in the Royals' first run, Cespedes spun around awkwardly Saturday before recovering to catch Peter Bourjos' routine fly ball in the eighth. Minutes later, the aforementioned strikeout resulted in another round of boos from a small, but spirited Citi Field crowd.
"We have a passionate fan base," Collins said. "One thing I know is they want to win. When you strike out or you make a big out, it's just part of playing here. They want to win and we do, too. Nobody feels worse than Yoenis, I can tell you that. Nothing surprises me here when you're supposed to win.
"I think he's played enough games in this town to know that the expectations are high with every player, especially when you're a star. It's just … one night. Tomorrow he'll get three hits and they'll be giving him a standing ovation."