Revere-Storen swap benefits all parties
Blue Jays, Nationals use surpluses to address pressing needs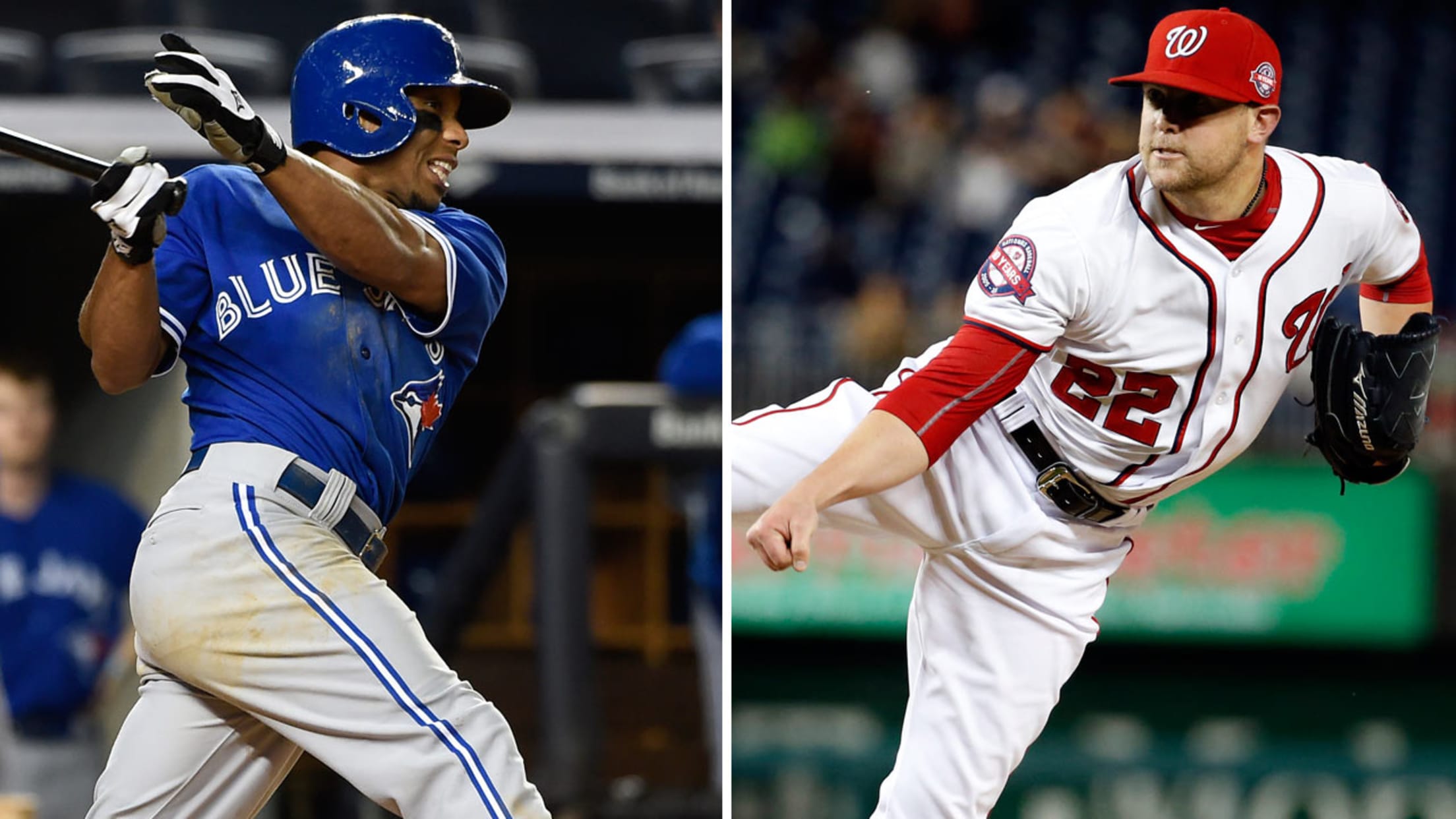 The trade that sent Ben Revere from the Blue Jays to the Nationals for Drew Storen is a winner for both clubs. (AP)
In a world overcome by long-term contracts, opt-out clauses, team options, player options and buyouts came a trip back to the good old days late on Friday night.There was actually a trade between two anticipated contenders, both of whom had a surplus, both of whom had a need, and both
In a world overcome by long-term contracts, opt-out clauses, team options, player options and buyouts came a trip back to the good old days late on Friday night.
There was actually a trade between two anticipated contenders, both of whom had a surplus, both of whom had a need, and both of whom were anxious to address their concerns.
Presto. Reliever Drew Storen is now a member of the Blue Jays. Center fielder Ben Revere is with the Nationals.
Both teams and players are better for it.
• Hot Stove Tracker
Of course, there was some cash that changed hands -- can't totally ignore the modern-day way of doing things. The Nats will send roughly $1 million to the Jays, having agreed to split the difference between the $8.8 million Storen is guaranteed and the roughly $6.8 million Revere figures to wind up with as a result of arbitration leverage.
That, however, was just a side note. It wasn't the reason for the deal. It wasn't a hangup in making the deal.
This deal was made because Toronto needed a veteran presence in the back end of its bullpen -- enter Storen. This deal was made because Washington needed a left-handed bat, a leadoff hitter and a center fielder -- and Revere fills all three voids.
This move provides Storen with a fresh start after the dismal final months of last season, when he went from one of the game's most dominant closers through the end of July to a setup man turned mop-up man after Jonathan Papelbon's arrival.
Whether Storen will close in Toronto or not remains to be seen.
The Blue Jays do return Roberto Osuna, who assumed the closer's role a month into last season. Osuna, who turns 21 on Feb. 7, converted his first 16 saves after taking over ninth-inning duties. But he hit a speed bump in September, allowing eight earned runs in 12 innings of 13 appearances in which he converted four out of six save opportunities.
Storen can sympathize. He lost the closer's job three times during his tenure in Washington, including last July 30 when -- despite the fact Storen had converted 29 of 31 saves and had a 1.64 ERA at the time -- the Nationals acquired Papelbon from the Phillies and gave him the ninth-inning job. Storen blew his only three save opportunities over the final two months, as he compiled a 7.56 ERA and made it known he wanted out of town.
There's no guarantee the ninth inning will belong to Storen in Toronto, but he knows that coming in. He has, after all, converted 82.5 percent of his big league save opportunities (90 of 109) over the past five seasons and has a 2.91 ERA. But it's difficult to overlook what Osuna did in his rookie campaign.
That's a decision the Blue Jays will make this spring. Does Storen or Osuna get the ninth inning? Does one of them become the setup man? Does Osuna get a shot to move into a rotation that needs to fill the holes created by the departures of Mark Buehrle and David Price?
What is known is the Blue Jays need to win now, which is why they didn't flinch at the fact Storen will be free-agent eligible at season's end. The foundation of their lineup, Edwin Encarnacion and Jose Bautista, are also entering the final year of their contracts, along with starting pitcher R.A. Dickey.
They have youth to infuse the outfield with in place of Revere, who provided a major lift to Toronto's battle to claim the American League East after his arrival in late July after a trade with Philadelphia. The Blue Jays are looking for a way to provide playing time to a couple of Canadian-born outfielders -- Michael Saunders from Victoria, British Columbia, and prospect Dalton Pompey from the Toronto suburb of Mississauga.
The Nationals, meanwhile, were looking for a way to undo the late-inning logjam created by the presence of Storen and Papelbon. Storen was the one of the two who could bring a return that allowed the Nats to fill the center-field/leadoff voids created by the loss of free agent Denard Span, who signed with the Giants on Thursday.
Enter Revere, who also gives the Nationals a third left-handed-hitting regular along with recently signed second baseman Daniel Murphy and reigning National League MVP Award winner Bryce Harper.
Given a chance to play every day the past two seasons, Revere -- two seasons removed from free-agent eligibility -- has been in the upper echelon of leadoff hitters with a minimum 1,000 plate appearances in the top spot over the past two years.
Revere is third with 71 stolen bases and an 83.5 percent success ratio in thefts. His .308 average is second to only Dee Gordon, and his .333 on-base percentage is fourth behind Adam Eaton, Charlie Blackmon and Gordon.
Revere is just what the Nats needed, just like Storen was just what the Jays needed.
It was a nice flashback to the good old days of the offseason Hot Stove League, when the focus was on the players, not the financial implications.