Inbox: Is Hellickson locked into rotation spot?
Beat reporter Jamal Collier answers fans' questions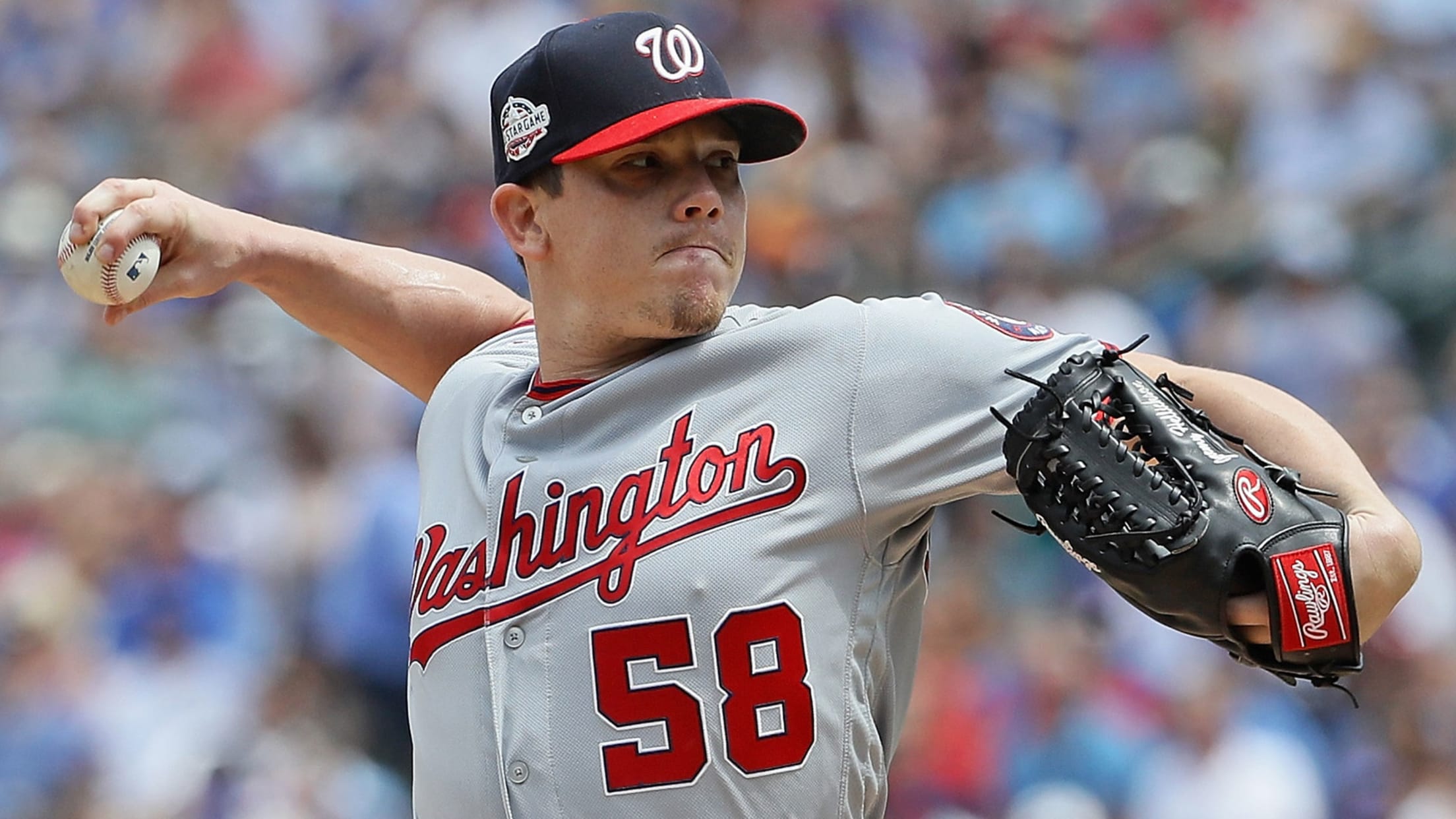 WASHINGTON -- What has been a busy offseason continued this week for the Nationals when they agreed to bring back starter Jeremy Hellickson on a one-year deal. The front office has spent the winter revamping the roster to turn it back into a contender, and even with Bryce Harper still
WASHINGTON -- What has been a busy offseason continued this week for the Nationals when they agreed to bring back starter Jeremy Hellickson on a one-year deal. The front office has spent the winter revamping the roster to turn it back into a contender, and even with Bryce Harper still lingering as a free agent, the Nats will be considered one of the favorites in the National League East.
Before pitchers and catchers report to West Palm Beach, Fla. for the start of camp, it's time for the final Nationals Inbox of the offseason. And with rumors of two new rule proposals being discussed, Nationals fans are wondering how their team might be affected.
:: Submit a question to the Nationals Inbox ::
Do you think they see him as the #5 starter or is he going to come out of the bullpen with Ross as #5?

— Robert Carlson (@rcarlson85) February 6, 2019
I think Hellickson is safe to pencil in as the probable fifth starter. The Nationals will say it's an open competition during the spring and will give someone like Joe Ross a chance to blow them away and grab the job, but I think they see Hellickson as their fifth-best starter right now. You don't go sign the guy to a guaranteed deal a week before camp if that's not the case. I also think Ross is a little bit of a better fit coming out of the bullpen considering Hellickson has come out of the bullpen seven times in his nine-year career, six of which came during a partial stint in the Majors in 2010. I don't think they signed him to make that transition right away. More importantly, adding Hellickson just gives them more options at the back of their rotation, which they were lacking.
Who would the nats use at DH if it was approved this year? Would they sign someone new for it? Maybe have Ryan Zimmerman do it to extend his career?

— Brett Whitney (@Brett_M_Whitney) February 6, 2019
First, let's be clear: This is still only hypothetical, based on reports. There is no indication that expansion of the DH is imminent or even certain.
If the Nationals were granted a designated hitter in 2019, they actually already have a very good candidate on the roster in Matt Adams. It could also open up a way to get Howie Kendrick's bat in the lineup more often, potentially using those two as a platoon. The Nats are one of the few teams in the NL who already have a solution ready on the roster. I do think Ryan Zimmerman would get his fair share of opportunities there and it would carve out a path for him to finish his career in Washington.
Having a DH in the lineup could help solve the potential for a logjam in the outfield if the Nationals re-signed Harper, opening up an extra spot in the lineup to fit Harper, Juan Soto, Victor Robles and Adam Eaton. Because the Nationals are already approaching the competitive balance tax threshold, I do not think they would be likely to add another bat just to DH, especially with pretty good candidates already on the roster.
I am very pro universal DH, a stance I get destroyed for by a good portion of Nats fans on Twitter, but I proudly stand by it. Yes, it was fun to watch Max Scherzer last year, but he still was not close to any level of even an average hitter -- his 45 OPS+ means he was 55 percent below league average. I'd much rather watch one of those other options bat.
Why wouldn't the Nats just blow past the luxury tax again at this point? The Hellickson signing puts them at around $9.8M under the tax, but incentives that Rosenthal, Sanchez and Hellickson could earn, plus any potential mid-season trade, they're likely to go over again anyways.

— Danny Kelly (@Nats_Baseball) February 6, 2019
Well, from the Nationals' perspective, if they are determined to avoid the competitive balance tax, they need to give themselves flexibility for those things to happen. I'm speculating here, but if all those incentives hit and they end up adding payroll at the Deadline, they probably have a good chance at going to the postseason, so perhaps they could live with that. Or, you might see some moves to shed salary or reluctance to add salary at the Deadline. But they have not shown any willingness to go over the luxury tax to add any player other than Harper.
Can we hope to see Trea Turner steal more this year like he used to under the Dusty Baker regime?

— Zay (@bud_zay) February 7, 2019
Trea Turner led the NL with 43 stolen bases last year, and yet, it's a fair question as to whether he should have run more. He batted second a lot more often last year -- directly in front of Harper -- and Turner has admitted some difficulty in balancing when to run against when to let Harper hit. If Harper does not re-sign with the Nationals, I expect Turner will be a lot more aggressive, even though he will still have a very good hitter behind him. There were times when manager Dave Martinez experimented with hitting Turner sixth to allow him to be more of a pure hitter and swing away, but Martinez regularly put Turner in the top of the lineup in the second half. Turner's spot in the batting order will be a huge factor in how often he runs on the bases in 2019.
How does the new Doolittle-Rosenthal-Baraclough lawfirm stack up against the old Doolittle-Madson-Kintzler law firm?

— Zay (@bud_zay) February 7, 2019
In some ways, this year's bullpen feels like much more of an uncertainty than last year, when the Nationals were banking on three proven veterans to duplicate their performances from a year earlier. While Sean Doolittle made the NL All-Star team and posted a career-low 1.60 ERA, both Ryan Madson and Brandon Kintzler were injured, inconsistent and traded to the Dodgers and Cubs, respectively. Relievers can be unpredictable at times.
This year, the Nationals are banking on a pair of bounceback candidates. Their faith is higher in Trevor Rosenthal, even though he missed all of 2018 recovering from Tommy John surgery. But after an impressive showcase this winter, the Nats left with no doubts about whether he is healthy and believe he will return to his pre-injury form, when he was one of the best relievers in the NL. And with Kyle Barraclough, he will have to bounce back a bit from a down year in '18, but he was dominant in the first half of the season and the Nats still believe in his stuff.
what are your thoughts on the 3 batter proposed rule?

— hippiegirl (@karen01387555) February 6, 2019
I don't mind it. I think it can add some interesting strategy to the game (i.e. Do you bring in this lefty here to face Harper knowing he will have to face two righties after?) and can help decrease the number of pitching changes. It could make starting pitchers more valuable and give teams more incentive to leave a starter in past the fifth inning. And more than anything, the greater number of pitching changes and time in between the changes slows the game down. I'd be willing to see what the three-batter rule looks like.