Thursday's top prospect performers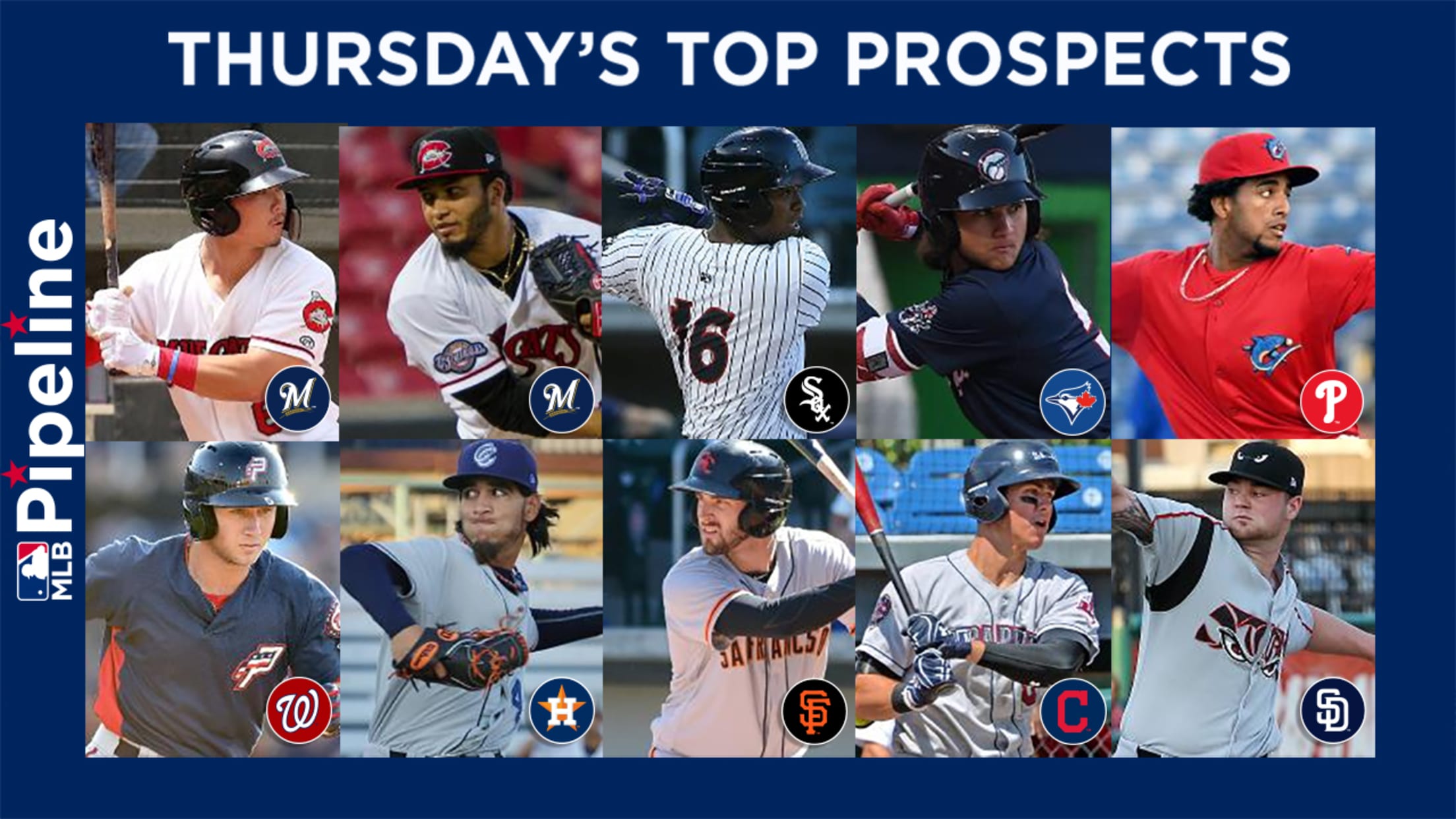 Here's MLB Pipeline's roundup of the top prospect performances in the Minor Leagues on Thursday.:: Complete prospect coverage ::After a career night at the plate in the Carolina League, Keston Hiura is moving up to Double-A.The Brewers' No. 1 prospect (No. 49 overall) was perfect at the plate on Thursday,
Here's MLB Pipeline's roundup of the top prospect performances in the Minor Leagues on Thursday.
:: Complete prospect coverage ::
After a career night at the plate in the Carolina League, Keston Hiura is moving up to Double-A.
The Brewers' No. 1 prospect (No. 49 overall) was perfect at the plate on Thursday, going 5-for-5 with a pair of solo home runs in Class A Advanced Carolina's 9-0 win over Lynchburg. The five hits and two home runs both marked new career highs for Hiura, who also scored three runs in the contest.
Following the game, it was announced by Mudcats manager Joe Ayrault that the 21-year-old second baseman would be promoted to Double-A Biloxi on Friday.
"It was funny because tonight, the game he was having, a couple of fans were yelling, 'Send this guy up!'" Ayrault told MiLB.com. "I was kind of laughing to myself like, 'Yeah, well he is going up after tonight's game,' so it was a great finish to his Carolina stint this season."
After notching three singles in as many at-bats -- he reached in the first inning on what initially was ruled an error, only to later be changed to a hit -- Hiura opened the seventh inning with a leadoff homer to left field and then added another solo shot to the opposite in the ninth.
Hiura found his groove offensively during the second half of May and closed out the month by batting .450 with three homers and seven doubles over his final 14 games. Altogether, the 2017 first-rounder (No. 9 overall) posted a .316/.377/.524 batting line with 38 runs scored and 23 RBIs over 50 games in the Carolina League. Of his 65 hits, Hiura compiled seven home runs, 16 doubles and three triples.
"Everybody knew when he came in that we drafted a great bat," Ayrault said. "Our scouts did a heck of a job getting him. From Day 1, he's hit. The guy is locked in. He's a baseball player.
"He's one of those guys who's just flat-out a pure professional hitter. At this stage of the game, it's tough for me to compare the guys that I've been around, watching them hit. This guy's just a professional hitter. He uses the whole field. He's got power to all fields and good plate discipline."
Marcos Diplan (No. 11) paced Carolina on the mound by racking up a season-high 10 strikeouts over 5 2/3 scoreless innings to record his second win in 11 starts. The 21-year-old right-hander allowed four hits and two walks in the outing, throwing 60 of his 95 pitches for strikes.
The scoreless performance was Diplan's third in as many starts, and he's now allowed just three earned runs in his last 24 2/3 frames (five starts) to lower his ERA from 5.06 to 3.16.
The rest of the best performances from top prospects Thursday
• No. 3 overall prospect Eloy Jimenez's (White Sox No. 1) first-inning home run was all the run support right-hander Spencer Adams (No. 14) needed as Double-A Birmingham blanked Chattanooga, 3-0. Jimenez's homer, a three-run shot, was his 10th this season and also extended his hitting streak to 10 games. Overall, the 21-year-old has produced a .331/.373/.623 batting line with 24 extra-base hits and 39 RBIs in just 38 games. Adams dominated in his best start of the season, working eight scoreless frames of two-hit ball with six strikeouts.
• No. 10 overall prospect Bo Bichette (Blue Jays' No. 2) belted his fourth home run as he collected multiple hits for the third time in four games for Double-A New Hampshire. The 20-year-old shortstop put his team on the board with a leadoff home run and later added a single to finish 2-for-5 with two RBIs. He's hitting .412 with three homers, 10 RBIs and 10 runs scored over his last nine contests, during which he's improved his season average from .244 to .272.
MILB Video - Title: Bichette belts solo homer - Url: http://www.milb.com/r/video?content_id=2105568283
• No. 78 overall prospect Adonis Medina (Phillies' No. 2) was sharp in a second straight start for Class A Advanced Clearwater, allowing one unearned run on three hits in seven innings. Throwing 59 of his 87 pitches for strikes, Medina issued one walk, struck out six and generated 13 ground-ball outs. The 21-year-old righty has given up just one earned run on six hits in his last 12 innings, during which he's lowered his ERA from 6.67 to 4.97.
• No. 81 overall prospect Carter Kieboom (Nationals' No. 3) delivered a grand slam with two outs in the fourth inning and finished 2-for-4, but it wasn't enough to keep Class A Advanced Potomac from falling to Salem, 10-8, in Game 2 of a doubleheader. The 20-year-old shortstop has hit three grand slams this season, all against Salem. He finishes the month with a .391/.458/.576 batting line on the heels of hitting .198/.308/.347 in April.
MILB Video - Title: Kieboom hits grand slam - Url: http://www.milb.com/r/video?content_id=2106122383
• Astros' No. 6 prospectCionel Perez posted five scoreless innings in a no-decision for Double-A Corpus Christi to lower his ERA to 1.66, the best mark in the Texas League among hurlers with at least 40 innings. The 22-year-old lefty allowed three hits and one walk while striking out seven and throwing 51 of his 72 pitches for strikes.
• Brewers' No. 23 prospect Zack Brown posted a career-high 10 strikeouts over seven scoreless innings to lead Double-A Biloxi past Mississippi, 9-1. The 23-year-old righty permitted four hits and did not issue a walk, throwing 65 of his 86 pitches for strikes. He's pitched to a 2.76 ERA with 62 strikeouts, 17 walks and a .227 opponents' average in 65 1/3 innings (11 starts).
• Giants' No. 3 prospectSteven Duggar filled out the box score by going 4-for-5 with four extra-base hits and three runs scored out of the leadoff spot in Triple-A Sacramento's 7-3 win over El Paso. All four of his hits were for extra bases, as Duggar racked up three doubles, pushing his season total to 12, and a triple in the victory.
MILB Video - Title: Duggar's third double - Url: http://www.milb.com/r/video?content_id=2105961083
• Indians' No. 5 prospect Nolan Jones and Oscar Gonzalez (No. 18) both doubled and homered while combining for six hits and five RBIs in Class A Lake County's extra-inning loss against Lansing. Jones went deep for a second straight game and the third time in his past four contests to finish 2-for-5 with three RBIs. Gonzalez, meanwhile, tallied a career-best four hits (4-for-5) including his seventh home run.
• Nationals' No. 9 prospect Daniel Johnson tallied three hits (including two doubles) and scored three runs out of the leadoff spot and Drew Ward (No. 26) blasted a grand slam en route to a career-best six RBIs for Double-A Harrisburg in a 12-2 rout of Hartford. Johnson finished 3-for-5 at the plate, giving the 22-year-old outfielder a .318 average and 10 runs scored over his past 10 contests. Ward has also been hot over his last 10 games, posting a .333 average with eight extra-base hits and 14 RBIs. Right-hander Jefry Rodriguez (No. 16) was exceptional on the mound as he allowed two unearned runs on one hit in six innings, striking out nine and walking three.
• Padres' No. 8 prospectLogan Allen and reliever Jason Jester tossed a combined no-hitter for Double-A San Antonio in a 6-0 win against Tulsa. The 21-year-old lefty worked seven innings, issuing five walks and striking out seven while throwing a season-high 105 pitches (67 strikes). He's struck out at least six batters in each of his 11 starts for the Missions, totaling 76 strikeouts in 66 2/3 innings to go along with a 7-2 record and a 3.24 ERA. No. 7 overall prospect Fernando Tatis Jr. backed Allen with a two-run home run, his 10th this season. The 19-year-old shortstop finished May with a .336/.414/.639 slash line after hitting .177/.231/.333 in April.