Here are the Nationals' 2019 Top 30 Prospects
There's something to be said about the Nationals' track record of scouting, signing and developing international prospects. The decision to call up 19-year-old outfielder Juan Soto to the Major Leagues last May seemed aggressive at the time, even if only because he had opened the season in the Class A
There's something to be said about the Nationals' track record of scouting, signing and developing international prospects.
The decision to call up 19-year-old outfielder Juan Soto to the Major Leagues last May seemed aggressive at the time, even if only because he had opened the season in the Class A South Atlantic League one month prior, on the heels of an injury-plagued 2017 campaign. But Soto was anything but overmatched, looking comfortable and confident in all facets of the game from Day 1 en route to one of the best rookie seasons in baseball history.
Top 30 Prospects lists
| | |
| --- | --- |
| AL East | BAL, BOS, NYY, TB, TOR |
| NL East | ATL, MIA, NYM, PHI, WSH |
| AL Central | CLE, CWS, DET, KC, MIN |
| NL Central | CHC, CIN, MIL, PIT, STL |
| AL West | HOU, LAA, OAK, SEA, TEX |
| NL West | ARI, COL, LAD, SD, SF |
| Division | Team |
Before he took MLB by storm, however, Soto ranked as the No. 2 prospect on Washington's Top 30 list, behind fellow tooled-up Dominican outfielder Victor Robles. Although it took a Robles injury in Triple-A to open the door for Soto, it also means that Robles is back for another year, reprising his role as the Nats' top prospect.
Slated to open 2019 as the team's everyday center fielder, Robles, 21, will likely graduate from Washington's Top 30 list early in the season. That should shift focus to the organization's next fast-rising Latin American prospect, shortstop Luis García, who, at age 18, excelled at Class A Hagerstown last year before finishing the year as one of the Carolina League's youngest players. Along the way, Garcia was the youngest player to be selected for the prestigious SiriusXM All-Star Futures Game.
Overall, Robles and Garcia headline a group of 28 homegrown players on the Nationals preseason Top 30 list. Of those 28, 17 are pitching prospects -- a total that reflects the organization's emphasis on adding upside college arms in the past two Drafts, as they seemingly prepare for an eventual turnover in their big league rotation.
Here's a look at the Nationals' top prospects:
1) Victor Robles, OF
2) Carter Kieboom, SS
3) Luis Garcia, INF
4) Mason Denaburg, RHP
5) Wil Crowe, RHP
Biggest jump/fall
Here are the players whose ranks changed the most from the 2018 preseason list to the 2019 preseason list:
Jump: Telmito Agustin, OF (2018: 29 | 2019: 11) -- After an offseason spent adding muscle, he erupted to hit .386/.411/.659 in the Carolina League before suffering a broken finger in May.
Fall: Luis Reyes, RHP (2018: 14 | 2019: NR) -- The 24-year-old landed on the injured list twice in his first Double-A campaign and pitched with diminished stuff when healthy.
Best tools
Players are graded on a 20-80 scouting scale for future tools -- 20-30 is well below average, 40 is below average, 50 is average, 60 is above average and 70-80 is well above average. Players in parentheses have the same grade.
Hit: 60 - Robles (Garcia)
Power: 55 - Kieboom
Run: 75 - Robles
Arm: 70 - Robles
Defense: 70 - Robles
Fastball: 70 - Tanner Rainey (Reid Schaller)
Curveball: 65 - Tim Cate
Slider: 60 - Seth Romero (Rainey, Kyle Johnston)
Changeup: 60 - Brigham Hill
Control: 55 - Kyle McGowin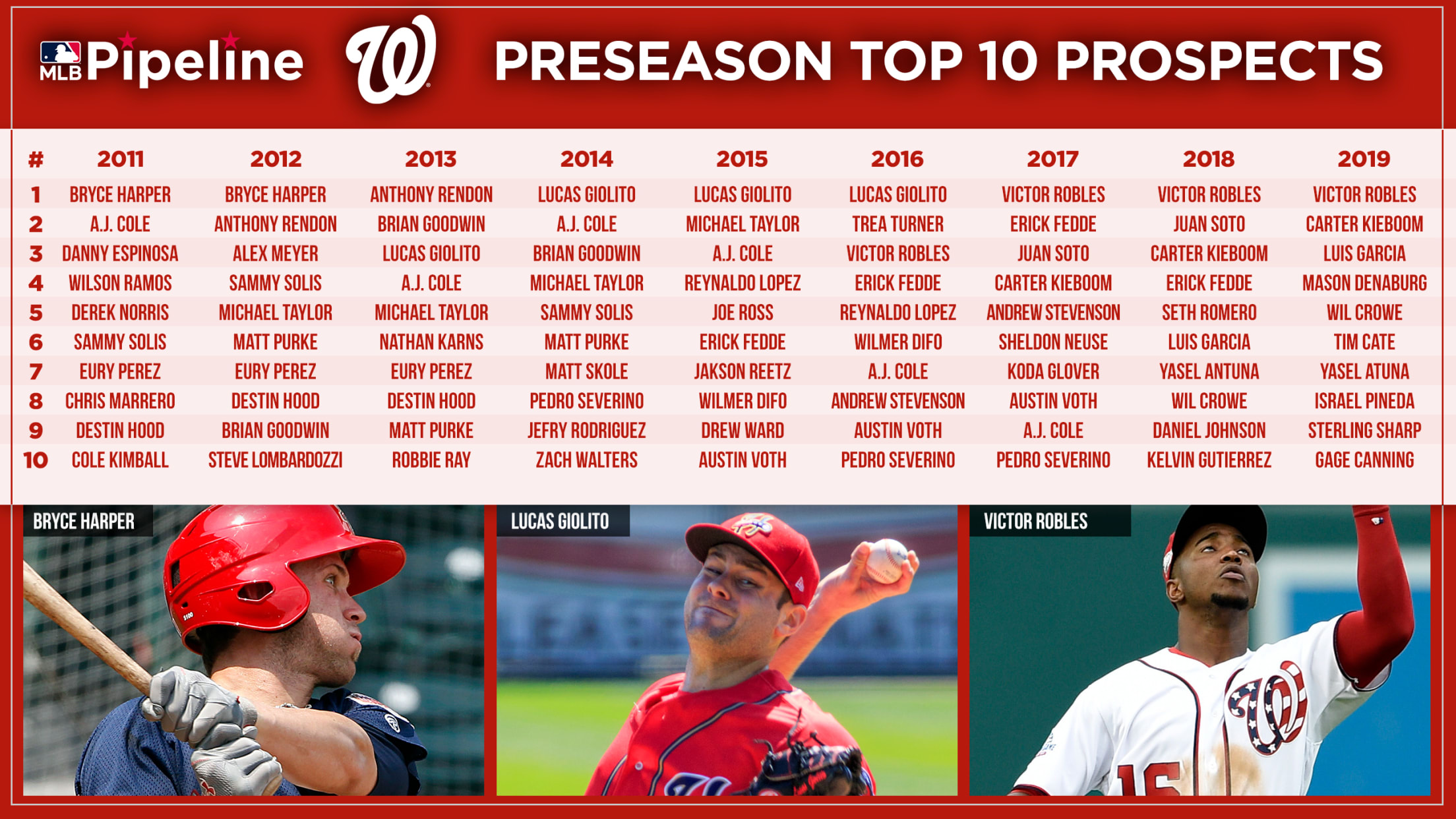 .
How they were built
Draft: 18 | International: 10 | Trade: 2 | Free agent: 0 | Rule 5: 0
Breakdown by ETA
2019: 7 | 2020: 10 | 2021: 7 | 2022: 4
Breakdown by position
C: 3 | 1B: 0 | 2B: 0 | 3B: 0 | SS: 4 | OF: 4 | RHP: 14 | LHP: 5