Nats' hitting woes a concern for Baker
Washington whiffs 16 times, strands 11 baserunners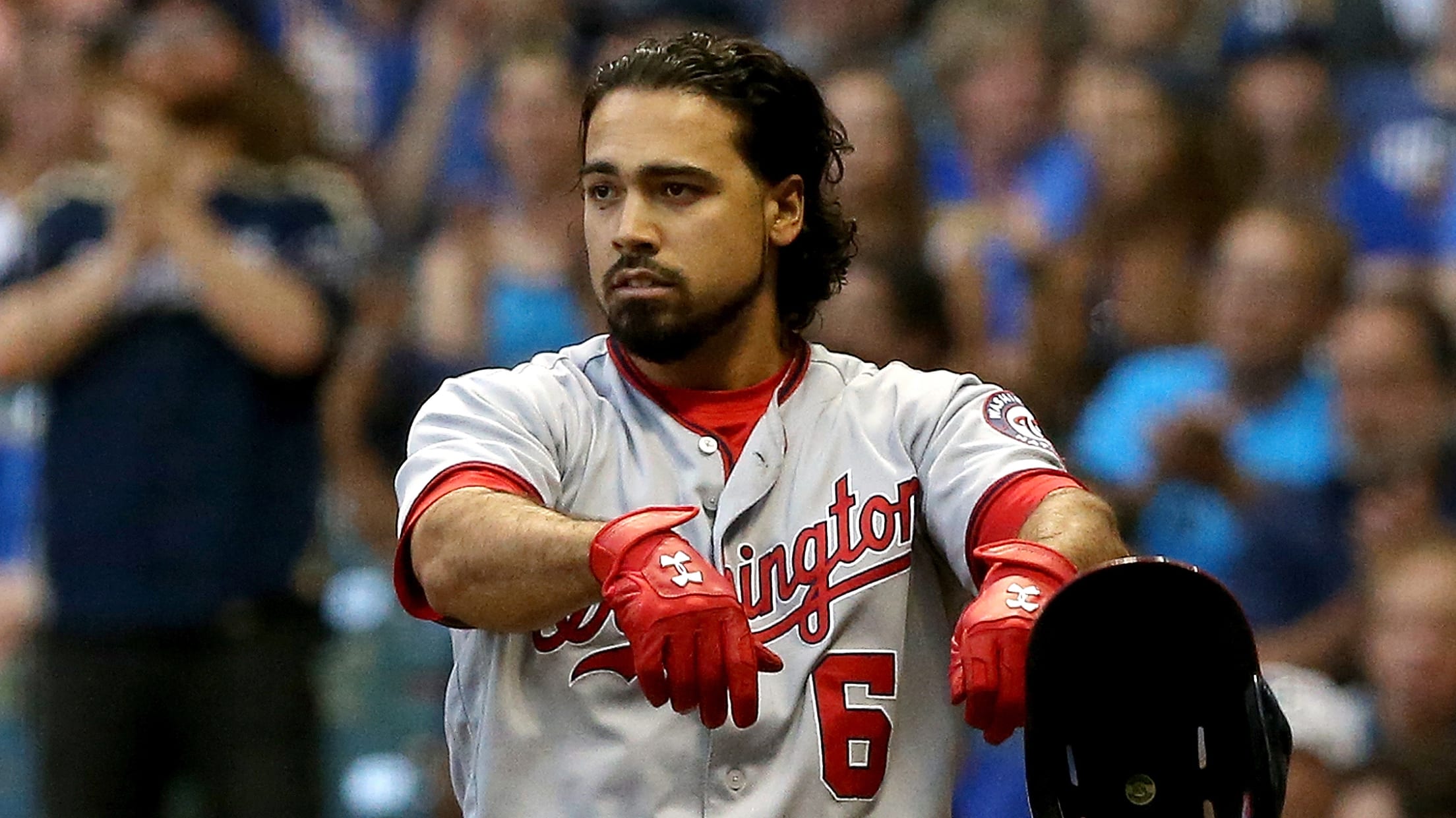 Anthony Rendon, who went 0-for-3 with three strikeouts, reacts after whiffing in the third. (Getty Images) (Dylan Buell/Getty Images)
MILWAUKEE -- It was clear that Nationals manager Dusty Baker was frustrated after watching his struggling offense in Friday's 5-3 loss to the Brewers.Washington struck out 16 times and stranded 11, and the bottom four of the order -- Ryan Zimmerman, Anthony Rendon, Danny Espinosa and Max Scherzer -- struck
MILWAUKEE -- It was clear that Nationals manager Dusty Baker was frustrated after watching his struggling offense in Friday's 5-3 loss to the Brewers.
Washington struck out 16 times and stranded 11, and the bottom four of the order -- Ryan Zimmerman, Anthony Rendon, Danny Espinosa and Max Scherzer -- struck out a combined 10 times.
All three Nats runs came in the third, thanks to hits by Daniel Murphy and Wilson Ramos. After that inning, they collected four hits the rest of the way and left the bases loaded in the eighth against reliever Tyler Thornburg.
The Nationals had a chance to tie the game in the ninth. They had runners on second and third with two outs against closer Jeremy Jeffress, but Ramos struck out to end the game.
"I sound like a broken record," Baker said. "But we had runners out there. Tonight, they were striking us out. We have to get better early in the count. We have to look for that fastball because that's what they are throwing to us early. [The Brewers] were dotting it tonight. Boy, that was tough, especially after the night Ramos and Murphy had."
Said Murphy, "We are not getting any hits. The season ebbs and flows. Early in the year, the offense got going in the right direction. You see this during 162 games. It happens. We'll go home, get some rest and come out here tomorrow. Let's see if we can even the series up."
Despite a six-game losing streak, the Nationals are still three games ahead of the Mets in the National League East. But they face their division rivals in a series that starts Monday night at Nationals Park.
"It's dwindling, but it's up to us increase our lead." Baker said. "We definitely need these next two games before we get to the Mets. You are going to see some good pitching when we face them."