Astros return to work after off-day elimination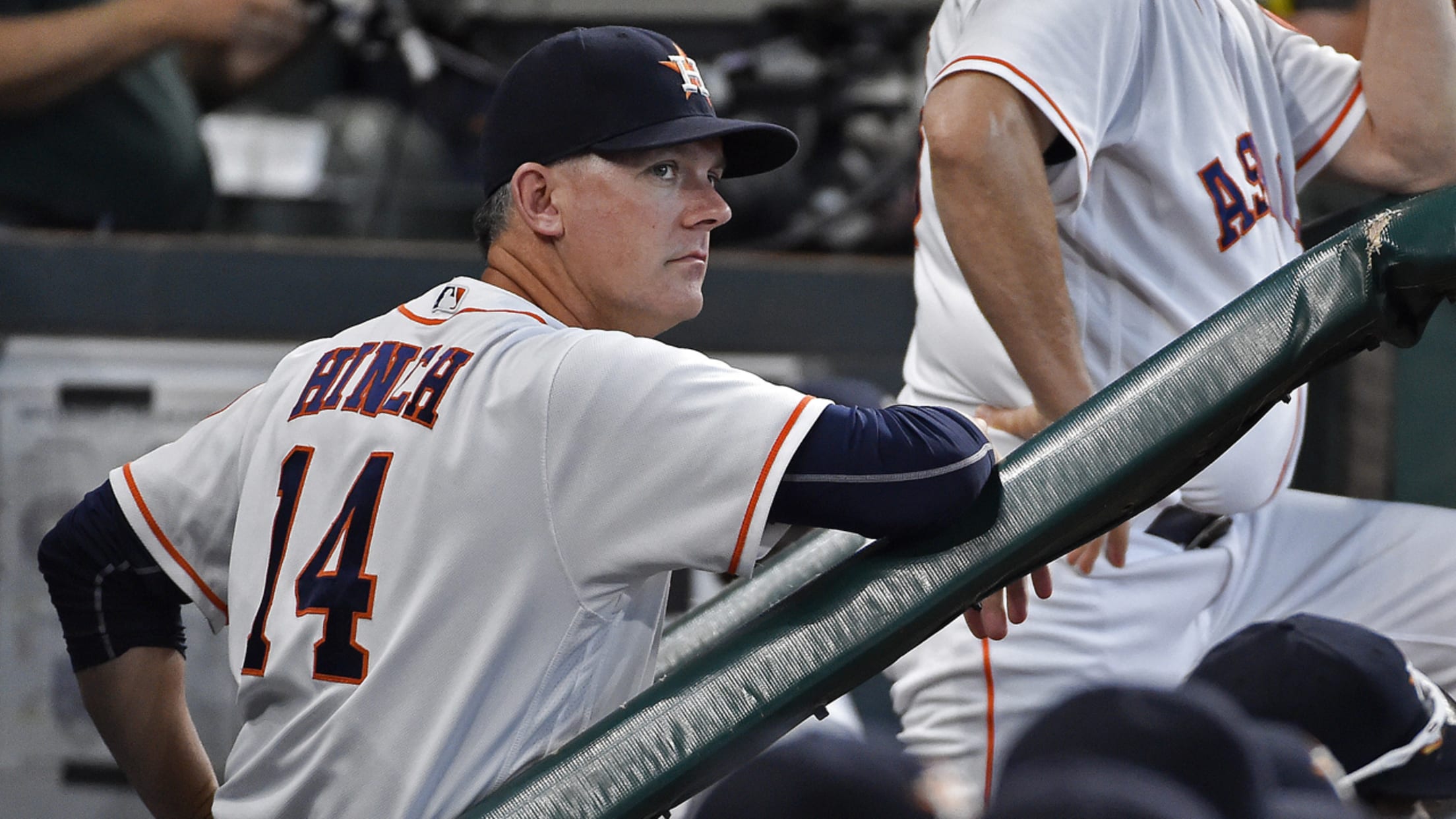 A.J. Hinch hopes to see Jose Altuve win the batting title and George Springer play his 162nd game this weekend. (AP)
ANAHEIM -- They were hanging out with friends or watching football on TV during the off-day when it became official: The Astros were eliminated from postseason contention with Baltimore's win on Thursday night, rendering the final three games of the season against the Angels void of any drama.A season that
ANAHEIM -- They were hanging out with friends or watching football on TV during the off-day when it became official: The Astros were eliminated from postseason contention with Baltimore's win on Thursday night, rendering the final three games of the season against the Angels void of any drama.
A season that began with World Series expectations ended without a trip to the postseason, which was certainly disappointing for second-year manager A.J. Hinch, the players and the coaching staff. A slow start, underperformance in the starting rotation and second-half injuries combined to derail the Astros' playoff hopes.
"It's very disappointing, based on a lot of the guys how hard they worked last offseason," said 2015 American League Cy Young Award winner Dallas Keuchel, who went 9-12 with a 4.55 ERA before missing the final month with left shoulder inflammation. "Guys, including myself, didn't live up to our own expectations, and that's the most difficult part is that you battle through injuries and kind of left the team in a bad place the first half of the season and now we're going home.
"This might be a blessing in disguise and might give a lot of guys opportunities or opportunity to heal up, including myself, and get that little extra break needed to make another postseason run next year."
All-Star second baseman José Altuve, who's heading toward his second batting title in three seasons, said he was proud of the way the team battled and stayed in the race for 159 games.
"I mean, everybody went out there and played hard and we had good chemistry," he said. "We're a good team. We just need to play these three games and come back next year strong. We got a little taste last year of the playoffs, and that was way better than this, being out of the playoffs. We need to learn from this year. We're going to come back next year strong and maybe things happen."
Hinch spoke to his team as a group Friday before the club's series opener at Angel Stadium and thanked them for their efforts. He said he would try to address as many as he could individually the next few days.
"As I told our team, I'm proud of the effort," he said. "We had to endure a lot, starting with a 7-17 April. We had four winning months in a row and a chance to have a winning [September] if we win out, but, all in all, it's a bummer to realize that the season ends on Sunday."
Hinch said rookie infielder Alex Bregman, who returned to play in three games after missing two weeks with a hamstring injury, won't play in the final series. He said Carlos Correa and Altuve, both of whom are four RBIs away from 100, will play two games at the most, though he's aware of the milestones they're chasing. Altuve (.337) entered Friday leading the Red Sox's Mookie Betts by 17 points and Dustin Pedroia by 18 points in the AL batting race.
Outfielder George Springer, who leads the Majors in plate appearances, has played in 159 games after being limited to 180 games the previous two seasons combined because of injuries. Hinch would like Springer to get 162 under his belt.
"Now that we're at this stage of the season at 159 games, he deserves the opportunity to potentially play in every game," Hinch said. "Long-term, I'm not sure it's something I'd want to do again. … I don't think it's an accomplishment every single season for Springer and some of our players, but given the effort the guy put into it and the stigma of being an injured guy the last couple of years, it's a big deal for George."
Rookie pitcher Joe Musgrove also won't appear in the final three games after throwing a career-high 147 1/3 innings between the Minors and the Astros.