Disappointing loss caps rough road trip for A's
Club goes 1-5 in swing through Texas and Seattle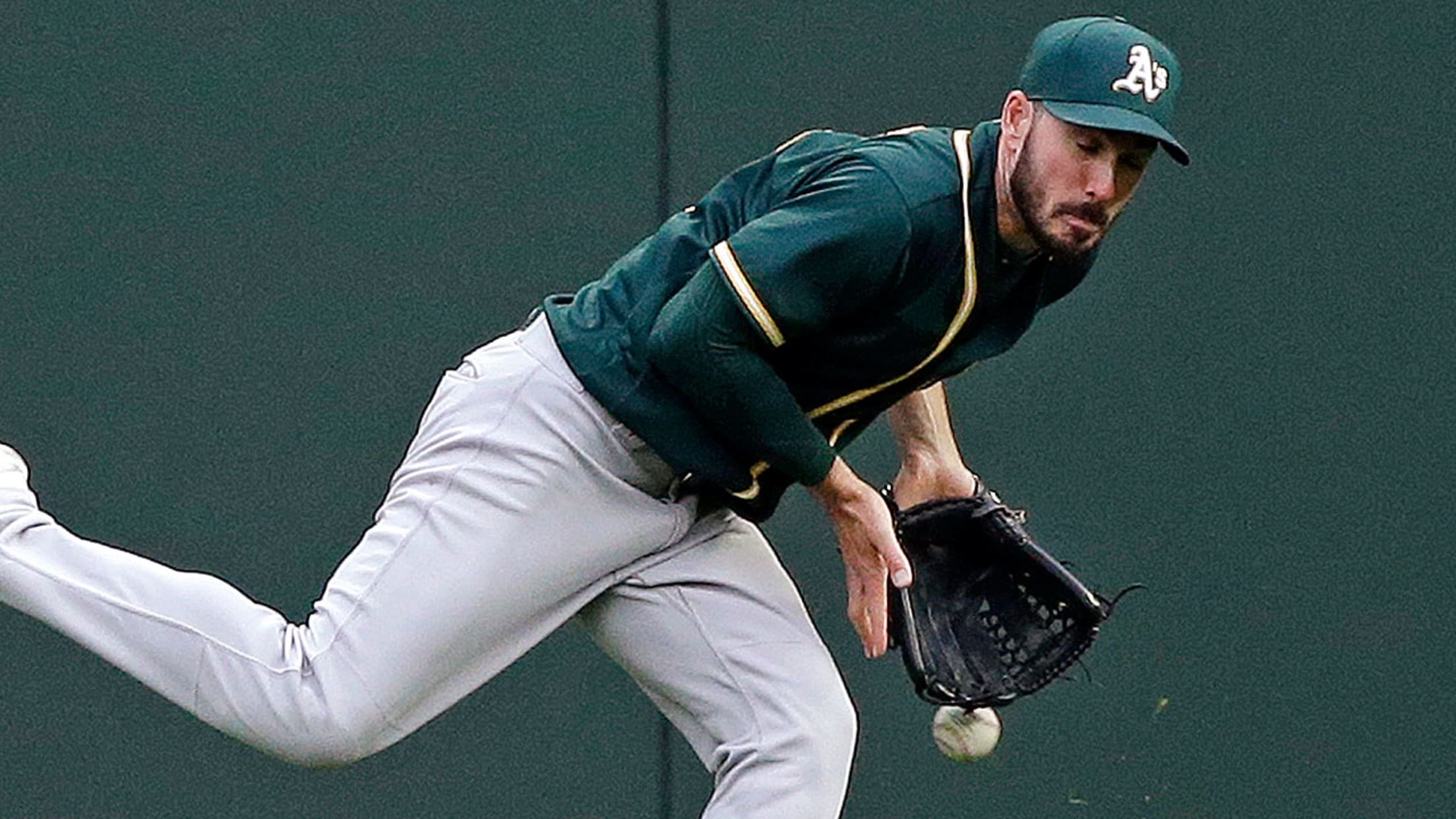 A pair of outfield miscues by the A's allowed the Mariners to score two runs on Wednesday. (AP)
SEATTLE -- The feel-good vibes percolating in the A's clubhouse prior to Wednesday's series finale in Seattle quickly dissipated once play resumed.After a much-needed victory the night before halted a four-game losing streak, the A's fell, 4-0, to the Mariners, as defensive duds doomed them and their bats struggled.The A's
SEATTLE -- The feel-good vibes percolating in the A's clubhouse prior to Wednesday's series finale in Seattle quickly dissipated once play resumed.
After a much-needed victory the night before halted a four-game losing streak, the A's fell, 4-0, to the Mariners, as defensive duds doomed them and their bats struggled.
The A's managed just two hits and struck out 12 times -- including nine whiffs in 7 1/3 innings against right-hander Christian Bergman, one of several fill-ins in an injury-depleted Seattle rotation. The A's never had a runner past first base.
"Offensively, I don't know that we've looked much worse," manager Bob Melvin said. "Now, you have to give the pitcher some credit. He was on the corners, he was down at times. I think we hit three balls on the ground the whole game, and three or four balls hard. I didn't expect that."
A's starter Jesse Hahn pitched better than his final line indicated -- four runs (three earned) in five innings -- but he threw extra pitches because of a pair of costly miscues by his outfielders.
Only one error made it to the scoreboard: A should-be second out on a Ben Gamel fly ball went in and out of Mark Canha's glove in left-center field, setting up the Mariners' third run in the fifth. But Gamel also benefited from Matt Joyce's misplay in the first inning, with Gamel being awarded a triple -- on what should have been a single -- on a ball that got by Joyce.
Oakland's defense has been woeful. The club has a Major League-worst 37 errors, leading to 28 unearned runs. They're magnified even more when a streaky offense goes missing, leaving little room for error for the pitching staff.
The recipe has predictably failed the A's, who are 17-23 through 40 games after a 1-5 road swing through Texas -- where they blew saves in all three games -- and Seattle. Oakland has dropped six of seven road series this year, going 6-15 away from home, compared to 11-8 at the Coliseum.
"Tough losses," Hahn said. "Division games are really important, and we want to win these ones, but we've got to put these behind us, and go back home and try to put together a good streak."
"It's really disappointing," Joyce said. "It's really frustrating. As a group, I think we know we can play a lot better, and we just have to find a way to do it."
Jane Lee has covered the A's for MLB.com since 2010.