A's host National Play Campaign at Coliseum
Event highlighted by clinic with Bassitt, Canha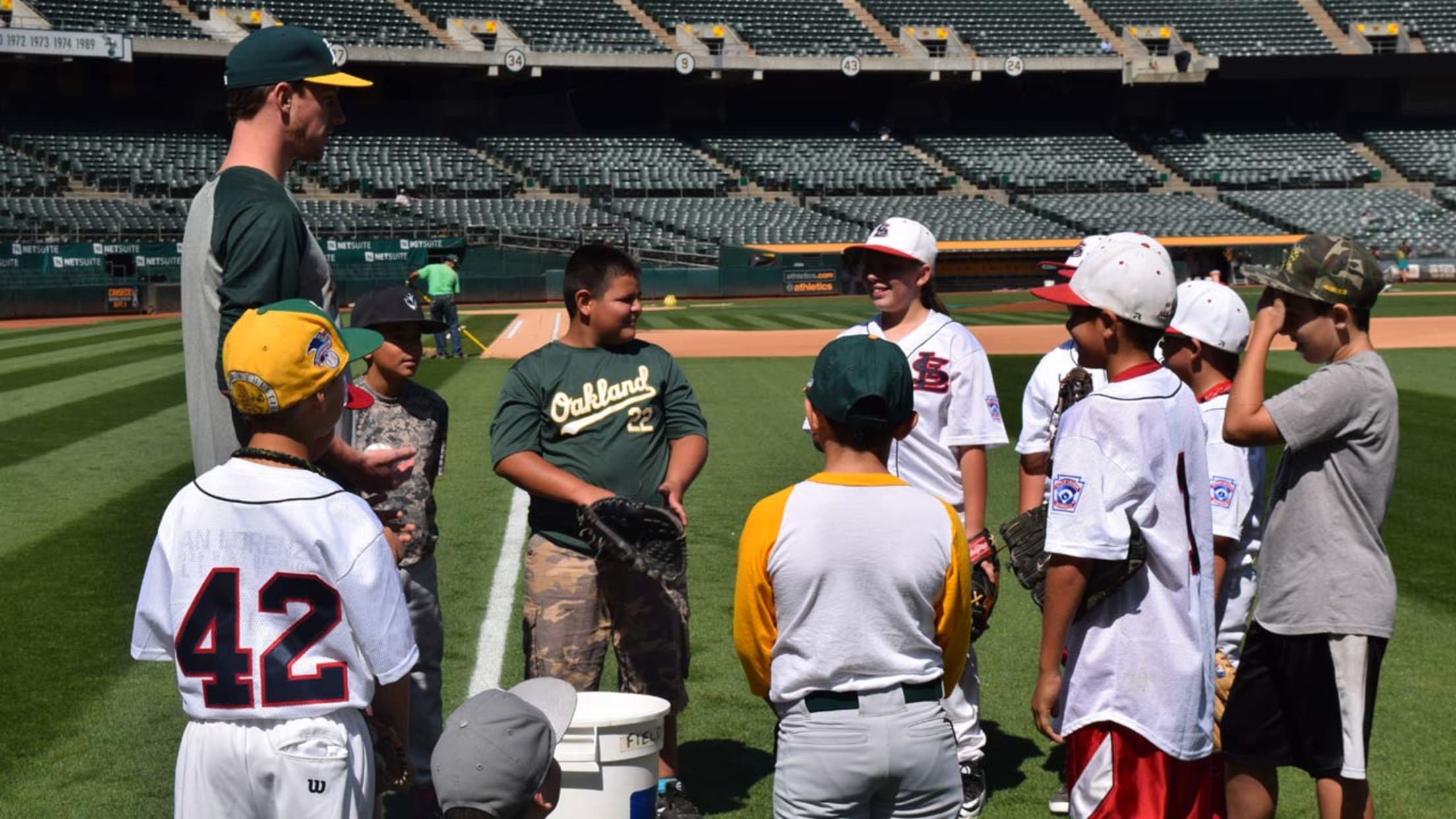 Chris Bassitt taught the young participants some baseball skills. (Jordan Maydole/Oakland Athletics)
OAKLAND -- The A's held the 2016 National PLAY Campaign on Wednesday at the Coliseum, an event geared toward promoting healthy lifestyle habits to youth athletes in the Bay Area.The event, featuring a clinic with Chris Bassitt, Mark Canha and the A's training staff, took place Wednesday morning on the
OAKLAND -- The A's held the 2016 National PLAY Campaign on Wednesday at the Coliseum, an event geared toward promoting healthy lifestyle habits to youth athletes in the Bay Area.
The event, featuring a clinic with Chris Bassitt, Mark Canha and the A's training staff, took place Wednesday morning on the field.
Created in 2004 by the Professional Baseball Trainers Athletic Society, the PLAY campaign is also sponsored by the Taylor Hooton Foundation, which combats steroid use by youth athletes in baseball, and the Henry Schein Foundation.
Bassitt estimated about 50 kids took part in Wednesday's event.
"It's a great event to raise awareness and have fun with the kids at the same time," he said.
Canha agreed, saying he enjoyed the opportunity. He also hosted a cooking demonstration, which combined promoting healthy eating with activity, at Itani Ramen in Oakland on Tuesday, sponsored by A's Fitness Sluggers.
"I've always enjoyed doing hitting lessons and things like that with kids, that's one of my favorite things to do," Canha said. "Any time you can be outside and hang around with kids is also fun for me and I love doing it."
PLAY hosts events at all 30 MLB stadiums in conjunction with PBATS. The Taylor Hooton foundation is an important part of the clinic, educating youth athletes on the dangers of steroid use at young ages. The foundation started after Taylor Hooton, a 17-year-old high school baseball player in Plano, Texas, committed suicide following a bout with depression.
Hooton's family later determined their son was told by a high school baseball coach he needed to become stronger, prompting him to use anabolic steroids. Upon learning this was a growing problem among high school and even younger levels of youth athletics, the Hooten's formed the foundation.
Both the Taylor Hooton Foundation and a representative from the Henry Schein Foundation, which provides lifestyle tips to youth, worked with the athletes on Wednesday. Participants also did baseball drills on the field.
Mark Chiarelli is a reporter for MLB.com based in the Bay Area.