Graveman takes outing in stride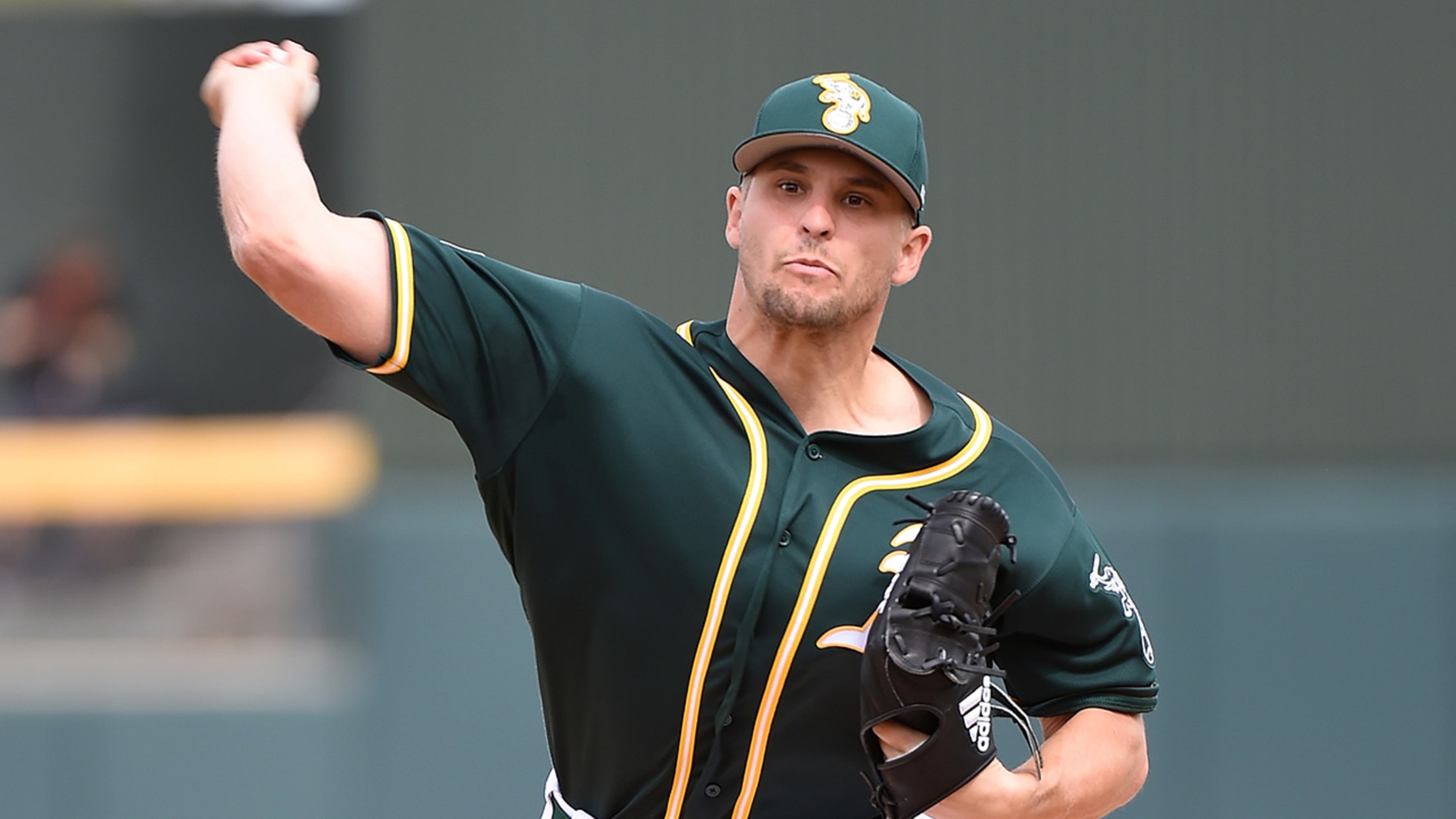 Kendall Graveman said he didn't locate the ball well as the game went on against the Reds on Monday. (Getty)
GOODYEAR, Ariz. -- Brandon Dixon was going to be the last batter Kendall Graveman faced regardless of the outcome, but it's the outcome that will sit with Graveman the next four days.Graveman was capped at 70 pitches Monday, and Dixon homered to left field on the 69th."I didn't locate as
GOODYEAR, Ariz. -- Brandon Dixon was going to be the last batter Kendall Graveman faced regardless of the outcome, but it's the outcome that will sit with Graveman the next four days.
Graveman was capped at 70 pitches Monday, and Dixon homered to left field on the 69th.
"I didn't locate as well as the game went on ... and one bad pitch there at the end, otherwise you leave feeling pretty good about it," Graveman said.
• Spring Training:Info | Tickets | Schedule | Gear
It marked the first game Graveman was scored on this spring.
The Reds tallied one run in the second on two singles and a sac fly and then on Dixon's two-run homer took a 3-1 win at Goodyear Ballpark.
Graveman eased through his first three starts this spring, so while he didn't welcome some of the adversity Monday he took it in stride as part of the buildup toward the regular season. The right-hander, who could end up the A's Opening Day starter after Sonny Gray suffered a lat strain, jumped from the 40-pitch range in his last outing to nearly 70 this time.
"You want to see how your body reacts; I felt good," Graveman said. "I would like to have a few quicker innings but sometimes that's how it goes."
"A few misses here and there," catcher Bruce Maxwell said. "If (the home run pitch) was maybe a little higher, maybe a little lower. It wasn't executed by any means, but anything can happen in a game of inches."
Worth noting
• Stephen Vogt hasn't played since Thursday because of a sore right heel, but the catcher is expected back in the lineup Tuesday. Vogt will be the DH against the Rockies in Mesa and then, after a team off day, he will get behind the plate Thursday against the Indians in Goodyear.
• The A's optioned right-handers Paul Blackburn and Bobby Wahl, infielder Yairo Munoz and outfielder Jaycob Brugman to Triple-A Nashville on Monday. All four players on among the organization's Top 30 Prospects, according to MLBPipeline.
Manager Bob Melvin on Blackburn: "We liked his stuff. I think the curveball is going to be a big pitch for him. He's definitely part of our starting depth."
Melvin on Brugman: "He does a lot of things well. He's shown tough at-bats, even against left-handed pitching. My rhetoric to him was the next step is to get to the big leagues. He wants to accomplish that this year."
• Chris Parmelee, a non-roster invitee, homered with two outs in the ninth inning to keep the A's from being shut out by the Reds. It was his first homer this spring.
• Ryan Dull has not allowed a hit or run in three of his four appearances this spring after he struck out Rob Brantly in his one-third of an inning Monday.
Chris Gabel is a contributor to MLB.com and covered the Athletics on Monday.