A's tab Neal as rotation replacement for Gray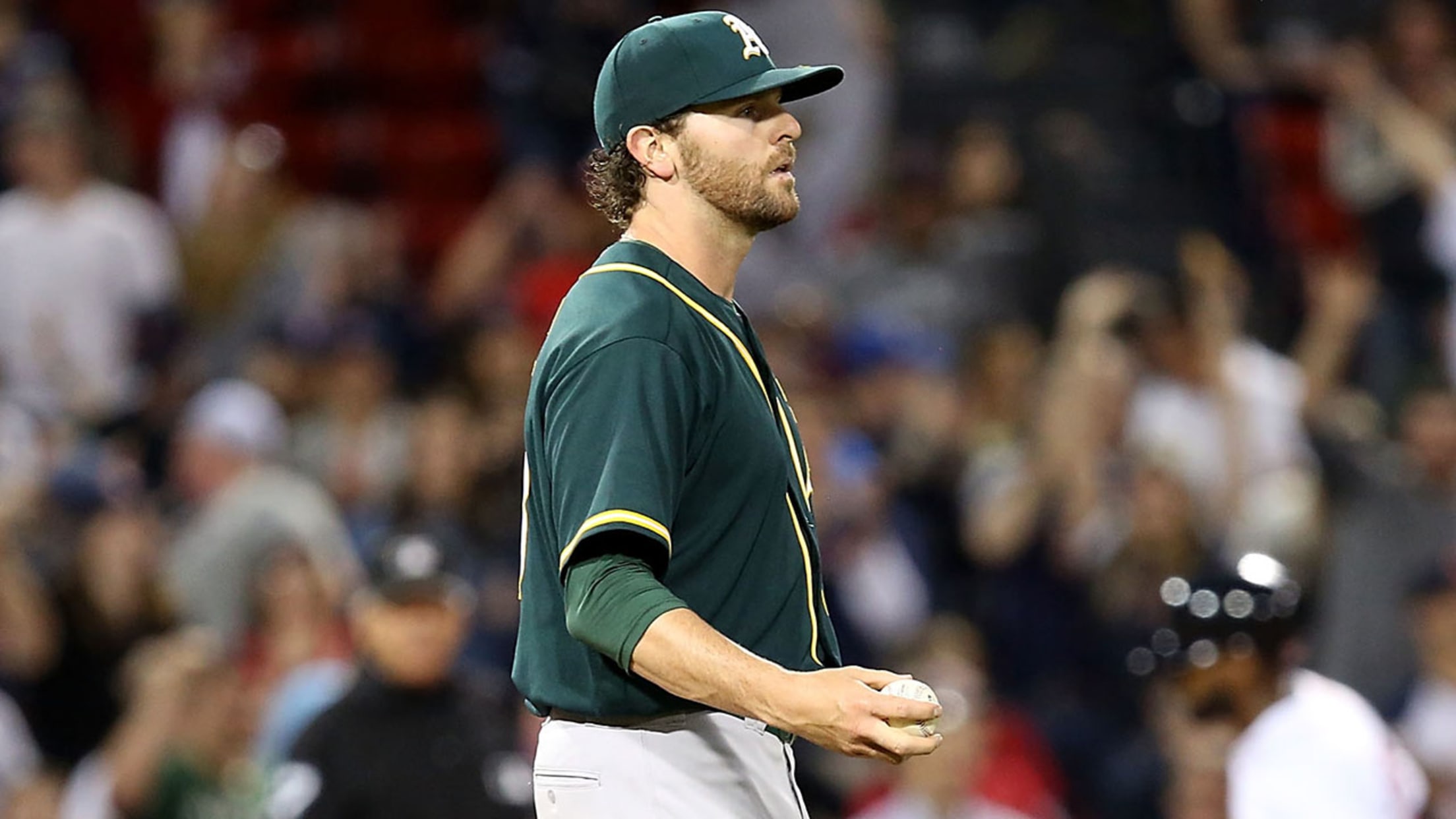 Zach Neal will start Wednesday for the A's. Neal is replacing Sonny Gray, who is on the disabled list with a strained right trapezius muscle. (Getty) (Adam Glanzman/Getty Images)
SEATTLE -- The A's took care of one piece of business Monday when they announced that they will start Zach Neal on Wednesday against the Mariners.Neal, a 27-year-old right-hander, will replace injured Sonny Gray in the starting rotation for now. Gray was placed on the 15-day disabled list with a
SEATTLE -- The A's took care of one piece of business Monday when they announced that they will start Zach Neal on Wednesday against the Mariners.
Neal, a 27-year-old right-hander, will replace injured Sonny Gray in the starting rotation for now. Gray was placed on the 15-day disabled list with a strained right trapezius muscle on Sunday. Neal made his Major League debut on May 11 for Oakland as a spot reliever. Otherwise, he's been doing well at Triple-A Nashville, with a 5-1 record and a 2.53 in seven starts.
"He's been here and we were impressed with what we saw," A's manager Bob Melvin said Monday prior to the first of a three-game series against the Mariners in Safeco Field. "And he's been pitching well."
Neal threw three innings of mop-up duty that day at Fenway Park, giving up three runs on four hits in three innings while striking out two and not walking a batter.
"That can be a place that can be tough for your Major League debut, to go out there and pitch, and he gave us three innings," Melvin said. "He was aggressive, we like the movement on his fastball and his complement of pitches, and … we rely on our people in development to have input on that, and Zach Neal's our guy."
Melvin said he didn't want to speculate how long Neal might fill in for Gray, who is one of a Major League-leading 13 players the A's have on the DL. Five of those injured players (Gray, Henderson Alvarez, Chris Bassitt, Felix Doubront and Jarrod Parker) are starting pitchers.
<p. a="" around="" be="" for="" he="" if="" ll="" m="" melvin="" p="" pitches="" predict="" results-based="" s="" said.="" so="" sure="" to="" tough="">Reddick gets some good news: One of those 13 players is right fielder Josh Reddick, who went on the DL on Friday with a fractured left thumb. Melvin said that Reddick learned on Monday that the fracture is at the tip of the thumb and not in the joint, which means the injury will not require surgery. </p.>
"That's good news," Melvin said. "That's typically a four-week deal where we let it heal. He'll be able to … work out and run. He'll be able to throw, quarterback-style. But at least it's good news to where we didn't want to hear about a surgery or something that would keep him out longer."
Melvin did say that Reddick, who injured the thumb while stealing a base against the Yankees last Thursday night, has not been cleared to swing a bat as of yet.
"No gripping or pinching," Melvin said. "You can quote me on that."
Alvarez cleared to play catch: Alvarez, the right-hander who is recovering from shoulder surgery last July and was returned from a rehab assignment on May 17 after experiencing soreness in the shoulder, had an MRI read by noted orthopedist Dr. James Andrews and was given the go-ahead to play catch on Tuesday.
"We'll see how he progresses from there," Melvin said. "There's nothing that would suggest he can't go play catch tomorrow, and we'll treat him [if symptoms arise].
"If everything goes well from there and we can get him out to a certain distance, we'll go back to bullpens and it's going to be a little bit of a process that we'll be careful with coming back. But he has been cleared to play catch tomorrow just to see how he feels."
Lowrie likely for Wednesday: Second baseman Jed Lowrie, who has been on the DL since May 11 (retroactive to May 10) with a right shin contusion, was scheduled to play another rehab game for Nashville on Monday night with hopes that he'll be activated here on Wednesday.
Melvin said catcher Josh Phegley, who's been on the DL since May 17 (retro to May 10) with a strained right knee, will optimally play in three more rehab games before being activated.