Wainwright helping bring clean water to Flint
Cardinals ace opens Celebrity Bracket Challenge to generate awareness, funding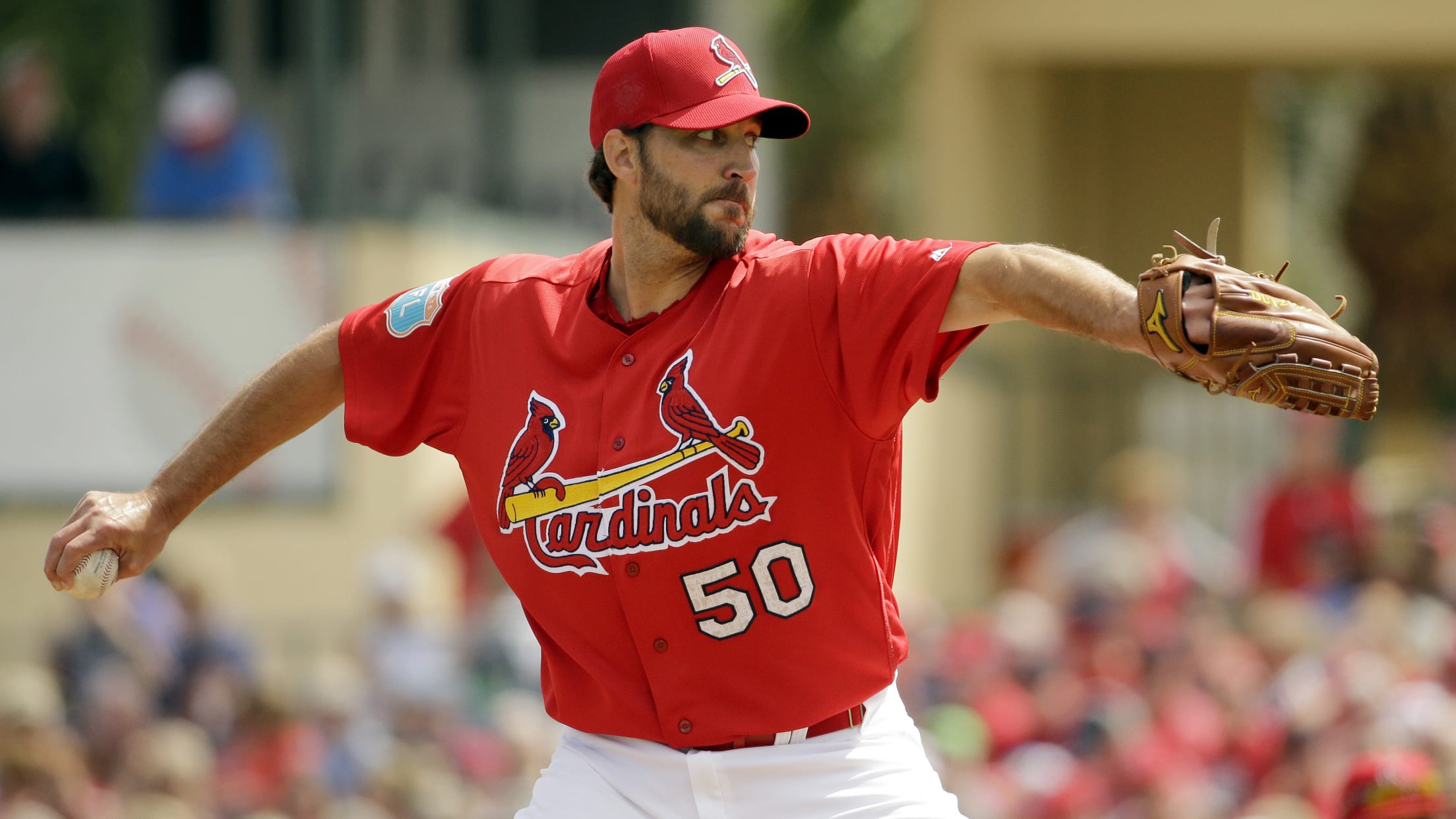 Participants will be able to compete with Adam Wainwright and several current and former players. (AP) (Jeff Roberson/AP)
LAKE BUENA VISTA, Fla. -- Cardinals right-hander Adam Wainwright, who raised money for basic needs programs through a fantasy football fundraiser, has opened a Celebrity Bracket Challenge in order to generate awareness and funding to charities bringing clean water to Flint, Mich.The initiative fits the mission statement of Wainwright's nonprofit
LAKE BUENA VISTA, Fla. -- Cardinals right-hander Adam Wainwright, who raised money for basic needs programs through a fantasy football fundraiser, has opened a Celebrity Bracket Challenge in order to generate awareness and funding to charities bringing clean water to Flint, Mich.
The initiative fits the mission statement of Wainwright's nonprofit organization, Big League Impact, which was created as an outlet to provide food, clean water, medical care and shelter to various communities around the world. A water contamination crisis has been going on in Flint since 2014, and there are still many in that area without safe drinking water.
• Spring:Tickets | Ballpark | 40-man roster | NRIs
It does not cost anything to participate in Wainwright's Bracket Challenge, which is tied to the start of the NCAA men's basketball tournament this week. However, the Cardinals' ace has encouraged participants to make a donation to Big League Impact, which will then distribute 100 percent of the net proceeds to the Eastern Michigan Food Bank.
"This hits us on so many different levels of what our mission is, that we had to do something," Wainwright said Wednesday. "We're going to pour our hearts into this to help these people. The idea behind Big League impact is that it's not just people outside our country who we need to help, but it's also to help people within our country."
Wainwright recently connected with Baltimore Ravens running back Justin Forsett, who has traveled to Flint to work with the Eastern Michigan Food Bank. Forsett explained to Wainwright that the need in Flint is not only for clean water, but also food and waste management.
Participants will be able to compete against not just Wainwright, but also several current and former players and celebrities, including Max Scherzer, David Wright, Kyle Gibson, John Smoltz, Blaine Boyer, Neil Walker, Shane Robinson, Kevin Millar, Tony Clark, Zach Johnson, Forsett, James Laurinaitis and Davis Love III.
Wainwright has also recruited several teammates -- including Matt Holliday, Lance Lynn, Trevor Rosenthal, Michael Wacha, Mike Leake, Jonathan Broxton and Randal Grichuk -- to submit a bracket.
The winner of the Celebrity Bracket Challenge will receive a trip for two to the Five Star Lodge at Sea Island, which is located near Wainwright's hometown in Georgia.
"I think there are millions of people out there with a heart to help, and they sometimes just need to know how they can help," Wainwright said. "We realize we may not make a lot of money because it's free. But we also hope that people realize we want to help as many people as we can and that we can make a great impact in our country by coming together."
Through its growing fantasy football initiatives over the past three years, Big League Impact has raised more than $1 million.
To enter your bracket into Wainwright's challenge and/or to make a donation, visit https://www.bigleagueimpact.org/impactflint. Donations will be accepted throughout the NCAA men's basketball tournament.
"We want to make an impact," Wainwright said. "A Big League Impact."