Hinch names rotation after All-Star break
Astros skipper excited for Midsummer Classic; Crane, players to attend ESPY Awards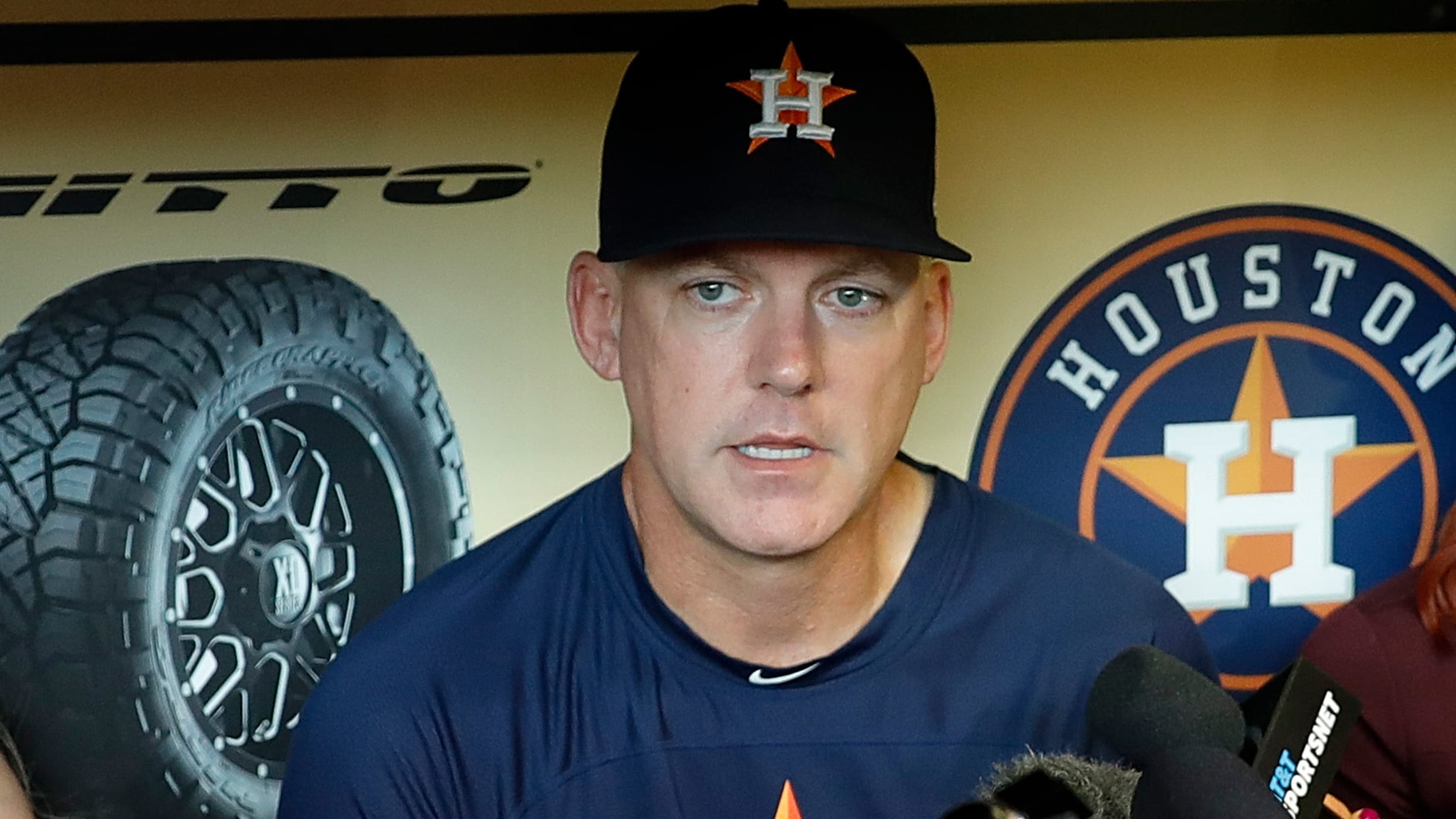 HOUSTON -- On Sunday, Astros manager AJ Hinch set his pitching rotation out of the All-Star break. Left-hander Dallas Keuchel will open the second half of the season on Friday in Anaheim against the Angels, with Justin Verlander pitching Saturday and Lance McCullers on Sunday.Following an off-day, the Astros will
HOUSTON -- On Sunday, Astros manager AJ Hinch set his pitching rotation out of the All-Star break. Left-hander Dallas Keuchel will open the second half of the season on Friday in Anaheim against the Angels, with Justin Verlander pitching Saturday and Lance McCullers on Sunday.
Following an off-day, the Astros will send a pair of All-Stars to the mound to face the Rockies with Gerrit Cole starting July 24 and Charlie Morton on July 25 at Coors Field in Denver.
"There's a lot of thought that goes into setting the rotation," Hinch said. "Some of it's rest, some of it is matchups, some of it is the addition of Charlie Morton to the All-Star Game. That changed a game or two I was going to use him. You know, keeping [Verlander] on somewhat normal rest, but not too prolonged a rest, which is something he's accustomed to his career, [was a factor]. We play in a National League ballpark on the second part of that road trip. Little bits of pieces of a lot of different things."
The Astros have five off-days in August, which will mean some of the starters could go six days between starts during the month, which isn't necessarily a bad thing.
"Every team has this new schedule of five or six days off in one month," Hinch said. "Ours happens to come in August, which is pretty much where I would draw it up if I had to choose myself. You don't really want that kind of rest in April and May. July, we get the natural off-days with the All-Star break. August is a picture-perfect time for our position players and our pitchers to play five or six games a row at a time until the end of the month."
Hinch excited for All-Star Game
Hinch, who's managing the American League in Tuesday's All-Star Game presented by Mastercard, said he's looking forward to standing up before the American League All-Stars when they convene on Monday in Washington and addressing them as a group. Hinch will have six of his own players in the room: Jose Altuve, Verlander, Cole, Alex Bregman, Morton and George Springer.
"It will be fun to stand up in front of that team tomorrow before our workout and just have that collection of talent, that moment, that five- or 10-minute meeting to show some appreciation for the names in that room, the performances in that room and tell a few stories of how a lot of guys got there," Hinch said. "There's not a lot of prep work, there's not a lot of strategy and grinding and getting ready like I normally would for a game. In-game stuff will be pretty cool to see when you're in the dugout with a lot of people you don't normally get to be in the dugout with."
Following Sunday's game against the Tigers, Hinch will fly with his family to Washington on a charter filled with Astros, including the six All-Stars and their families, his entire coaching staff and several members of the front office and other team employees.
Correa to continue rehab
Astros shortstop Carlos Correa will remain in Houston during the All-Star break and continue his rehab from a sore back. Correa, who started at shortstop for the AL in the All-Star Game a year ago, has been on the disabled list since June 26 with lower back soreness. Hinch said Sunday there are no plans yet to get him out on a Minor League rehab assignment.
"We still don't have a plan for him," Hinch said. "He's not doing anything aggressively on the field that would warrant a plan in place to send him out. We're going to send him out as soon as we can. It's a slow process right now."
Crane, players to attend ESPY Awards
Astros owner Jim Crane will represent the team at ESPN's ESPY Awards on Wednesday in Los Angeles, along with Keuchel, Altuve, Springer and Bregman. The Astros open the second half of the season Friday in nearby Anaheim.
The Astros are up for five awards: Altuve for Best Male Athlete, Springer for Best Championship Performance, Game 5 of the Astros' World Series win over the Dodgers is nominated for Best Game, the 2017 Astros are up for Best Team and Altuve for Best MLB Player.
"This will be my first time," Keuchel said. "I've watched it the last handful of years and it's a cool event for the athletes to remember what happened the last year in sports and individual accomplishments and team accomplishments. It's cool for guys to be recognized."