Top takeaways from first week in AL East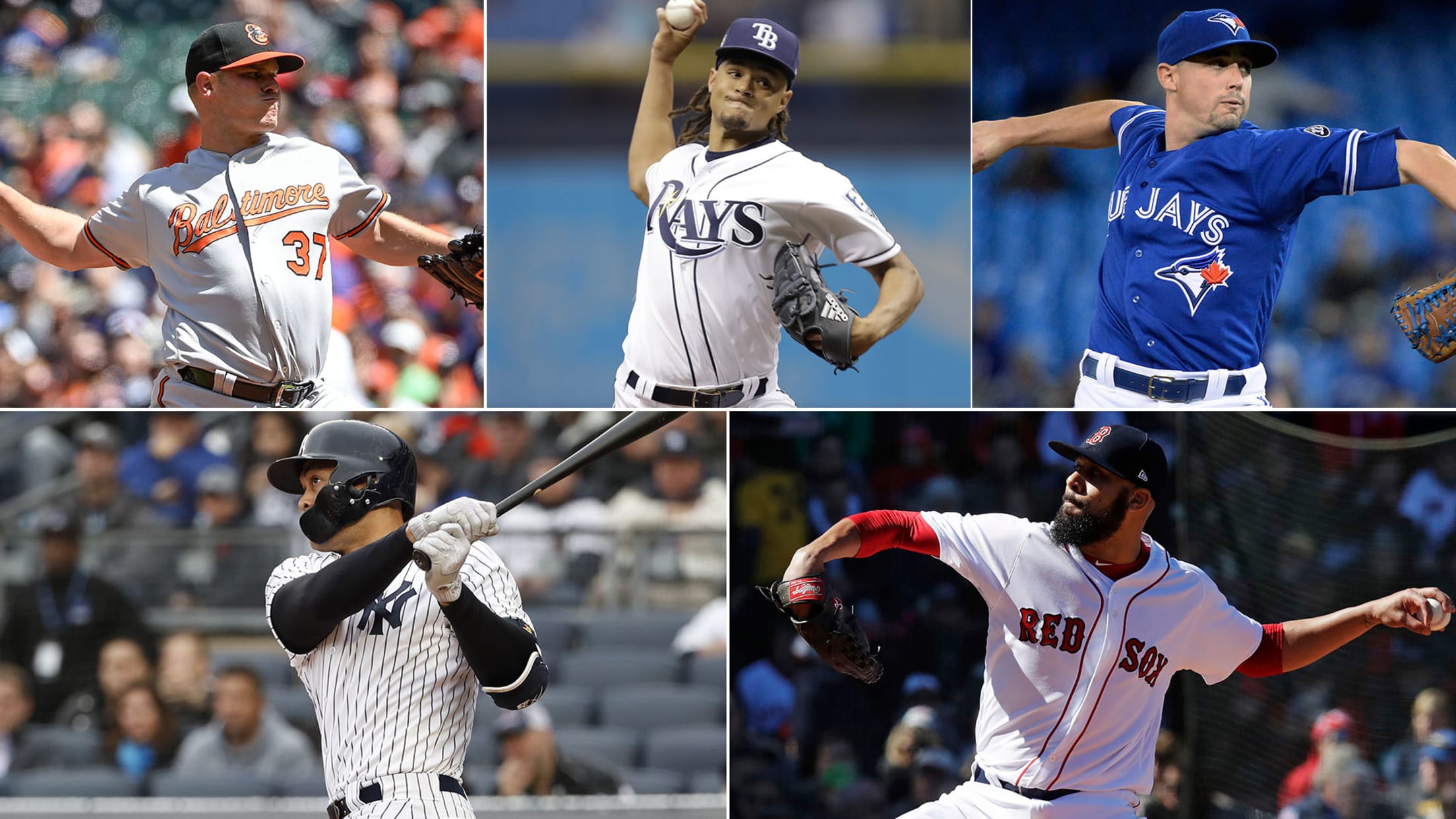 A week of American League East action is now in the books, and it has reinforced the likelihood of an entertaining summer battle for the top spot in the division, with the Red Sox (6-1) outpacing the Blue Jays and Yankees (4-3 each) at this early checkpoint.That permitted Boston's Alex
A week of American League East action is now in the books, and it has reinforced the likelihood of an entertaining summer battle for the top spot in the division, with the Red Sox (6-1) outpacing the Blue Jays and Yankees (4-3 each) at this early checkpoint.
That permitted Boston's Alex Cora to thoroughly enjoy his first Fenway Park home opener, savoring his introduction as the manager of a franchise for which he played from 2005-08.
"I know I'm going to have good days, bad days, horrible days. I know that, but I'll keep it simple," Cora said. "We have a good team, we have a great organization. Playing in this place, this is my office, Fenway Park. Not everybody can say that."
Here is a quick update of where things stand around the division:
Red Sox
What we know: The rotation is stacked, turning in six straight quality performances even with three starters (Eduardo Rodriguez, Thomas Pomeranz and Steven Wright) on the disabled list. David Price has left no doubt that he's healthy enough to have a big year. Chris Sale will again be one of the top pitchers in the game. Rick Porcello is showing signs that he will rebound.
What we still don't know: Which setup pitchers will step up as the bridge to Craig Kimbrel? Matt Barnes looks like he might be the guy. Joe Kelly has been inconsistent in his early outings. Carson Smith still isn't throwing the ball the way he did pre-Tommy John surgery. Tyler Thornburg could be back within a month, which could give the setup crew another important component.
The bottom line: The Red Sox look like a dangerous team, capable of performing at a high level in all facets. The offense hasn't heated up as a unit yet, but it's probably just a matter of time. A big test for Boston is coming soon, as the Yankees come to Fenway for a three-game series starting Tuesday.
Yankees
What we know: The trio of Aaron Judge, Gary Sanchez and Giancarlo Stanton has already homered in the same game, a feat that the Yankees hope to see more often in the months to come. Yet the biggest bat has belonged to Didi Gregorius, who collected eight RBIs in the home opener. We've also learned that Aaron Boone is going to have his hands full juggling an injury report, as well as his lineup card and bullpen.
What we still don't know: Boone has been burned several times by his relievers, though he says there are no red flags to indicate he cannot count on the likes of Dellin Betances, Tommy Kahnle and Player Page for David Robertson moving forward. The starting pitching has been better than expected, but outside of Luis Severino and Masahiro Tanaka, can they keep it up? How will this Yankees group -- particularly Boone and Stanton -- react to their first taste of Fenway Park?
The bottom line: The Yankees remain a championship-caliber contender, despite some magnified losses, particularly during the season-opening series in Toronto. Had it not been for their bullpen, they might have taken at least three of four from the Blue Jays. The bullpen should pitch to their track records, and scoring runs shouldn't be a problem.
Blue Jays
What we know:Aaron Sanchez looks healthy and doesn't have any lingering effects from last year's blister issue. Sanchez won the ERA title in 2016 with a mid-90s sinker and sweeping curveball, but he has since perfected a changeup which could make him even more dangerous. Second baseman Devon Travis is healthy, but the Blue Jays have said he will only play two out of every three games. Russell Martin is on the same plan.
What we still don't know: Will this team score enough runs to contend? Toronto started the year with three runs and 24 strikeouts over its first two games, but then found its bearings with 33 runs over the next five. One positive sign is that the Blue Jays have home runs from seven players in their lineup, and Josh Donaldson's dead-arm issue doesn't appear to impacting him too much at the plate. Early problems include Travis, with just one hit in 20 at-bats, and Randal Grichuk, who is 2-for-23.
The bottom line: The Blue Jays started the year 0-2, but then won four of their next five games to finish the first week one game above .500. That might not seem like that big of a deal, but it is for an organization that began the 2017 season 1-9 and didn't pick up a fourth win until Game No. 16.
Orioles
What we know: The pitching is still an issue. The only Orioles starter to make it six innings the first time through the rotation was Dylan Bundy, and the O's are putting too many innings on their bullpen. The team's offense -- an all-or-nothing group last year -- has also stalled in the first few games.
What we still don't know: Is it too early to judge Chris Davis' struggles? Or Kevin Gausman? Everything will be magnified the first week of the season. If the O's get a few wins under their belts in New York this weekend, their outlook could drastically change.
The bottom line: A tough schedule just keeps getting tougher, as the Orioles have four games in the Bronx, where they struggled to play well in 2017. The good news is that Alex Cobb could be ready to stabilize the rotation as early as April 14. As for the offense, it did hit the Astros' Justin Verlander well and put up five runs on Thursday in New York.
Rays
What we know: The Rays have solid pitching. While they allowed 11 runs in their first game against the Yankees, they allowed just 10 runs in four games during the opening series of the season against the Red Sox. And during that series, the heralded "bullpen day" even came away with glowing reviews.
What we still don't know: The Rays lost a lot of firepower over the offseason, so it's likely they will not hit as many home runs. Will the new offense -- featuring more contact and speed -- be enough to support the solid pitching?
The bottom line: The Rays are off to a slow start, but there's plenty of time to recover. They have some veteran bats who should shore up the offense, and the pitching is solid. So it's a little early in the season to push the panic button.