Cora celebrating big year at Christmas in PR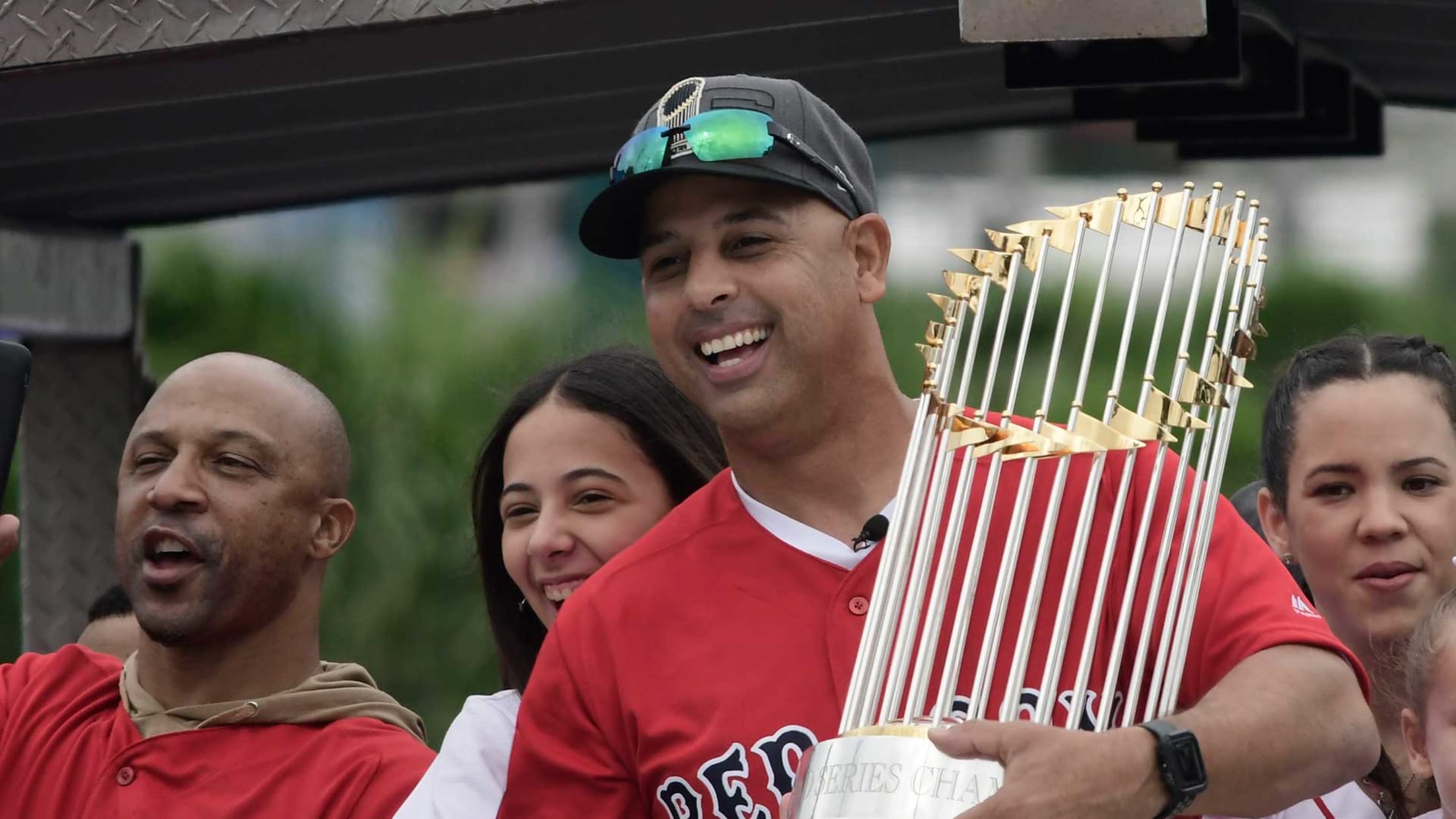 After guiding the Red Sox to a World Series championship in his rookie season as a manager, Alex Cora has a lot to be thankful for this holiday season. The holidays have always been a festive time for Cora and his family. In a recent sitdown with MLB.com, Cora discussed
After guiding the Red Sox to a World Series championship in his rookie season as a manager, Alex Cora has a lot to be thankful for this holiday season. The holidays have always been a festive time for Cora and his family. In a recent sitdown with MLB.com, Cora discussed his favorite holiday traditions.
MLB.com: What is Christmas like for you with your family in your hometown of Caguas?
Cora: We joke that we have the longest Christmas in the whole world. It starts on Thanksgiving and ends in February. We don't do much. We stay at the house. My daughter, Camila, will come. Now we have the twins, so it's a little bit different. And this year, there will be a lot of World Series stuff. It's very family-oriented, not too loud.
MLB.com: Does your homeland get pretty excited this time of year?
Cora: This year, it will be loud and festive. Last year, with everything that happened with [Hurricane] Maria, it was more subdued. A lot of communities had no power and others didn't have running water. Now I think we have the Christmas spirit again.
MLB.com: What do you remember about Christmas when you were a kid?
Cora: Star Wars. That was my thing. I think I was about 8 and Santa brought the Millennium Falcon and, I think, everything else that went with it. The setup, they set it up like a planet and all that. That's my biggest memory. It was the coolest thing ever, at that moment. No gloves, no bats -- I always had that stuff. But Star Wars, that was where it was at. All those toys and action figures and everything. It was unreal.
MLB.com: What type of Christmas traditions do you have?
Cora: We go to my mom's house on Christmas Eve. My daughter, Camila, lives in San Juan, so when she comes to Caguas, we go to each house, my mom's, my sister's, and then we'll go some friends' houses. Everything starts with Camila. When she shows up, then we go.
MLB.com: Your twin boys are 17 months old. Last year, obviously they didn't have much of a concept of what Christmas is. What will it be like this year?
Cora: We'll see. It's going to be fun. They're still young, but it's going to be a lot different than last year. It should be cool to see.
MLB.com: Do you do your Christmas shopping online, or do you hit the stores?
Cora: No, actually, Santa goes to the stores. I don't know this year how much Santa will be involved, but I enjoy shopping.
MLB.com: Is there a certain present you remember getting for someone that you were really excited about?
Cora: Santa always brought these toys, Little People. That was always Camila's favorite. But Santa keeps the tradition, even at 15 years old. She still gets the Little People.
MLB.com: How much do you appreciate this time of year?
Cora: A lot. We've been more than blessed. We're very thankful. It's a giving season and we'll do the same thing.
MLB.com: You talk to a lot of people in baseball and they say that once you get through the holidays and to New Year's Day, they start to get the itch for baseball again and to get back at it. Do you fall in that category?
Cora: I have the itch. I always have it. This is my passion. This is my job, first of all. But I'm a baseball fan. After the World Series, it's like, "Let's go. Let's try to win another one."