Benintendi among top prospect performers Friday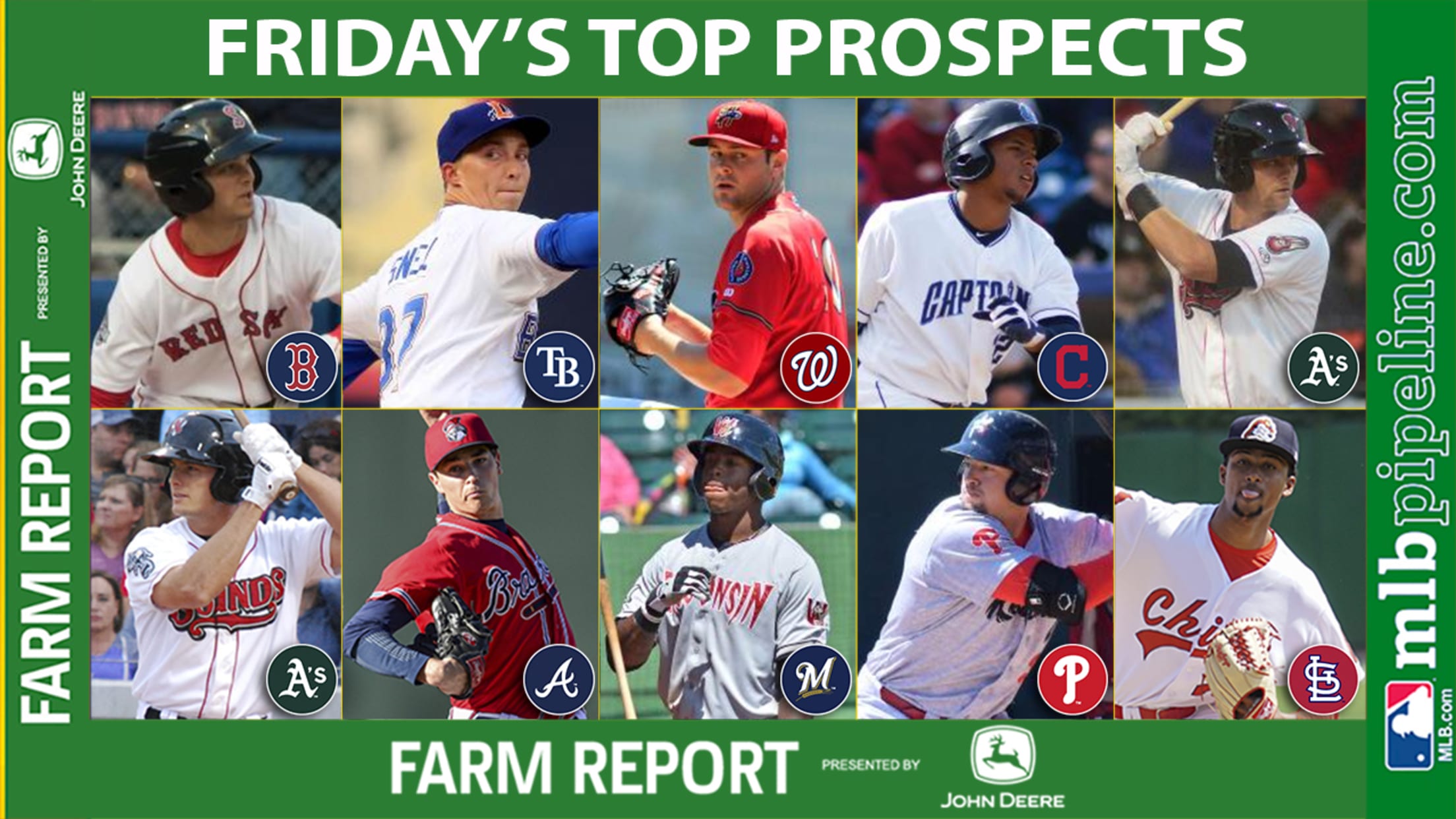 (Paul Sancya/AP)
It took him 21 games, but Andrew Benintendi finally connected on his first Double-A home run on Friday night as Portland defeated Richmond, 8-3. The No. 21 overall prospect went 3-for-5 at the plate and finished a triple short of hitting for the cycle.Benintendi, No. 3 on the Red Sox
It took him 21 games, but Andrew Benintendi finally connected on his first Double-A home run on Friday night as Portland defeated Richmond, 8-3. The No. 21 overall prospect went 3-for-5 at the plate and finished a triple short of hitting for the cycle.
Benintendi, No. 3 on the Red Sox Top 30, opened the season on a tear at Class A Advanced Salem, where he hit a robust .341/.413/.563 with 21 extra-base hits and more walks (15) than strikeouts (nine) in 34 games to force a promotion to the Double-A level. While he's hit just .229/.270/.349 with 14 strikeouts since moving up the Eastern League in mid-May, the 21-year-old center fielder has started to settle in of late and has hits in 12 of his last 16 games for the Sea Dogs.
MILB Video - Title: More information - Url: http://www.milb.com/r/video?content_id=798323083
Even with his Double-A scuffles, Benintendi is hitting .298/.361/.482 through 55 games this season, with 28 extra-base hits including two home runs, 43 RBIs, 40 runs and 11 steals.
The rest of the best performances from top prospects Friday
• No. 1 overall prospect Lucas Giolito (Nationals' No. 1) continued to put his slow start behind him as he struck out a career-high 12 hitters for Double-A Harrisburg in a 6-4 win over Akron. He allowed a pair of unearned runs on four hits and one walk in seven innings, with 65 of his 100 pitches going for strikes in the outing. The 21-year-old right-hander is 5-0 in his last seven starts for the Senators, with a 1.48 ERA and 45 strikeouts in 42 2/3 innings.
MILB Video - Title: More information - Url: http://www.milb.com/r/video?content_id=798466283
• No. 12 overall prospect Blake Snell (Rays' No. 1) punched out a career-high 13 hitters in just 5 2/3 innings but took the loss for Triple-A Durham against Lehigh Valley. The 23-year-old lefty allowed three earned runs on seven hits and one walk while throwing 71 of his 103 pitches for strikes. The big performance improved Snell's International League-leading strikeout total to 90, which also ranks second among all Minor League hurlers.
MILB Video - Title: More information - Url: http://www.milb.com/r/video?content_id=798573783
• Austin Meadows extended his hitting streak to 19 games with a first-inning double in Double-A Altoona's loss against Reading. The No. 16 overall prospect (Pirates' No. 2) owns a .425 average during his streak and is also showing more consistent power with 18 of his 31 hits going for extra bases. He's tied for longest hitting streak in the Eastern League this season, and it's also the second-longest in Curve history. Overall, the 21-year-old outfielder is hitting .308/.365/.582 through 40 games for the Curve.
MILB Video - Title: More information - Url: http://www.milb.com/r/video?content_id=798247983
• Francisco Mejia extended his hitting streak to 12 games with a solo home run in Class A Lake County's loss against Great Lakes. The Indians' No. 8 prospect owns a .468 average during the streak as well as a .337/.370/.497 batting line in 48 games this season.
• A's Nos. 8 and 21 prospects Chad Pinder and Jaycob Brugman combined to go 5-for-10 with five extra-base hits, five RBIs and four runs scored as Triple-A Nashville shutout Oklahoma City, 10-0. Brugman served as the catalyst out of the leadoff spot for the Sounds, going 3-for-5 with a two-run home run and a pair of doubles, while Pinder connected on his fifth home run and also doubled in a 2-for-5 showing at the plate.
MILB Video - Title: More information - Url: http://www.milb.com/r/video?content_id=799761783
• In arguably his best start as a pro, Braves No. 10 prospect Max Fried struck out a career-high nine in six innings to lead Class A Rome past Greensboro. The 22-year-old lefty -- who missed most of 2014 and all of '15 while recovering from Tommy John surgery -- allowed one run (unearned) on four hits and two walks in the outing, and he's now piled up 17 strikeouts in 11 innings between his last two starts.
• Brewers No. 15 prospect Monte Harrison hit a solo homer and a grand slam in his second multi-homer game of the season for Class A Wisconsin, who out-slugged Kane County, 18-9. He finished 3-for-5 at the plate with four runs scored to go along with his five RBIs.
MILB Video - Title: More information - Url: http://www.milb.com/r/video?content_id=799371883
• Phillies No. 22 prospect Dylan Cozens went deep for a career-best 17th time in Double-A Reading's win over Altoona. The 21-year-old outfielder's previous high was 16, which he achieved over 132 games at Class A Lakewood back in 2014. Overall, Cozens is raking at an impressive .286/.360/.585 clip, with 36 extra-base hits, 48 runs scored, 47 RBIs and 12 stolen bases in 60 games.
• Flame-throwing right-hander Sandy Alcantara fired seven scoreless innings in Class A Peoria's win versus Cedar Rapids, walking two and striking out nine. In his full-season debut, the Cardinals' No. 19 prospect is pacing the Midwest League with 71 strikeouts in 55 1/3 innings as a 20 year old.
• It was 15 up, 15 down for Chance Adams as the Yankees' No. 20 prospect fired five perfect innings in a win for Class A Advanced Tampa. The 2015 fifth-rounder struck out 10 in the outing, a new career high, giving him 63 punchouts in 52 2/3 innings on the year. He's gone 4-0 in his last seven starts, during which he's registered a 0.94 ERA and a 48/7 strikeout-to-walk ratio over 38 innings.
• D-backs No. 25 prospect Josh Taylor matched his career high with 13 strikeouts and allowed one unearned run in Class A Advanced Visalia's win over Lancaster. The 6-foot-5 left-hander scattered six hits and did not issue a walk in the outing.
• Make that eight home runs in the past 10 games for Twins No. 28 prospect Daniel Palka. The 24-year-old outfielder hit his Southern League-leading 15th homer for Double-A Chattanooga as part of a 2-for-4 performance that also saw him hit his third triple.
MILB Video - Title: More information - Url: http://www.milb.com/r/video?content_id=798374883