Q&A: McCutchen on AT&T Park, life after Bucs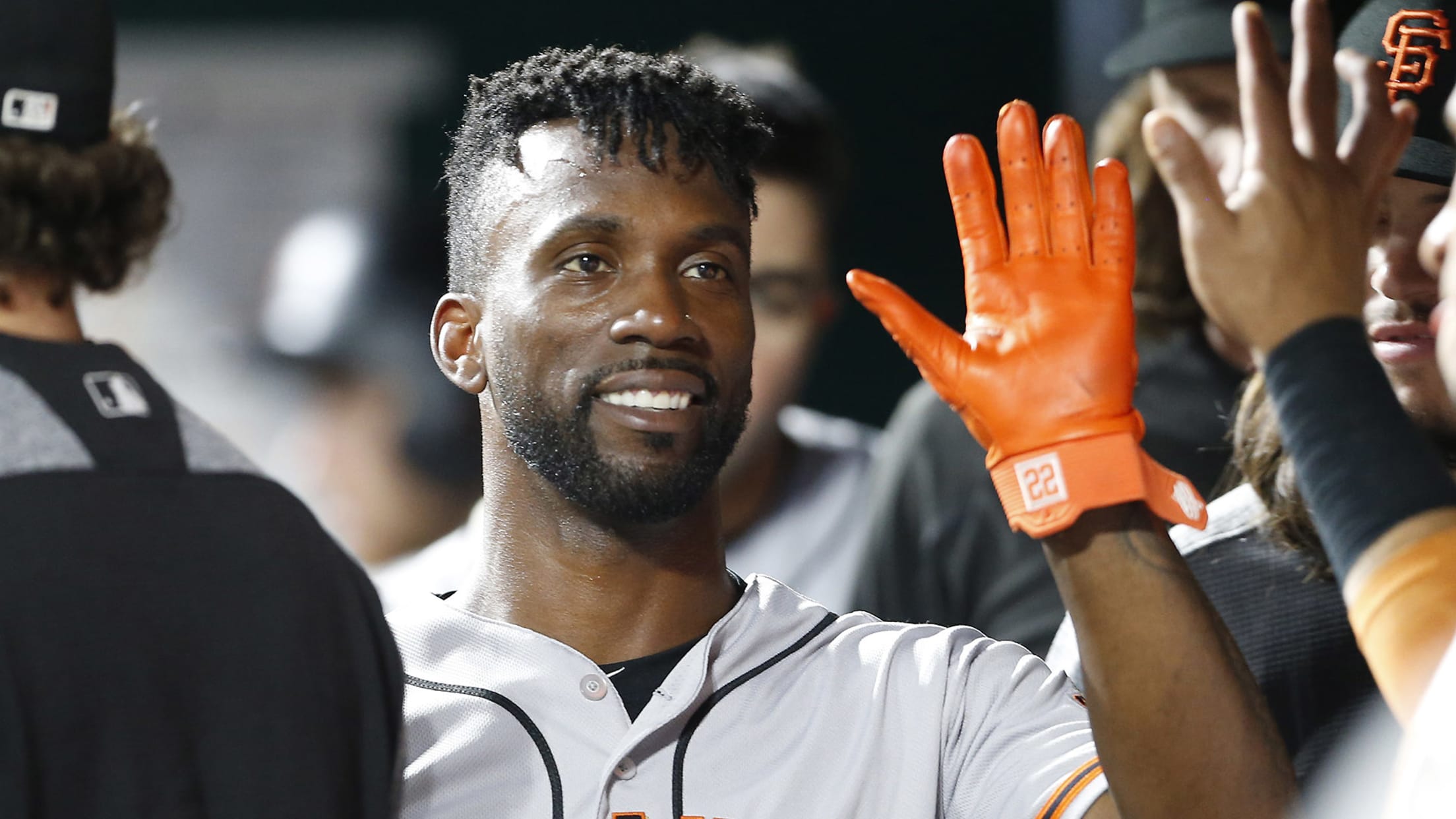 San Francisco Giants' Andrew McCutchen, center, is congratulated in the dugout after scoring during the eighth inning of a baseball game against the Cincinnati Reds, Saturday, Aug. 18, 2018, in Cincinnati. The Reds won 7-1. (AP Photo/Gary Landers) (Gary Landers/AP)
In a recent sit-down with MLB.com, Giants outfielder Andrew McCutchen answered a wide range of topics, from his impending free agency to his love for the Pirates. MLB.com: This is your first season not being in the Pirates' organization. What kind of year has it been being in San Francisco?Andrew
In a recent sit-down with MLB.com, Giants outfielder Andrew McCutchen answered a wide range of topics, from his impending free agency to his love for the Pirates.
MLB.com: This is your first season not being in the Pirates' organization. What kind of year has it been being in San Francisco?
Andrew McCutchen: It's been good. There haven't been any real adjustments besides being acclimated with your surroundings, the city, the baby. Those are pretty big adjustments you have to make. It presents the challenges, but at the end of the day, I'm playing the game of baseball. That's the main focus, the game of baseball. Overall, it hasn't been too difficult. It has been pretty normal.
MLB.com: Based on your Instagram, it seems you are having fun with your son, Steel. Tell me how much the baby has meant to you.
McCutchen: It's been great. ... My wife [Maria] has done a tremendous job of sacrificing, being with him and staying with him when I go on the road. She used to -- for the most part -- go to any road trip she wanted to go on. Now it has become a little difficult because we do have a child. She does a tremendous job. She puts on her cape and being Super Woman. She is here in New York. She flew 5 1/2 hours with the kid just to be with me. That is something I appreciate more than anything. That's something people don't get to see or understand how difficult it is when you are missing your kid weeks at a time.
MLB.com: What happiness does your son bring to you?
McCutchen: It's more of a peace thing. I'm at peace with whatever comes my way. It's just appreciating where you are at the moment -- whatever it is. It doesn't matter what you did on the field. You go home, and all my son cares about is being with me. That's something you appreciate because you leave baseball on the field and you have family at home. You have to balance those two things. That has helped me out a lot.
Before, I used to carry the game with me all the time, playing the game, thinking about my performance, just taking that home. Not necessarily stressing over it, but it was on my mind more times than it should. But now you play the game, and then the game is over. You go home and see the kid.
MLB.com: I can see the happiness in your face.
McCutchen: Oh, yeah.
MLB.com: Let's talk a little baseball. You are not having a bad year except for the batting average. How do you feel you are doing?
McCutchen: Of course, it's not the year I want to have right now. But at the same time, there are a lot of positives I can take from what I've done thus far.
MLB.com: Like what?
McCutchen: For example, average is average. That's way I look at it. It's going to go up and down every single day. Sometimes it will stay the same. You drop a 1-for-3, 1-for-4 in there and it might stay the same. But that is something I don't focus on because when you start focusing on your average every single day, that's when the game becomes a lot more difficult than it already is. … When you start putting that pressure on yourself, that's when this game becomes too much.
As far as average, I'm not concerned about that. I focus more on feel. I focus more on effort. When I go out there I know I can deliver something positive to the game. I can come through defensively. I can be a positive impact on my teammates in the dugout. There is different ways of doing it, ways that people don't see. When people just see the game, they see performance. That's it. There's more that goes on.
… Overall, I think I'm having a good year in the sense of I'm still scoring runs, still getting on base and getting the ball hard. At the end of the day, that's my focus. I have to be a guy that gets on base, because I have to be able to use my legs. If I'm making hard contact, I can't control where the ball goes. Once I swing, the ball goes where it goes. If I'm stinging the ball more times than not, I can accept that.
MLB.com: A lot of people thought AT&T Park would affect you, but it hasn't really hurt you.
McCutchen: It is a bigger ballpark. There are some balls that you hit -- I look back and I go, "Man, that is normally a home run." When I'm going really well, my power is really from center to right-center field, and that's the biggest part of the ballpark. I've hit a couple of home run to the opposite field. That's my main power. At the same time, I have to take advantage of the extra grounds. … When I look back, I feel like I should be trying to hit the ball to right center more -- giving myself opportunities for doubles and triples.
It's a bigger ballpark. At the same time, you can look at it and say, "More hits can fall," and you look at guys who have been there their whole careers like [Buster] Posey and what he does. He is not a guy who tries to hit homers. He is just getting hits. He is driving the ball to the right side of the field. That's what a good hitter does, taking advantage of the ballpark in San Francisco.
MLB.com: How do you think the team is doing? Can you still at least fight for a National League Wild Card spot?
McCutchen: Anything is possible in this game. … It's whatever you make it. You can choose to just go through the motions and just give up and get the season over with, or you can choose to fight for the next 38 games or so and make it interesting. I'm sure all these guys in here -- we're going out and trying to fight. We're trying to win. We are going to do that until the last game is over. We know what the standings are where they are, but we know we have to win.
MLB.com: Why has this team been so up and down?
McCutchen: One of the pitfalls we had all year is injuries. We stayed injured the entire season. I don't know if we played for a stretch of three weeks straight where we actually played with our starting lineup that we had in Spring Training. Someone has been injured. Someone has gone on the DL for an extended period of time. People have to come up and step in and take that over. … It's hard to come back from things when a lot of guys are getting injured.
Look at the rotation: Jeff Samardzija is hurt. Johnny Cueto is hurt. Those are two of our horses, and we lost them early. We had guys who have stepped up and have really done a good job. Dereck Rodríguez has done a tremendous job. And Derek Holland has been the most consistent in the rotation. He keeps us in ballgames every time he goes out there.
MLB.com: You lost Pablo Sandoval. That was a big blow.
McCutchen: We lost him twice. It was his thumb and then his groin. We lost Evan Longoria to a broken hand. We lost Brandon Belt. He had appendicitis, and then he had a knee problem. That was tough for us, because we know we have the offense capable of putting up runs. But it's a challenge when our horses are down.
MLB.com: What about your future with the Giants? There is talk of you being traded before the Aug. 31 deadline. How much do you want to stay here?
McCutchen: It's out of my control. I can't control where I'm at. For me, I'm playing for today. The team I'm representing, that's the Giants. I'm going to continue to do that unless I'm told otherwise. I don't pay attention to it. I don't even know how that whole thing works. I'm just playing and trying to win.
MLB.com: You are a free agent after this season. You saw what happened to some of the free agents last offseason. They had a tough time finding a job. Do you have that fear?
McCutchen: I don't have the fear. Again, it's out of my control. Whatever people decide, I can't control it. My main perspective is, I live literally for today. … I try to appreciate where I am. All that stuff in the future is the future. I just try to live for now.
MLB.com: I'm going to ask you a question that I asked Pirates manager Clint Hurdle. How much do you miss Hurdle?
McCutchen: A lot. We had a relationship that was more than a manager and player relationship. We had a friendship and a bond that was created by being around each other for an extended period of time since 2011, when he came over. We've been through it all. We went through struggles and we went through the winning, and we went through the struggles again. We went through me moving positions -- from center to right. We went through me being an MVP player to being a guy that people are trying to figure out. We have been through it all. Of course you are going to miss being around him. It was difficult to leave Pittsburgh. It was difficult to tell Hurdle, "See you later." I miss him a lot.
MLB.com: You love Pittsburgh, don't you?
McCutchen: Yes, for sure. There is a lot of history there. I was in that organization since I was 18. That's a very long time, and I've done a lot in that amount of time. The love is there because of that. There are so many positive things that I could talk about that I'm appreciative of. It's amazing. … On top of that, we won, too. That was fun. It's one of those bonds that you have.
MLB.com: What about being around the history in San Francisco? What is it like being around the Willie Mays of the world? He was outstanding during the Barry Bonds ceremony recently.
McCutchen: Yeah. … People talk about Roberto Clemente all the time. Think about if he was in the clubhouse all the time. That would be amazing. To actually have someone of Willie Mays' stature, to actually sit down at the table and have a talk with him, is the most amazing thing I can think of. It's the closest thing to Jackie Robinson that I could picture. Mays was young, but he was around when Jackie was with the Dodgers.
To hear stories, it's really cool to talk to him about anything -- hitting. He gives you the time of day. Willie McCovey is the same way. Barry Bonds is the same way. Those guys are a big family, and it's amazing how the Giants' organization keeps them around and how they honor them on a daily basis. It's tremendous.
Bill Ladson has been a reporter for MLB.com since 2002. He covered the Nationals/Expos from 2002-2016. Follow him on Twitter and Facebook.