Snow forces cancellation of Angels-Bees game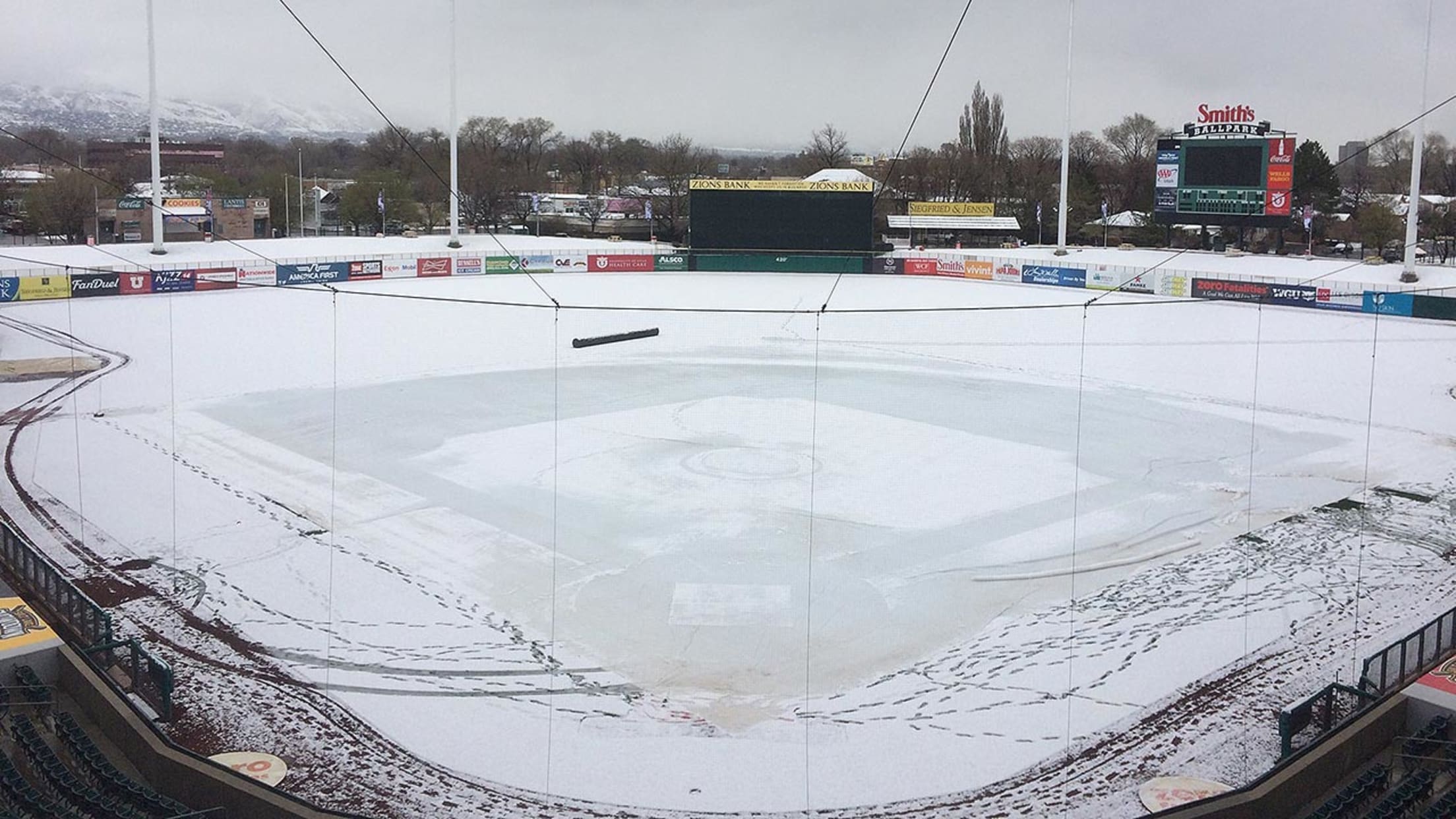 Smith's Ballpark was covered by an inch and a half of snow when the sides decided to cancel. (Bees)
TEMPE, Ariz. -- Shortly before 9 a.m. MDT on Tuesday, a group of Angels players that included Mike Trout, Kole Calhoun, C.J. Cron, Garrett Richards, Tyler Skaggs and Mike Morin boarded a bus headed to the airport for a flight to Salt Lake City. A few minutes later, they walked
TEMPE, Ariz. -- Shortly before 9 a.m. MDT on Tuesday, a group of Angels players that included Mike Trout, Kole Calhoun, C.J. Cron, Garrett Richards, Tyler Skaggs and Mike Morin boarded a bus headed to the airport for a flight to Salt Lake City. A few minutes later, they walked back into the clubhouse and went about their day.
Steady snowfall blanketed the field at Smith's Ballpark and cancelled a highly anticipated exhibition game between the Angels and their Triple-A affiliate, the Salt Lake Bees, before players could even board the flight to attend it.
The bus from Minor League camp left the facility at 8:45 a.m. and was already at Phoenix Sky Harbor International Airport when both sides decided it wasn't worth the trip. The game will not be made up and there are no plans for a similar contest to take place next year, but Angels vice president of communications Tim Mead said they may schedule some players to show up for one of the Bees' offseason events.
Mead got on a conference call with Salt Lake Bees vice president and general manager Marc Amicone on Tuesday morning, and both sides decided to cancel the game within five minutes. The field was covered by an inch and a half of snow at the time, and conditions weren't expected to improve.
"It really wasn't much of a negotiation," Mead said. "It just didn't make sense."
Trout, Calhoun and Cron were among the 55 players slated to make up two teams in the exhibition game, with the rest of the Major League club staying in Tempe for a home game against the A's. Upon cancellation, the three were inserted in the starting lineup at Tempe Diablo Stadium.
The game would've marked the first meeting between the two clubs since the Bees became an official Angels affiliate in 2001.
"I think for some of the players, it would've been cool to go back to Salt Lake City, and certainly the fans looked forward to it," Mead said. "But most folks back there probably have a better idea than we do [about how bad the conditions were]."