Angels host Pitch, Hit and Run youngsters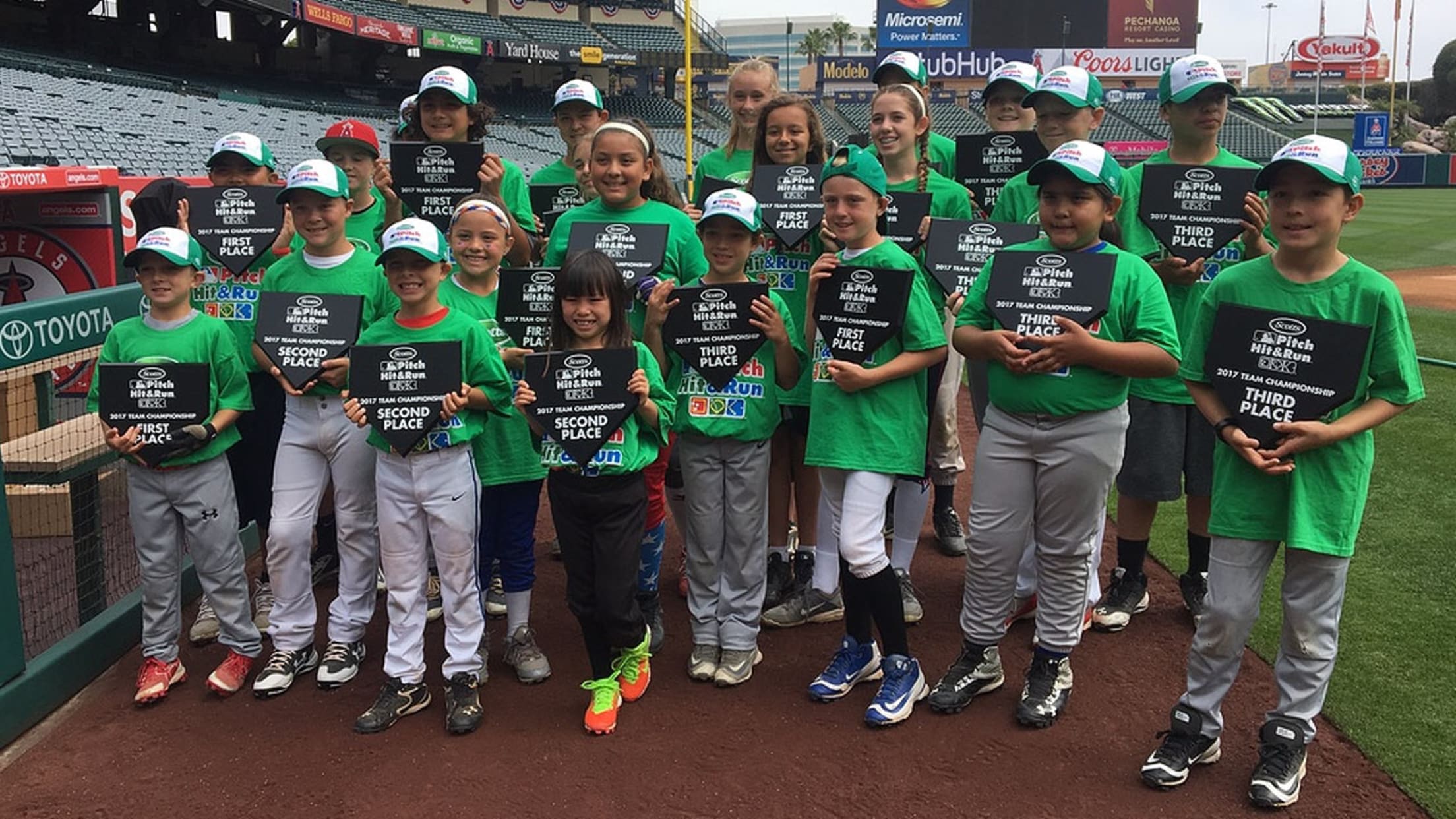 Pitch, Hit and Run participants pose before Monday's game at Angel Stadium. (Angels)
ANAHEIM -- Youngsters around the world dream of getting the chance to visit their favorite ballpark. Most -- even if they have no true desire of one day playing in the Major Leagues -- envision themselves stepping into the batter's box before eventually rounding third base and crossing home plate
ANAHEIM -- Youngsters around the world dream of getting the chance to visit their favorite ballpark. Most -- even if they have no true desire of one day playing in the Major Leagues -- envision themselves stepping into the batter's box before eventually rounding third base and crossing home plate of their favorite venue.
For the 23 kids who competed in the Anaheim-based Scotts MLB Pitch Hit & Run on Monday, that dream became a reality.
After persevering through local and sectional competitions, eight winners will go on to compete in the championships held ahead of the 2017 MLB All-Star Game at Marlins Park in Miami -- Candice Puig, Carter Smith, Roxanne Fusco and Holly Misley from the softball division; Brendan Stahl, Mateo Rickman, Stefano Gonzales and Olin Snakenborg from the baseball division.
In addition to their participation with on-field drills, the first-place winners were also honored prior to Monday's series opener between the Angels and Braves.
For Smith, the 9-10 softball division champion, the acknowledgement was a direct result of ambition to progress further in the competition than he ever has before.
"It took a lot to prepare for this," he said. "It was a lot of fun."
Smith wasn't the only participant to represent his family, which hails from San Clemente. His older brother, Riley, claimed a third-place award in the 11-12 softball division.
According to their father, Dave, Riley has a history with the program having been a part of a commercial shoot for Pitch, Hit and Run three years ago. Last year, he reached the sectional portion prior to placing at this year's competition.
"Getting to here was lots of work," said Riley, a self-described first baseman, third baseman, pitcher and "occasional" left fielder. "This year I did softball instead of baseball, so it was little bit easier to get this far, but it is still tough at this level because everybody's good."
In lieu of the diligence it took to reach the championship, Riley was ecstatic for his younger brother's success.
"It was pretty cool to see him get first place," he said.
Carter, a second baseman, shortstop, pitcher and catcher, said it was nice having his older brother out there. Perhaps his poise can be attributed not only to his comfort in his older brother being on the field, but previous experience playing at Angel Stadium.
Nevertheless, he was prompt to admit that turning the corner, sprinting down the third-base line and touching home, just like his favorite player, Michael Trout, was a unique experience.
"It was cool," Carter said. "I've been on Angel Stadium before, the field, doing other clinics with my dad. So, I've been on it, but I've never been running the bases there and stuff. It's very nice."
Kaelen Jones is a reporter for MLB.com based in Los Angeles.