Tuesday's best: Jones extends hit streak to 18 games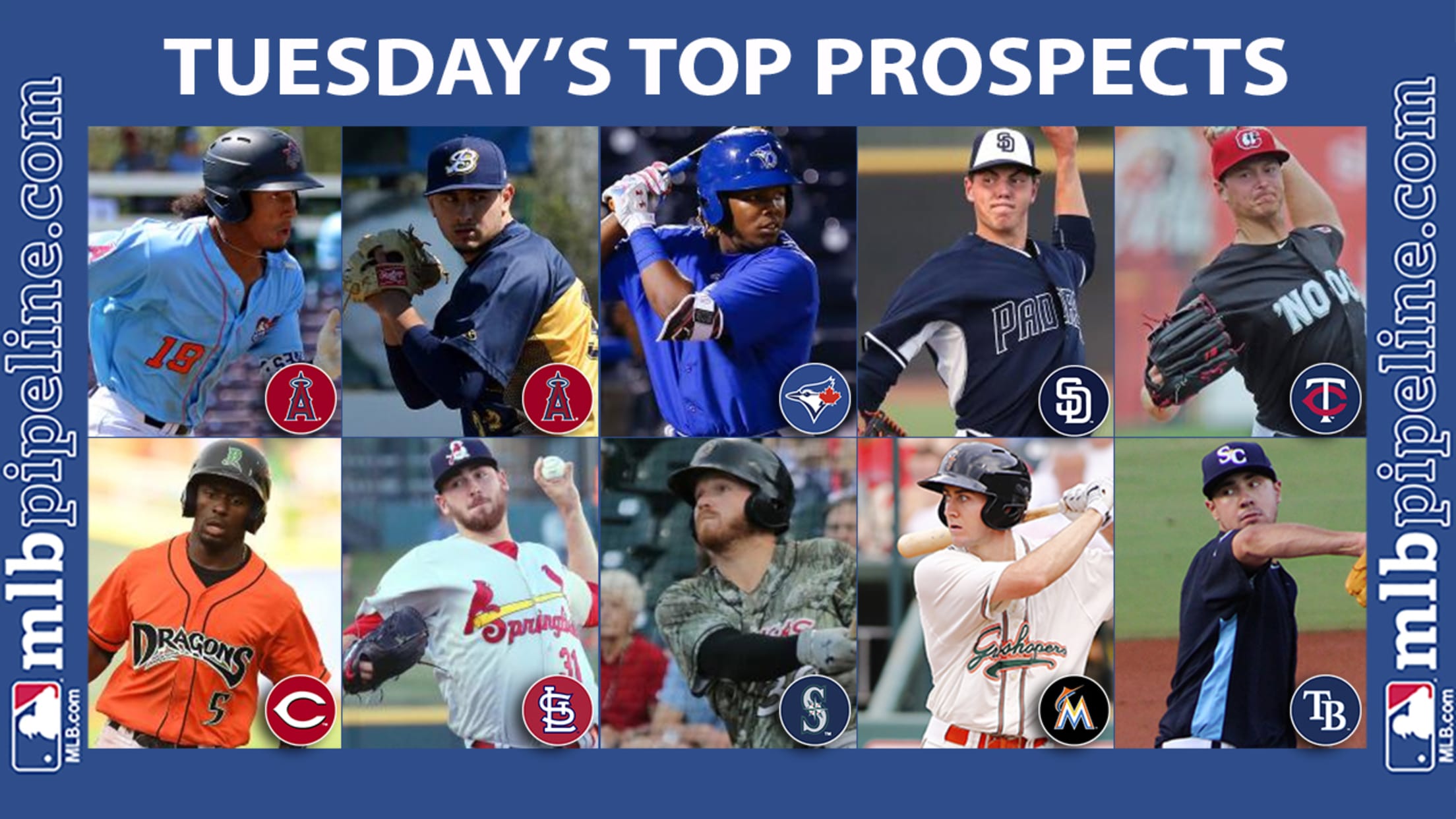 The hits just keep coming for Jahmai Jones.The Angels' No. 2 prospect extended his hitting streak to 18 games on Tuesday with a leadoff double in Class A Advanced Inland Empire's 2-0 win over Lake Elsinore. He also hit a single and walked once in the contest, finishing 2-for-4 at
The hits just keep coming for Jahmai Jones.
The Angels' No. 2 prospect extended his hitting streak to 18 games on Tuesday with a leadoff double in Class A Advanced Inland Empire's 2-0 win over Lake Elsinore. He also hit a single and walked once in the contest, finishing 2-for-4 at the plate.
Jones, 19, has now hit safely in 24 of his 25 games since being promoted to the California League. Overall, he's batting .333 with 10 extra-base hits during his time with the 66ers.
The Angels decided to bump up Jones, the club's second-round pick in the 2015 Draft, to Inland Empire after his strong showing with Class A Burlington in the Midwest League. In 86 games with the Bees, Jones hit .272/.338/.425 with nine homers, 54 runs, 30 RBIs and 18 stolen bases.
Pacing Inland Empire on the mound was 2014 second-rounder Joe Gatto (Angels' No. 26), who fired six scoreless innings to record his first win in three starts. Throwing 75 pitches in the outing (48 strikes), the 22-year-old righty allowed three hits and two walks while striking out five and generating eight ground-ball outs.
It was Gatto's second straight scoreless outing for the 66ers after posting a 3.46 ERA over 96 1/3 innings (21 starts) with Burlington.
The rest of the best performances from top prospects Tuesday
• No. 6 overall prospect Vladimir Guerrero Jr. (Blue Jays' No. 1) recorded a career-high four RBIs with a 3-for-4 performance for Class A Advanced Dunedin. The 18-year-old third baseman pushed across a run with each of his three hits and added another via a sacrifice fly. With hits in 17 of his past 19 games, Guerrero is slashing .309/.435/.400 with more walks (24) than strikeouts (21) in the Florida State League.
"For a young kid, it's really impressive. He's just a very talented player," Dunedin manager John Schneider told MiLB.com. "We continue to stress to him the importance of keeping with his routine, keying in on every pitch and those types of things. But he's a great teammate, he's fun to watch and is infectious to have on the club.
"I don't know how many other 18-year-olds are in this league, but he's playing and succeeding against much older competition. The way he competes is fun to watch. It's funny, because sometimes [the coaches] lose sight of the fact that he's so young. Just the way he acts during batting practice, during the games and in the clubhouse ... he's a leader by example and by performance as well."
• No. 29 overall prospect MacKenzie Gore (Padres' No. 1) turned in his fourth scoreless performance in five professional starts in the Rookie-level Arizona League. The 2017 No. 3 overall Draft pick allowed three hits over four innings with one walk and six strikeouts. He lowered his ERA to 0.56 in the process, and he's now compiled 24 strikeouts against three walks in 16 innings to begin his career.
• No. 73 overall prospect Stephen Gonsalves (Twins' No. 3) gave up one earned run on four hits in six innings to record his first win in his second start for Triple-A Rochester. Striking out eight and walking two, the 23-year-old southpaw threw 67 of his 96 pitches for strikes. Including his time in Double-A, Gonsalves owns a 2.60 ERA with 11 strikeouts and 25 walks in 100 1/3 innings (17 starts).
• No. 77 overall prospect Taylor Trammell (Reds' No. 3) raced around the bases for an inside-the-park home run before finishing 3-for-5 with two runs scored and a stolen base. The 19-year-old outfielder has now gone deep 10 times in his full-season debut, while Tuesday's stolen base gives him 33 in 113 games during which he's hitting .283/.364/.443.
MILB Video - Title: Trammell hits inside-the-park homer - Url: http://www.milb.com/r/video?content_id=1731819983
• Cardinals No. 15 prospect Austin Gomber permitted a pair of unearned runs and just one hit in a strong outing for Double-A Springfield. The 23-year-old lefty gave up a two-run homer in the first following a two-out infield error but dominated the rest of the way, retiring 13 of the final 15 batters he faced before finishing with 88 pitches (57 strikes).
• Mariners No. 25 prospect Tyler Marlette blasted a pair of home runs, hitting a two-run shot in the fifth inning followed by a solo shot in the seventh to help power Double-A Arkansas past Frisco, 9-2. After spending parts of three seasons in Double-A, the 24-year-old backstop is slashing .259/.311/.420 with 10 homers and 20 doubles in his first full campaign at the level.
MILB Video - Title: Marlette's second homer - Url: http://www.milb.com/r/video?content_id=1732326183
• Marlins No. 7 prospect Brian Miller collected a career-high four hits for Class A Greensboro, and all four of them were doubles as the No. 36 overall Draft in 2017 pick went 4-for-4 with four RBIs (also a career high), three runs scored and a walk out of the leadoff spot. The 21-year-old outfielder has put together a strong pro debut so far, as the big performance gives him a .327/.375/.444 slash line with 16 extra-base hits and 11 stolen bases in 39 games.
• Rays No. 18 prospect Brock Burke was at his best for Class A Advanced Charlotte, as the 21-year-old left-hander established career highs with 12 strikeouts and eight innings pitched in a win against Jupiter. Throwing 71 of his 97 pitches for strikes, Burke allowed two earned runs on four hits and one walk. It marked his best performance since moving up from Class A Bowling Green, where he went 6-0 with a 1.10 ERA and .181 batting average against in 10 starts.
• Yankees No. 10 prospect Nick Solak had a big night at the plate for Double-A Trenton, going 4-for-6 with two doubles, one triple and two RBIs in a loss against Akron. He's hitting .327 through 12 games in the Eastern League after the four-hit effort, his first in Double-A and his third this season.
MILB Video - Title: Watch: Solak triples in run - Url: http://www.milb.com/r/video?content_id=1733088783
• Yankees No. 28 prospect Luis Medina turned in a dominant outing for Rookie-level Pulaski, tossing five hitless innings with seven strikeouts and two walks in a win against Bristol. It was the second scoreless performance in four starts for the 18-year-old righty, who also allowed one hit over 4 2/3 blank frames in his Appalachian League debut.
"The guy had great focus in this outing. He put it all together," Pulaski pitching coach Gerardo Casadiego told MiLB.com. "He was able to transfer the work we did between outings into this start -- he did a good job transferring that. Everything that we worked on between outings, he put in place in the game. It was huge for him to be able to do that."