Angels' bats remain quiet in loss to Mariners
Halos' first four hitters combine to go 0-15; Pujols shows off his wheels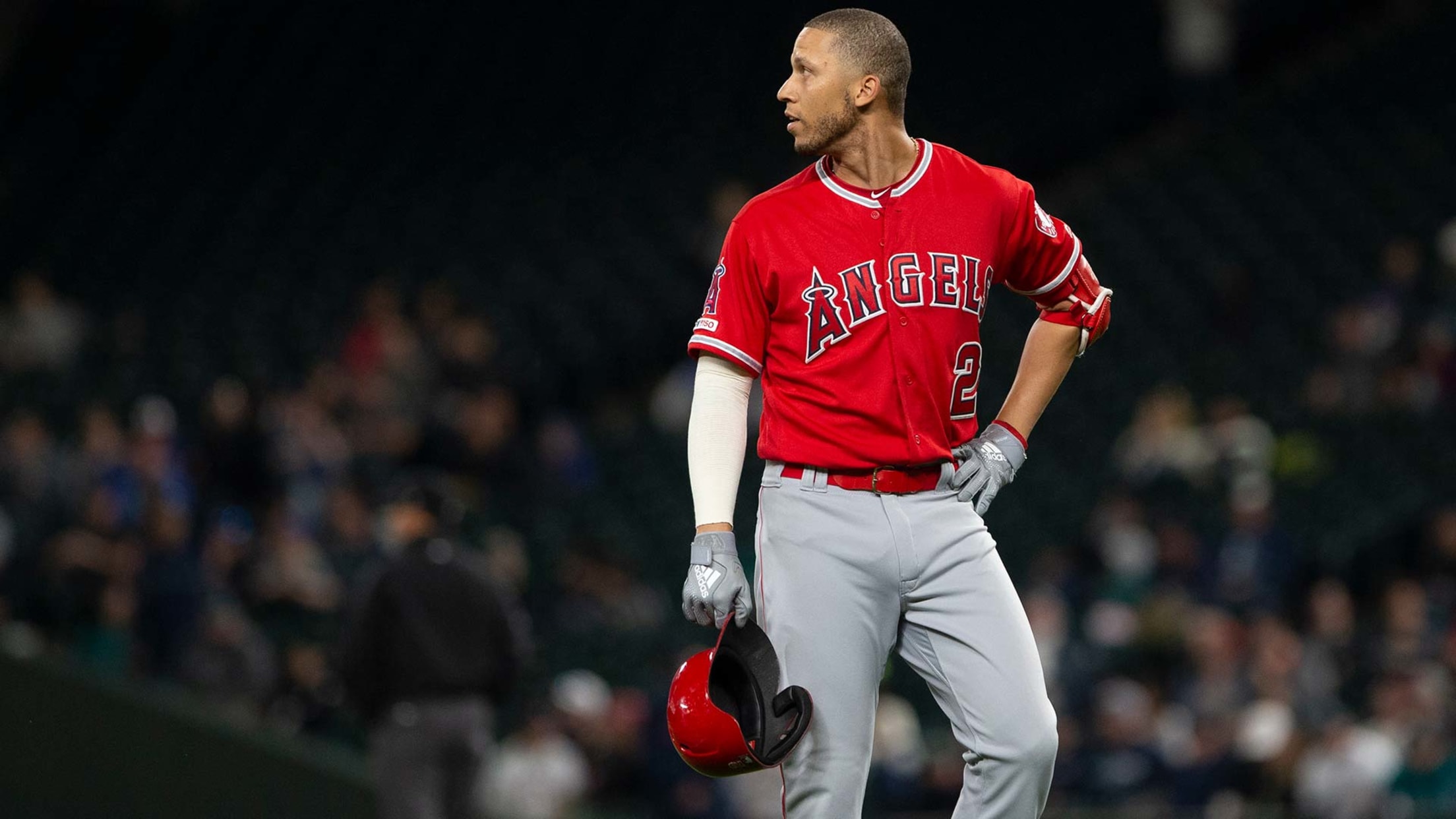 SEATTLE -- The scene was perhaps a reflection of their season to this point: The Angels were down to their final out on Monday, and on deck awaited Mike Trout. Kole Calhoun flew out to center as the club's 27th out, after which the Majors' best hitter turned and disappeared
SEATTLE -- The scene was perhaps a reflection of their season to this point: The Angels were down to their final out on Monday, and on deck awaited Mike Trout.
Kole Calhoun flew out to center as the club's 27th out, after which the Majors' best hitter turned and disappeared into the dugout. Trout batting in that moment wouldn't necessarily have altered the game -- the Halos lost, 6-3 -- but he remains the lone bright spot in what's been a sputtering offense that remained sleepy in Seattle after dropping three of four in the season-opening series in Oakland.
Trout has just four hits through 21 plate appearances this season, but he's riding a robust on-base percentage of .476 through the first five games after reaching twice on Monday via walk, one intentional, and being hit by a 91 mph fastball from Felix Hernandez that had a tad too much carry in.
Yet even Trout was hitless among the Angels' one through four hitters in their two-game series opener against the first-place Mariners, joining leadoff man Calhoun (0-for-5 with a strikeout), three-hole hitter Justin Bour (0-for-4 with a strikeout) and Andrelton Simmons (0-for-4 with two strikeouts). Simmons is hitting cleanup due to Justin Upton and Shohei Ohtani's absences with injuries, which are becoming increasingly glaring. Ohtani (Tommy John surgery) is on track to return to an exclusive hitting role in '19, but not until May, and Upton (turf toe) will be out at least two months.
"We're not clicking on all cylinders obviously, offensively," Angels manager Brad Ausmus said. "it can be tough on pitchers if you're constantly trying to hold a team, so it'd be nice to jump on a team early from an offensive standpoint, and maybe let their pitching staff worry about holding us."
Bour, Simmons and Zack Cozart (who hit fifth Sunday and popped out to third pinch-hitting on a scheduled day off Monday) have gotten off to particularly slow starts, going a combined 5-for-52.
"I think it's really early. I think obviously I'm not doing that well at the moment," Bour said. "But I've gone through this several times in my career. I started 2-for-20 and I know how good of a player I am, and what I'm capable of doing."
The Halos had their chances Monday against Hernandez, who overcame four errors and rode a sinker-curve combo to four punchouts despite generating just four swinging strikes total on his 92 pitches over 5 1/3 innings. Hernandez's fastball sat at 89 mph and topped out at 92, and he picked up his first win since June 30 of last year.
Pujols steals scene with baserunning
By Statcast measures, Albert Pujols was the slowest top-end runner in baseball last season, averaging a 22.2 feet-per-second sprint speed -- the worst among 549 qualified players. League average is 27.0 and top-end elite, the Billy Hamilton and Byron Buxton stratosphere, is 30.0 and above.
All of this is to preclude the wonder Pujols showed on the basepaths on Monday, when he scored from second on a single to center and beat a throw from Mallex Smith in the fourth. In the sixth, he then nearly beat out a groundout to shortstop Tim Beckham for an infield single. Pujols averaged a 23.7 and 23.5 sprint speed on both plays, respectively.
Hey Mike Gallego, is your arm tired yet? pic.twitter.com/np15LCKw66

— Los Angeles Angels (@Angels) April 2, 2019
"If he's rolling, it's easier to send him sometimes than to stop him," third base coach Mike Gallego said.
"He's definitely a better baserunner than people think. There's no doubt. You don't have to be fast to be a good baserunner. You just have to know the situations, and he's in tune with every pitch and every out in every innings."
Before Monday, Pujols hadn't scored from second on a non-extra-base hit since doing so on a Calhoun blooper to left-center in an April 8 win over the A's last year -- when Ohtani took a perfect game into the seventh -- and there was no play at the plate.
Stratton sharp after tough first inning
Newly-acquired right-hander Chris Stratton didn't exactly help the Angels' bats by surrendering four runs in the first inning, but he did settle in to retire nine of his final 13 batters from the second inning on after better establishing his fastball, which set up serviceable secondary pitches in his 82-pitch outing.
"I think I just didn't locate well in the first inning," Stratton said. "It kind of rolled on me there."
Stratton's curveball has been touted to have strong potential, and he showed it in 2017 when he limited batters to a .116 average on the offering and generated a 36.7 percent whiff rate. But those marks regressed to a .269 average and 27.7 percent whiff rate in '18, his first full season in the Majors.
The Angels acquired Stratton because they like his stuff, and more chiefly, need rotational depth given the injuries across their staff. And Stratton, who was acquired from the Giants last Monday and was San Francisco's 2012 first-round Draft pick, is out of Minor League options, which means the club will have more incentive to keep him on the 25-man roster and prevent exposing him to waivers from other teams.