Simulated game Skaggs' next test
Lefty expected to throw 30 pitches on Saturday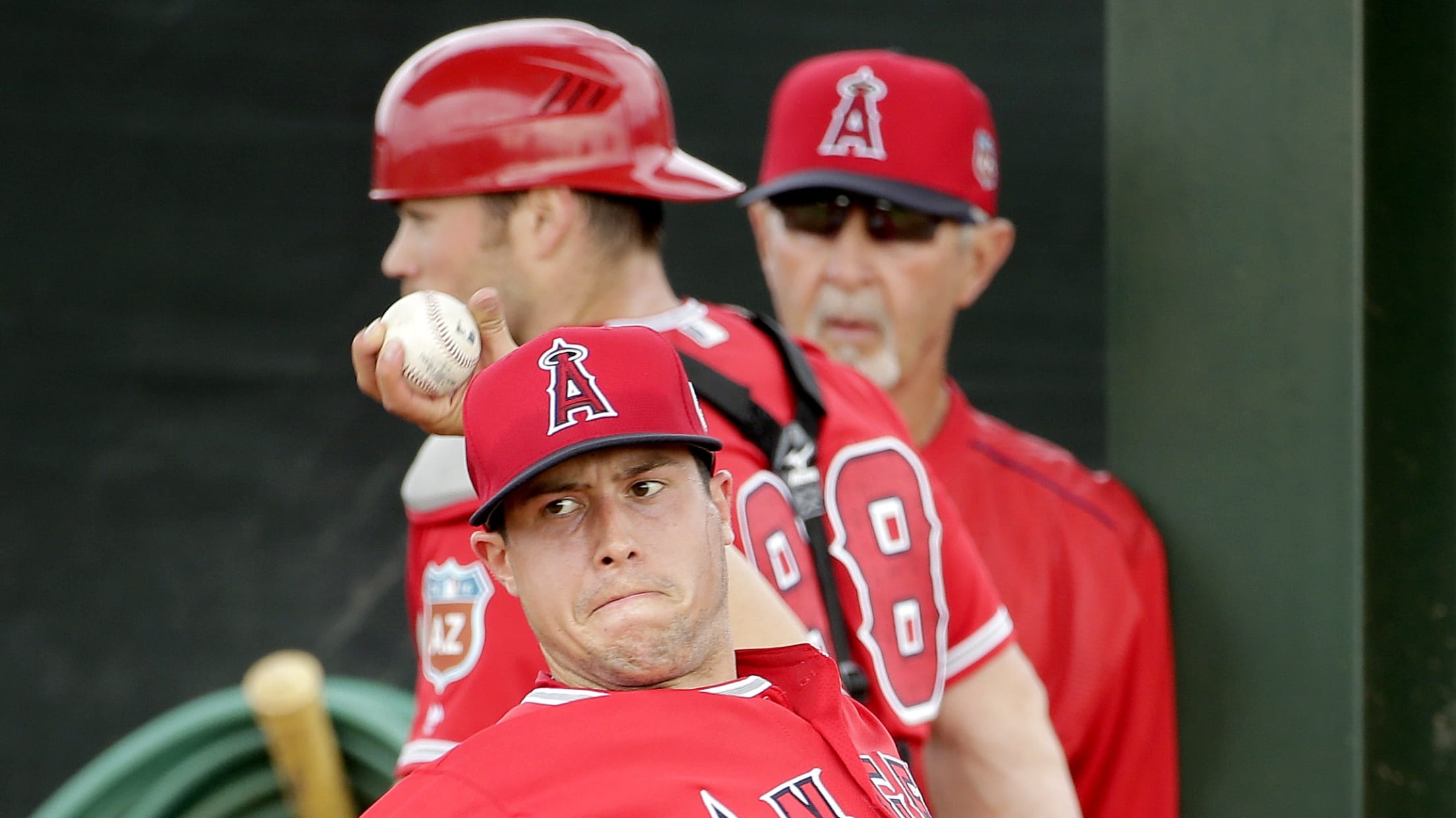 Tyler Skaggs throws a pitch during a bullpen session at Angels camp. (AP)
TEMPE, Ariz. -- Angels left-hander Tyler Skaggs is sick of the disabled list, but he can see light at the end of the tunnel.Skaggs will throw a 30-pitch simulated game on Saturday. It is considered the last step in his rehabilitation from Tommy John surgery before he can pitch in
TEMPE, Ariz. -- Angels left-hander Tyler Skaggs is sick of the disabled list, but he can see light at the end of the tunnel.
Skaggs will throw a 30-pitch simulated game on Saturday. It is considered the last step in his rehabilitation from Tommy John surgery before he can pitch in a game.
"It's one more step closer. I'm pretty excited about it," Skaggs said Friday. "I can definitely see the finish line."
Skaggs hasn't faced any setbacks during the rehab process and, if everything goes well Saturday, he could pitch in a Minor League game next week and then in a Cactus League game five days later.
Skaggs last pitched in a Major League game on July 31, 2014, against the Orioles. He had surgery on his left elbow shortly after.
"Get through it healthy. If I don't feel anything, that's a win," Skaggs said of the simulated game. "But I have to take it day by day, pitch by pitch. It's been a long road for me, so I'm becoming accustomed to not looking ahead and taking it day by day."
Skaggs, 24, will throw 15 pitches, sit down for 10 minutes and then throw 15 more pitches, essentially two innings. He will utilize all of his pitches, with a particular focus on refining his curveball.
"It's all excitement to get out there and sling the rock," Skaggs said. "I know I'm taking it slow, but we have a long season ahead of us. A very long season. I expect this team to do well this year and I want to be a part of it."
Skaggs is expected to start the season on the disabled list, along with fellow lefty C.J. Wilson (shoulder), and will be held to an innings limit during his first season back. If everything goes well, he could be back in the Major Leagues by mid-to-late April.
"You don't ever want to start the season on the disabled list, but I only have 162-180 innings to work with, so it's not a bad thing," he said. "That said, nobody wants to start on the DL. I'm sick of being on the DL."
Chris Gabel is a contributor to MLB.com.