Alford, Urena among top prospect performers Wednesday
Pair of Blue Jays prospects combine to propel Dunedin to 10-9 win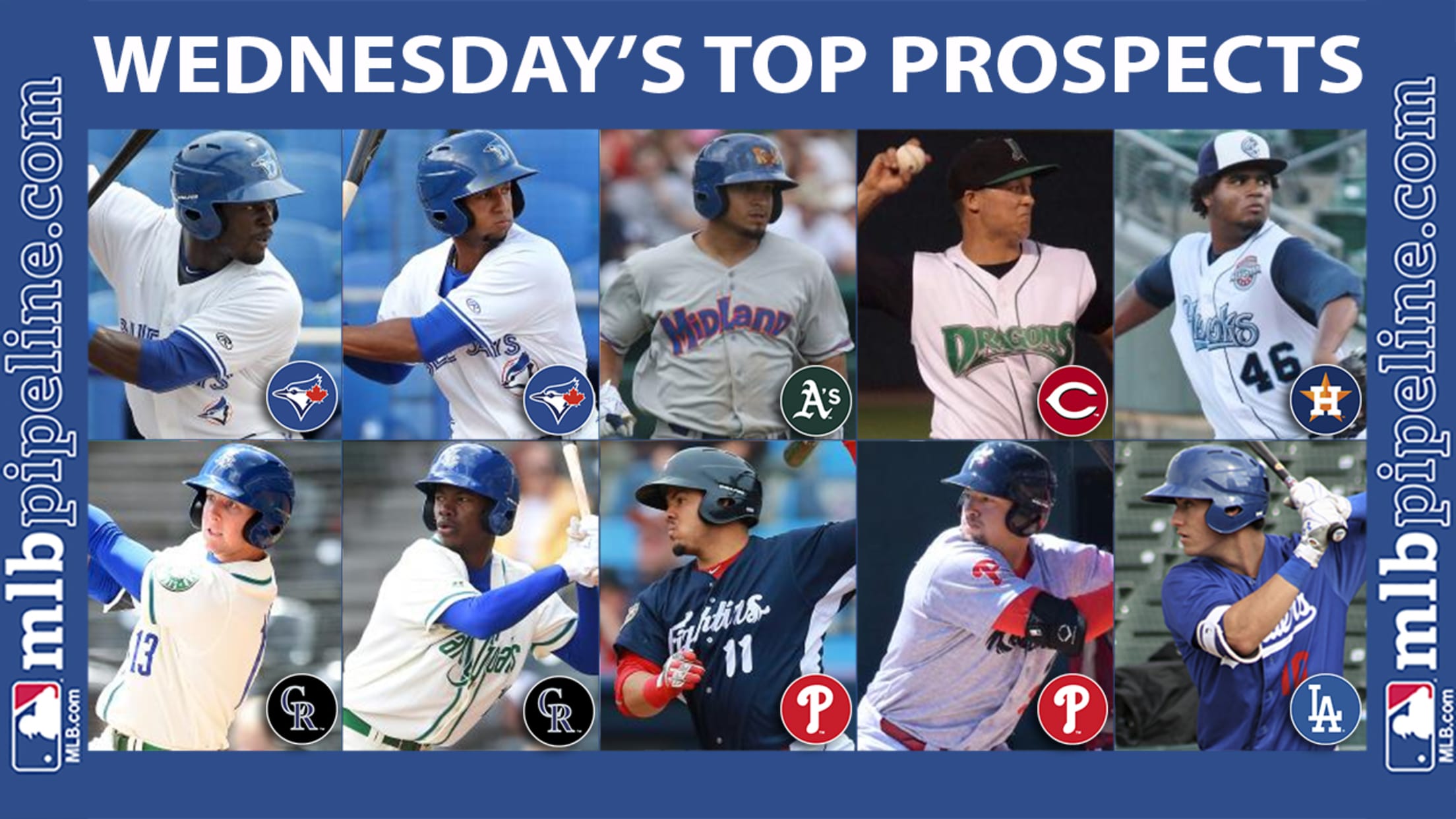 (Paul Sancya/AP)
A pair of Blue Jays' prospects led the way in a slugfest for Class A Advanced Dunedin on Wednesday.Anthony Alford (Blue Jays' No. 3) and Richard Urena (Blue Jays' No. 1, No. 91 overall) combined for six hits, five RBIs and four runs in Dunedin's 10-9 win over Lakeland.The duo put
A pair of Blue Jays' prospects led the way in a slugfest for Class A Advanced Dunedin on Wednesday.
Anthony Alford (Blue Jays' No. 3) and Richard Urena (Blue Jays' No. 1, No. 91 overall) combined for six hits, five RBIs and four runs in Dunedin's 10-9 win over Lakeland.
The duo put their club on the board early as Alford led off with a triple, his first of the season, and Urena drove him in with an RBI groundout. Alford tripled again in the second, this time collecting two RBIs of his own, and once again Urena drove him in, this time with a base hit.
MILB Video - Title: Watch: Alford adds another hit - Url: http://www.milb.com/r/video?content_id=980490183
Alford, who would later double and finish the night 3-for-5 with two RBIs, took advantage of his extra-base hits as he crossed the plate three times, a season high. The season hasn't gone quite as planned for Alford, but Wednesday's performance show just how talented he is.
"I'm just learning, learning more about myself. This season has been a good learning season for me because I've never had to deal with failure. I've failed a lot this year. I guess that's something I needed to go through," Alford told MiLB.com. "I'm not afraid to fail because I know myself and I know my ability and my mind-set. I'm going to overcome it and I'm going to make the adjustment because that's just who I am as an athlete."
Despite the quick start, Dunedin found itself trailing in the bottom of the eighth, but Urena promptly tied the game with a solo homer to cap off his 3-for-5, three-RBI game.
The rest of the best performances from top prospects Wednesday:
• Franklin Barreto (Athletics' No. 1, No. 55 overall) has two hits in three of his past four games after going 2-for-3 with two RBIs for Double-A Midland. Franklin gave Midland an early lead as he hit his eighth homer of the season in the first inning and later drove in another run via a sacrifice fly in the seventh.
MILB Video - Title: Watch: Barreto goes yard - Url: http://www.milb.com/r/video?content_id=980496783
• Reds' No. 1 prospect Nick Senzel (No. 56 overall) is starting to flash some power for Class A Dayton. The Reds' 2016 first-round pick has three homers in his past eight games after going yard in a 2-for-3, two-RBI day. The 21-year-old is off to a fast start, hitting .333 through 22 games with Dayton.
MILB Video - Title: Watch: MiLB Video - Url: http://www.milb.com/r/video?content_id=979001183
• Francis Martes (Astros' No. 3) showed why he's regarded as the No. 41 overall prospect as he spun a gem for Double-A Corpus Christi. The 20-year-old right-hander was in complete control, striking out nine and throwing 62 of his 99 pitches for strikes. Martes was touched for just one hit over seven scoreless innings.
MILB Video - Title: Watch: Martes notches K - Url: http://www.milb.com/r/video?content_id=979461583
• A pair of Rockies' prospects led the way for Double-A Hartford in an 8-3 win over Bowie. Ryan McMahon (Rockies' No. 6) and Raimel Tapia (Rockies' No. 5, No. 88 overall) combined to go 6-for-8. McMahon went 2-for-3 with a pair of walks, while Tapia collected four hits in another strong performance at the plate. Tapia has hit well all season, holding a .329 average through 97 games.
• Jorge Alfaro (Phillies No. 4, No. 72 overall) and Dylan Cozens (Phillies No. 7) continue to put together strong seasons with Double-A Reading. Alfaro recorded his second four-hit game of the year, going 4-for-5 with three RBIs, while Cozens continued to drive in runs. Cozens, who finished 2-for-4 with a pair of doubles, drove in a trio of runs, bringing his season total to 88. The outfielder has six RBIs over his past four games and has easily exceeded his previous career-high of 62, set in 2014.
MILB Video - Title: Watch: Alfaro picks up K - Url: http://www.milb.com/r/video?content_id=980490183
• Cody Bellinger (Dodgers' No. 2, No. 43 overall) gave Double-A Tulsa an early lead with a first-inning grand slam. The homer, Bellinger's 13th of the season, was the beginning of a 2-for-3, four RBI game.
MILB Video - Title: Watch: MiLB Video - Url: http://www.milb.com/r/video?content_id=979490383
• Dylan Davis (Giants' No. 20) put together a perfect day at the plate for Class A Advanced San Jose, going 4-for-4 with a double and an RBI. However, despite Davis' offense and Phil Bickford's (Giants' No. 1, No. 67 overall) efforts on the mound (7 IP, 3 H, 2 ER), the Giants lost, 2-1, to Bakersfield.
MILB Video - Title: Watch: Davis drives in run - Url: http://www.milb.com/r/video?content_id=980481283
• Raúl Alcántara's (Athletics' No. 27) Triple-A ERA remains at 0.00. Alcantara struck out five and gave up seven hits in seven frames for Nashville. The Oakland prospect has made two starts since his promotion, with one unearned run standing as the only blemish.
• Athletics' No. 30 prospect Brett Graves flirted with perfection through six innings, but a leadoff single in the seventh ended that bid. While Graves didn't get the perfect game, he did put together a tremendous start. The young right-hander allowed just one hit over eight innings.
• Indians No. 15 prospectShawn Morimando put together a quality start for Triple-A Columbus. The 23-year-old lefty fired 6 2/3 scoreless innings, allowing five hits and two walks.
• Yeudy Garcia (Pirates' No. 18) turned in one of his best performances of the season for Class A Advanced Bradenton. Garcia, 23, spread two hits over 6 2/3 scoreless frames. However, walks likely cut his outing short as he surrendered five free passes and struck out just two.
• Dustin Fowler (Yankees' No. 10) continues to stockpile RBIs. Fowler homered, tripled and drove in a trio of runs as part of a 2-for-5 day with Double-A Trenton. The center fielder has at least one RBI in each of his past seven games with a total of 12 during that span.
MILB Video - Title: Watch: MiLB Video - Url: http://www.milb.com/r/video?content_id=980012283
• Domingo Acevedo (Yankees' No. 7) spun his fifth scoreless start of the season as he put up six zeros for Class A Tampa. The 22-year-old right-hander struck out five and has pitched into the sixth in each of his past six outings.