Disco embraces fresh start after tough end to '18
A lock for Reds' rotation, DeSclafani fully healthy, improves mechanics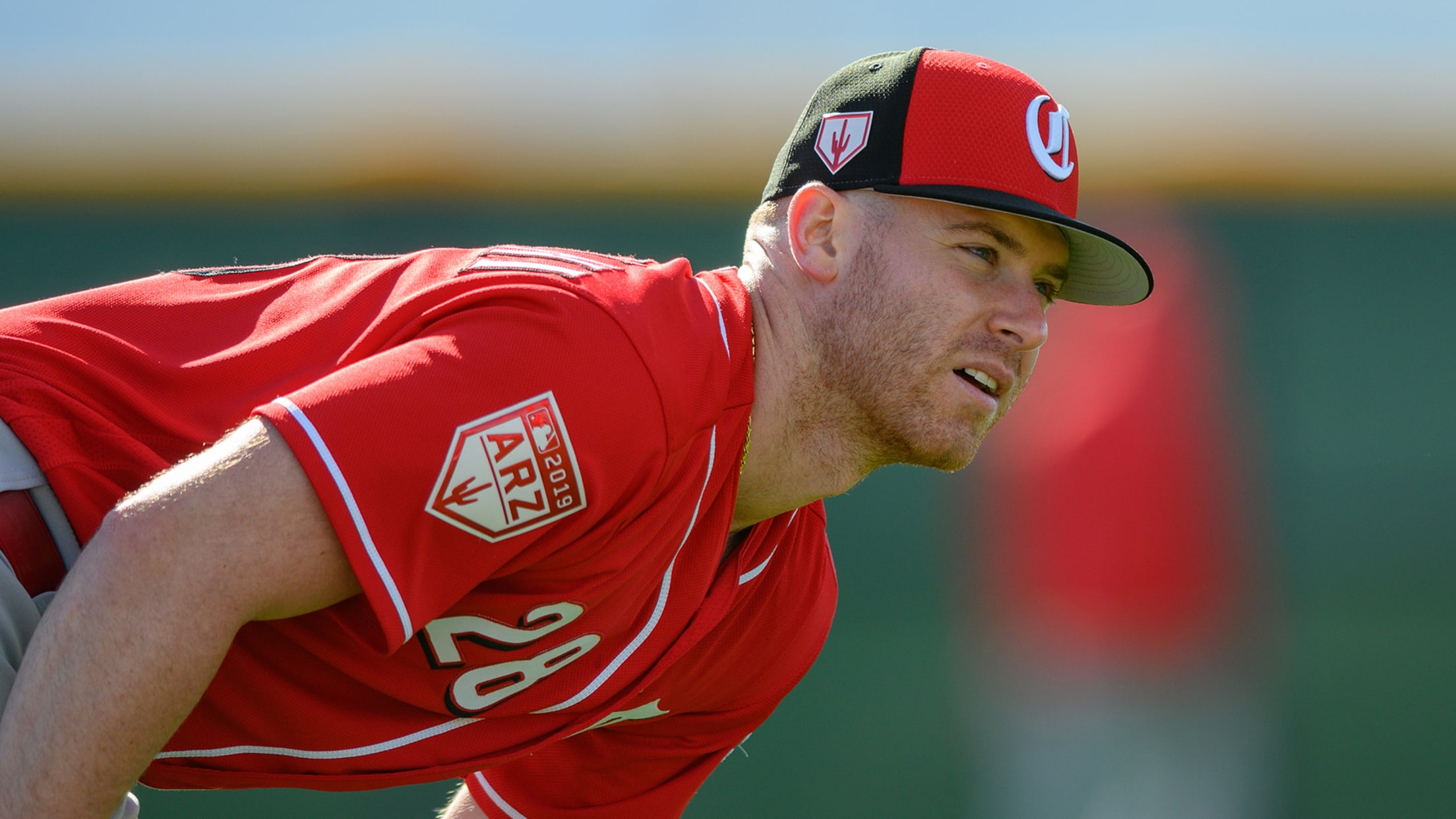 GOODYEAR, Ariz. -- Reds starting pitcher Anthony DeSclafani hated how his 2018 season ended and didn't need any motivation to make improvements over the winter.Over five starts in August, DeSclafani seemingly found his groove, posting a 2.62 ERA with four walks and 27 strikeouts. Hitters batted .237 and hit only
GOODYEAR, Ariz. -- Reds starting pitcher Anthony DeSclafani hated how his 2018 season ended and didn't need any motivation to make improvements over the winter.
Over five starts in August, DeSclafani seemingly found his groove, posting a 2.62 ERA with four walks and 27 strikeouts. Hitters batted .237 and hit only three home runs against him. That would make September the most disappointing. The right-hander was 0-4 with 6.75 ERA over his final six starts as opponents hit .301 with six homers.
:: Spring Training coverage presented by Camping World ::
"I was more frustrated with the drastic change from August to September," DeSclafani said about his 2018 season on Saturday. "Obviously, I would have liked to have those months reversed and ended on a solid note. But it wasn't the case. It's confirmation that I needed to make some changes for sure, but last year is forgotten about. I'm not going to let one month, or a year, determine how I feel about the next."
DeSclafani, who turns 29 in April, finished last season 7-8 with a 4.93 ERA in 21 starts after he missed the first two months of the season with a left oblique strain. He also was out of action during the entire 2017 season with a right elbow ligament strain.
One positive for DeSclafani last season, and this week in camp: he's feeling 100 percent healthy. Rather than worrying about rehabilitation, he could focus on adjustments during the offseason. He didn't need to review any high-tech metrics or video to understand where he went wrong.
"Sporting a 5.00 ERA probably told me all I need to know," DeSclafani said. "I could just see it throwing in a bullpen or throwing during a game. When my changeup is 87-88 mph, I know that's not cutting it. When I'm spinning curveballs out there and every one is getting hit over the fence, that will tell you everything you need to know."
According to Statcast™, DeSclafani used a curveball 3.6 percent of the time, and his changeup was also utilized for 3.6 percent of pitches thrown. He's not a strikeout pitcher and will pitch to induce contact. But when he did throw off-speed stuff, hitters were clearly not fooled enough as hitters batted .533 with three homers against 64 total curveballs and .313 on 65 changeups.
While DeSclafani averaged 93.5 mph with his four-seam fastball, the changeup velocity was not all that deceiving at 88.4 mph. To improve his pitches, there were mechanical adjustments.
"I'm trying to put my arm in a better spot to throw a changeup and a curveball," DeSclafani said. "I'm trying to take some velo off [the changeup] and add consistency to my curveball so I have another option. Even if the curveball and changeup are 10 percent better, it's another pitch that I can go to during a game so I won't be a two-pitch pitcher."
So far, so good on the tweaks, DeSclafani said.
"It's been progressing and is still progressing," he said. "Hopefully it comes into shape during camp and some of these games. I want it ready to go for the season."
Upon a 95-loss 2018 where the rotation struggled mightily, the Reds made big upgrades in the offseason by adding Sonny Gray, Tanner Roark and Alex Wood. New manager David Bell and pitching coach Derek Johnson eliminated all drama when camp opened by including DeSclafani in the starting five. He joins fellow returning starter Luis Castillo.
DeSclafani likes the changes and looks forward to the group pushing each other.
"I think it gets everybody excited," DeSclafani said. "Excitement is something we need around here, especially after some losing seasons the past few years. I think it will make camp fun and this year fun."