Swarzak credits White Sox for added velocity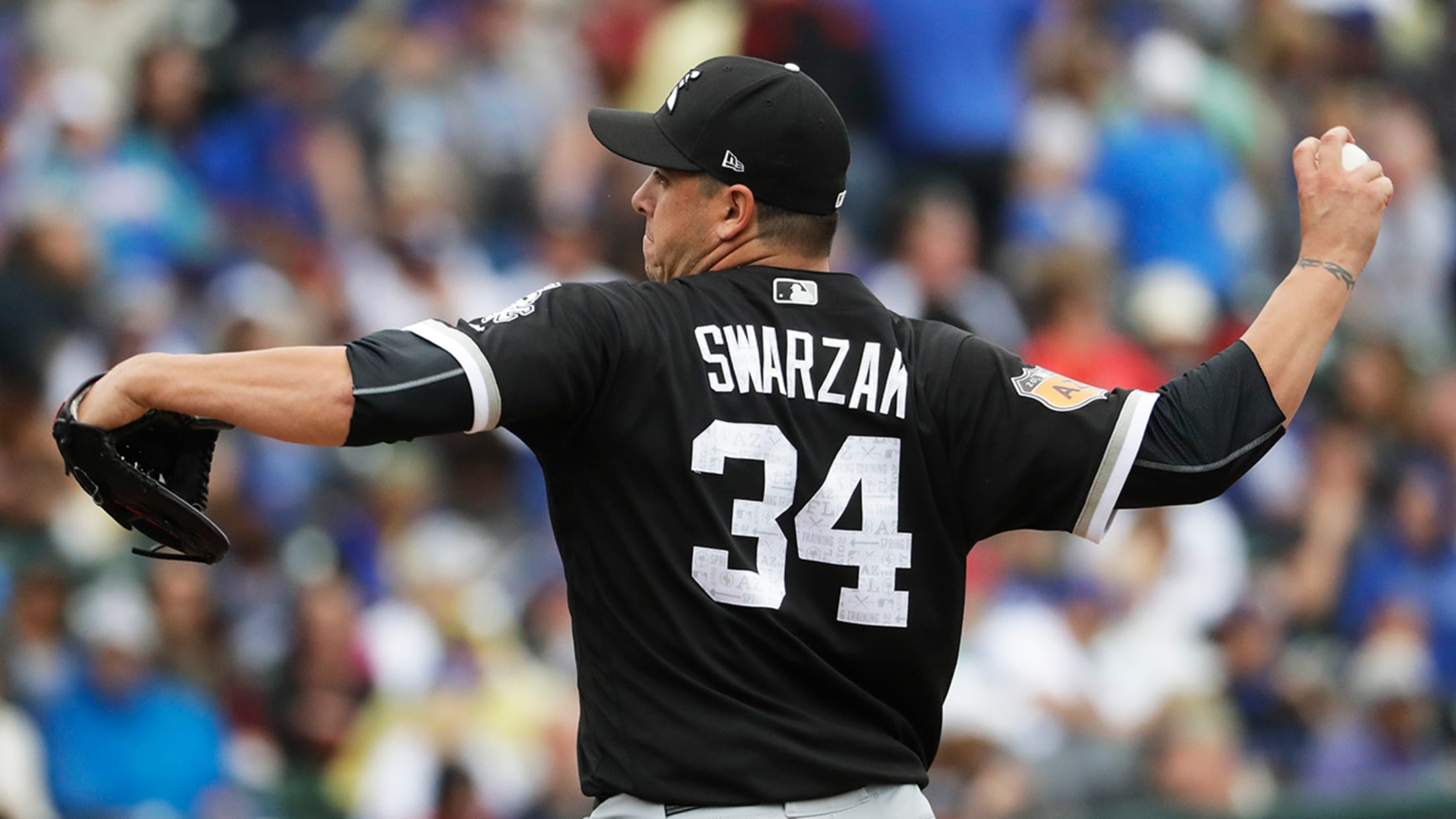 Anthony Swarzak has seen his velocity increase in White Sox camp this spring. (AP)
GLENDALE, Ariz. -- Early on in Anthony Swarzak's career, waiting out the final week of Spring Training to see if he would break camp with the team was "just any other week.""Now I have a wife and 2-year-old little girl, and any kind of heads-up you can get as early
GLENDALE, Ariz. -- Early on in Anthony Swarzak's career, waiting out the final week of Spring Training to see if he would break camp with the team was "just any other week."
"Now I have a wife and 2-year-old little girl, and any kind of heads-up you can get as early as possible is always going to make a big difference," Swarzak said. "It doesn't always work out that way, but now that I have a few more responsibilities in my life, it makes it a little tougher.
"But I'm still here. I've still got a jersey in my locker. That's all I can ask for, and I'll take it any day of the week."
The right-handed-throwing non-roster invite has a solid chance to break camp with the White Sox. He can work in long relief or even as a spot-starter, if needed, in Carlos Rodon's absence.
Swarzak's velocity has been spiking over the last few years, reaching 97 mph in Surprise last week, which is as hard as the 31-year-old has ever thrown the ball.
"That's a testament to the training staff here and the strength and conditioning coaches here," Swarzak said. "I really like the program they have. It's pretty strength-based, which seems to be working well for me.
"Early on in my career, you get so conscious of injuries from other people, veterans talking to a young guy, 'Just be careful man, you only have so many bullets.' Subconsciously you kind of save some for whenever you might need it down the line. And I think these last few years I'm getting to that age where nothing is guaranteed for me, so I'm kind of letting it all out there, and I think I found another gear somewhere."
Bumps and bruises
Tyler Saladino was trying to get a few extra looks at live pitching on the Minor League side Monday morning when the projected starting second baseman took a fastball off his left hand. Saladino was in some pain but he confirmed that X-rays were negative and that he had a bruise.
Jake Petricka took a Scott Van Slyke line drive off his pitching hand to start the eighth inning of a 5-2 White Sox victory over the Dodgers on Monday. The right-handed reliever had his hand wrapped and was going for X-rays as the game ended.
Anderson at No. 2
Tim Anderson hit in the two-slot Monday, and that lineup spot is where manager Rick Renteria envisions his shortstop in the regular season.
"He likes that slot. He's comfortable there, obviously," Renteria said. "Doesn't preclude me from using him every now and then in the leadoff slot.
"We are playing around with the lineups. Might use [Saladino] in that leadoff slot, also. But as we move forward and as we draw a little finality to the roster, we'll figure out how we end up using all these guys."
Third to first
• Renteria reiterated the White Sox intention to err on the side of caution with Rodon and his biceps tendon tightness, even if his second opinion sought out from Dr. Neal ElAttrache in Los Angeles on Monday turns up no further issues. That philosophy would land Rodon on the disabled list at the season's outset.
• Miguel Gonzalez threw 59 of his 93 pitches for strikes during a Minor League game Monday, getting up and down six times.