Astronaut visits Astros, preaches teamwork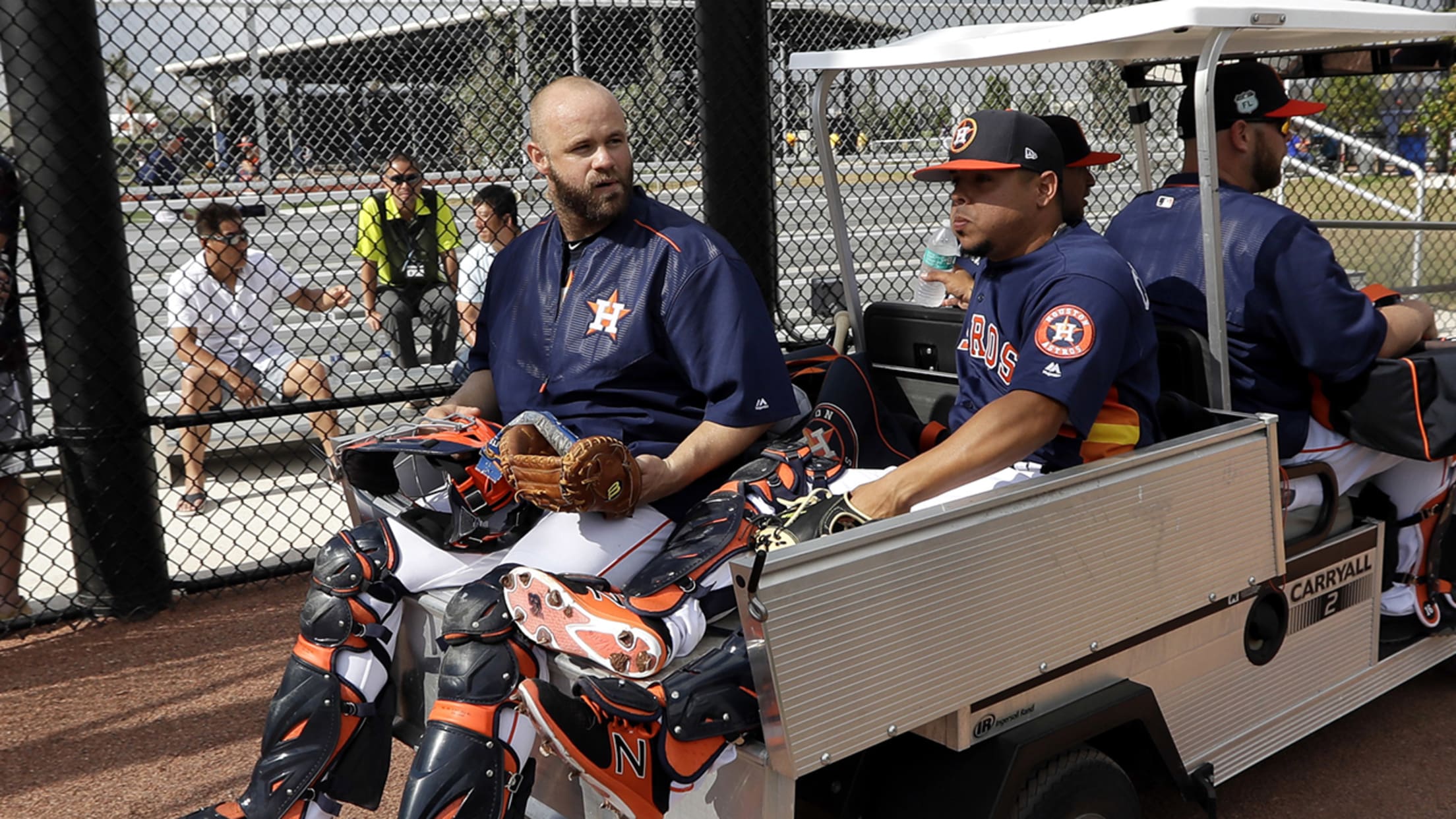 Evan Gattis befriended astronaut Douglas H. Wheelock through Twitter and invited him to speak. (AP) (David J. Phillip/AP)
WEST PALM BEACH, Fla. -- Astros manager A.J. Hinch holds a daily team meeting in the clubhouse where much of the attention is focused on team bonding. Players have been assigned to give reports on other random players, and Hinch has forced some to team up and do something away
WEST PALM BEACH, Fla. -- Astros manager A.J. Hinch holds a daily team meeting in the clubhouse where much of the attention is focused on team bonding. Players have been assigned to give reports on other random players, and Hinch has forced some to team up and do something away from the facility.
Hinch occasionally brings in guest speakers, and astronaut Douglas H. Wheelock talked to the club on Sunday morning. Wheelock befriended catcher Evan Gattis through Twitter, and Hinch asked Gattis if the astronaut would be willing to speak to the Astros.
"He was talking to them about how similar teamwork and preparation are," Hinch said.
Gattis said Wheelock, who has been to space two times and plans to return to space in 2019, followed him on Twitter last year, causing Gattis to do a little investigating.
"I looked him up and he had the blue checkmark and everything and he was verified, and I was, 'Oh, man,'" Gattis said. "So then I Wikipedia him and I'm like, 'This guy's a rock star.' Through Twitter, we shot some message to each other and kept in contact and found out he was coming, and A.J. asked if he wanted to speak, and I said, 'Yeah, let me ask him.' He was floored and thrilled to be here. It was really cool. It was a good talk for everybody. Cool stuff, man."
Hinch said Wheelock compared meeting Neil Armstrong and Buzz Aldrin with how the young players in the room must have felt meeting Carlos Beltran, Jose Altuve and some of the team's other established stars.
"We're here for so many days in a row and to hear something different is a good experience," Hinch said.
Gattis said comparing space travel to baseball is flattering, but maybe a bit unfair.
"He's been up in space, man," Gattis said. "It was very cool."