Minute Maid the place to be to watch ALDS
After street festival, fans pour into park to catch Game 3 on video board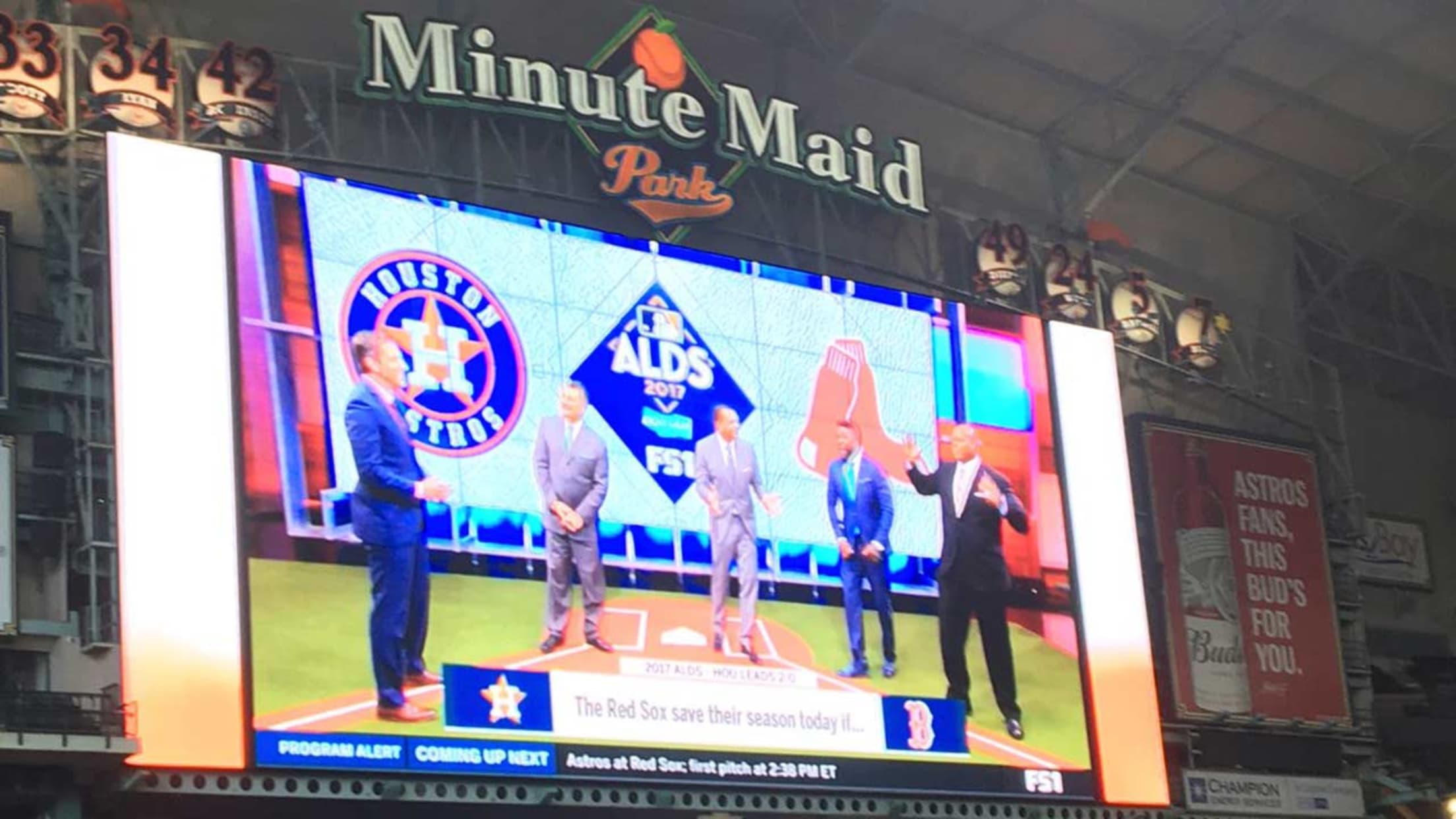 Big-screen TV: Astros fans got to watch Game 3 at Minute Maid Park. (Cameron Brock)
HOUSTON -- Thousands of fans converged on the east side of downtown on a sun-splashed Sunday afternoon to watch Game 3 of the Astros-Red Sox American League Division Series presented by Doosan on the Minute Maid Park video board. The Red Sox claimed a 10-3 victory at Boston's Fenway Park
HOUSTON -- Thousands of fans converged on the east side of downtown on a sun-splashed Sunday afternoon to watch Game 3 of the Astros-Red Sox American League Division Series presented by Doosan on the Minute Maid Park video board. The Red Sox claimed a 10-3 victory at Boston's Fenway Park and staved off elimination in the best-of-five series, which the Astros lead 2-1.
• ALDS Game 4: Today, 1 p.m. ET/noon CT on FS1
The crowd was loud and engaged, which is exactly what the Astros had in mind when they decided to host street festivals and watch parties for road games during the postseason.
:: ALDS schedule and coverage ::
"We really want to make Minute Maid Park postseason central for all Astros fans," Astros senior manager of communications Dena Propis said. "Home or away, we want people to know they have a place to go to be with other Astros fans and watch the game. We have this amazing video board and this amazing facility. We wanted to open it up to Astros fans."
When George Springer singled to right field on the second pitch of the game, the cheers reverberated throughout the ballpark. The orange towels with "Earn History" in navy lettering were spinning around in the air at high velocity when Carlos Correa belted a two-run homer just moments later. With a 3-0 lead in the top of the first, excitement built around the possibility of the Astros running away with an early lead, as they did in Games 1 and 2.
The Astros have two more chances to eliminate the Red Sox and advance to the AL Championship Series. The first of those chances is Monday's Game 4 at Fenway Park. The Astros will host another pregame festival on Crawford Street, followed by a watch party inside the ballpark.
Lamar Jackson, a veteran who resides in nearby Manvel, Texas, enjoyed Sunday's festivities with his son.
Before the watch party, fans hung out at our Street Festival! Thanks to all who came out to MMP! pic.twitter.com/ifZZxSGp7L

— Houston Astros (@astros) October 8, 2017
"My son played on the bounce houses and I played a game of bags," Jackson said. "It's a lot of fun. The music is great wherever you go."
Some fans expressed their appreciation for the Astros' efforts in helping to unite the city in the aftermath of Hurricane Harvey. Anthony Lamas, a native Houstonian, is hoping this is the year the Astros win their first World Series.
"Especially with all that's happened," Lamas said. "It would mean a lot. It's something to distract us, for sure."
Pregame festivities will begin at 10 a.m. CT on Monday on Crawford Street. Admission is free. Fans will need to claim a free Postseason Watch Party voucher for entry at www.astros.com/postseason/festivities or at any of the Postseason Watch Party entrances the day of the event.
Cameron Brock is a contributor to MLB.com based in Houston.