Giles takes blame for late-innings meltdown
Astros closer yields tying, winning hits in loss to Royals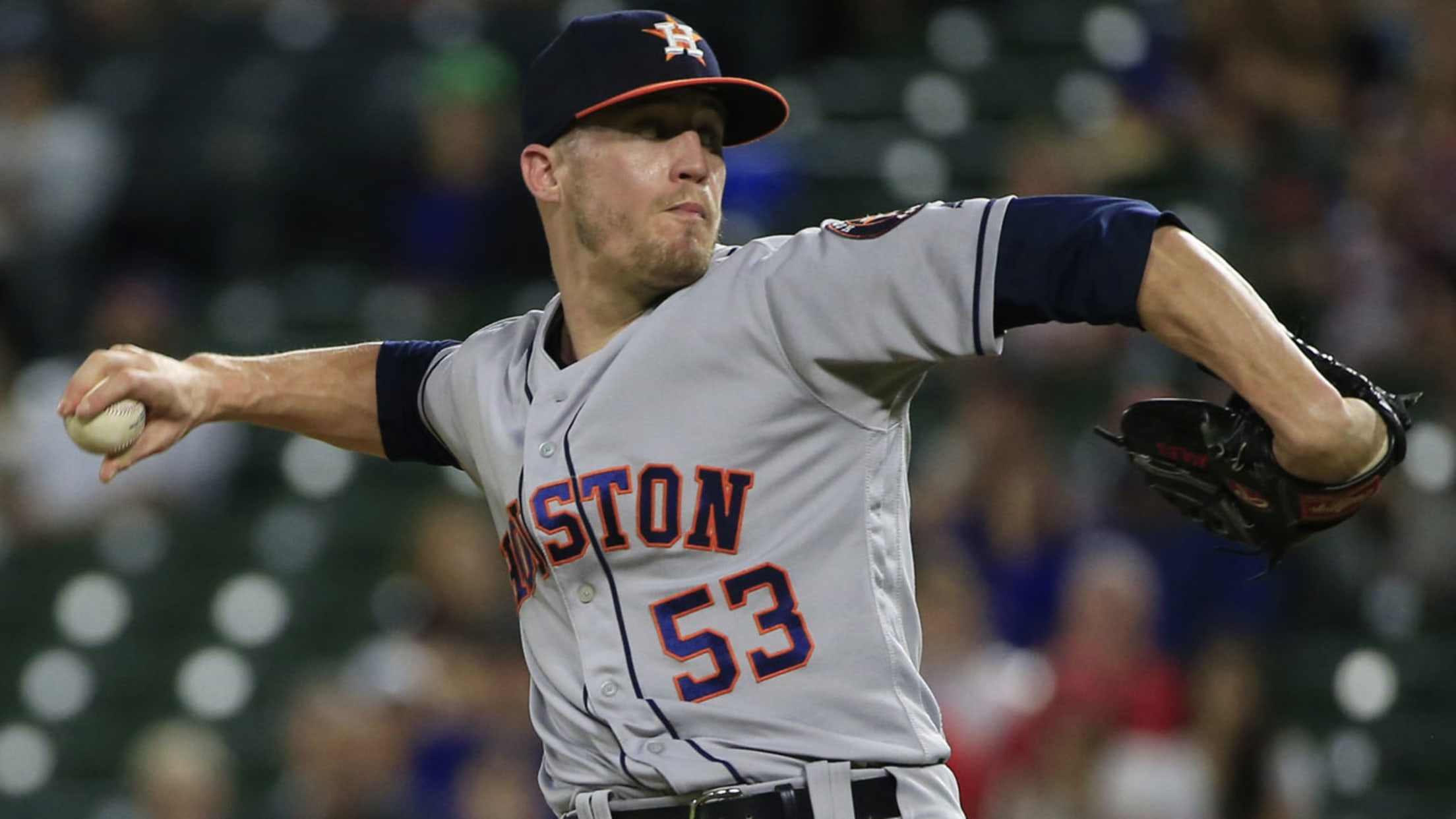 Astros closer Ken Giles: "I didn't make my pitches when I needed to. I let my team down. It's all on me." (Getty)
KANSAS CITY -- Astros closer Ken Giles fell squarely on the sword, taking the blame for the club's 11-game winning streak coming to an end with Tuesday night's stunning 9-7 loss to the Royals, who rallied from six runs down and won it on a walk-off homer by Mike Moustakas
KANSAS CITY -- Astros closer Ken Giles fell squarely on the sword, taking the blame for the club's 11-game winning streak coming to an end with Tuesday night's stunning 9-7 loss to the Royals, who rallied from six runs down and won it on a walk-off homer by Mike Moustakas in the ninth.
Giles, who allowed a tying, three-run double by Whit Merrifield in the eighth, certainly wasn't the only Astros reliever on the hook. In the eighth, Reymin Guduan gave up two runs and two hits in one-third of inning, and James Hoyt allowed two runs, one hit and one walk in one-third of an inning before leaving with the bases loaded.
Still, Giles faced the music after suffering his second blown save, and he let his frustrations fly.
"I didn't make my pitches when I needed to," he said. "I let my team down. It's all on me. In my eyes, this team won today. My failure shouldn't overshadow what these guys today. The guys did exactly what they needed to do and with my failures, it's my fault. I need to do better.
"I need to make the pitches when I need to. They did great. They had a great game. It's just one flaw for me. The slider wasn't working today. I had great fastball command. I threw the fastball where I needed it. Just couldn't put them away with that slider. No excuses."
With the Royals trailing, 7-4, bases loaded and two out in the eighth, Giles threw two sliders for strikes to get ahead of Merrifield. He fouled off a third slider and took a 99-mph fastball for a ball before ripping a 1-2 slider into left field to clear the bases.
In the ninth, Salvador Perez rolled a two-out single into right field, and Moustakas fouled off a fastball before hitting a slider a Statcast-projected 418 feet to win the game.
"Since I threw one bad slider that tied the game, they were probably thinking in the back of their heads that's all they're going to sit [on]. ..." Giles said. "It went their way. Just wasn't my day. Just got to move on from it. I'm going to pick myself up tomorrow and pick up these guys tomorrow. It's going to hurt for a little bit, all night. But I've got to keep my head up and work my butt off for these guys for the next go-round, and be ready to take the ball the next time."
Giles has an electric fastball, but the slider remains his best pitch when located properly. The slider to Moustakas was over the heart of the plate.
"He's thrown a lot of them," Astros manager A.J. Hinch said. "Any time you show a hitter three or four or five of them in an at-bat, it's going to educate them a little bit. It looked like the one that Merrifield hit -- the last one -- kind of sat up and backed up a little bit on him. He put a good swing on it and put it down the left-field line, and cleared the bases. …
"We've seen him put away guys with a lot of guys in a row. Tonight wasn't his night to end at-bats."