Saturday's best: Holmes fires eight strong in gem for Midland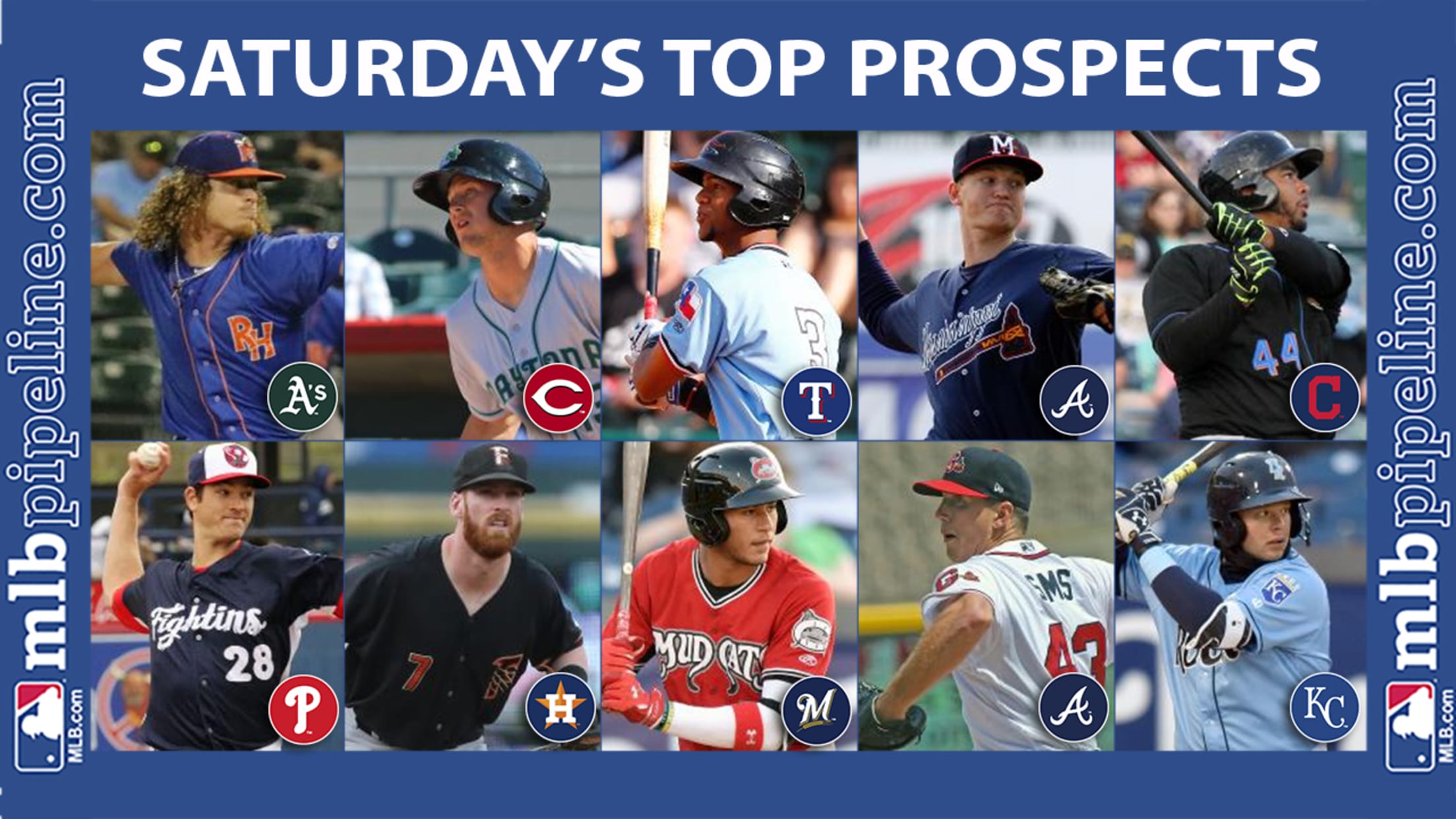 Grant Holmes flirted with a no-hitter through 6 1/3 innings, and although he didn't etch his name into the record books, he did lead Double-A Midland to a 6-0 win over Frisco.Holmes, the No. 75 overall prospect (Athletics' No. 3) retired the first 16 batters he faced before the 17th
Grant Holmes flirted with a no-hitter through 6 1/3 innings, and although he didn't etch his name into the record books, he did lead Double-A Midland to a 6-0 win over Frisco.
Holmes, the No. 75 overall prospect (Athletics' No. 3) retired the first 16 batters he faced before the 17th reached on a strikeout and wild pitch in the sixth. Holmes gave up his first hit in the seventh but promptly induced a ground-ball double play to get out of the frame.
MILB Video - Title: Watch: Holmes loses no-hit bid - Url: http://www.milb.com/r/video?content_id=1486295683
When all was said and done, Holmes, who threw 66 of his 93 pitches for strikes, left after giving up two hits and notching eight strikeouts in eight scoreless frames.
The 2017 season has been up and down for the 21-year-old, who is now 5-5 with a 4.79 ERA through 14 appearances (10 starts). However, Holmes has put together quality starts in each of his past two outings and may be on the verge of a turnaround.
MILB Video - Title: Holmes rings up eighth K - Url: http://www.milb.com/r/video?content_id=1486323583
Other top prospect performances from Saturday's action:
• No. 20 overall prospect Nick Senzel matched his career high with a trio of doubles for Class A Advanced Daytona. Senzel, 21, extended his hitting streak to seven games with a 4-for-5 performance that included three doubles and a triple. As if the barrage of extra-base hits wasn't enough, the Reds' top prospect also collected four RBIs.
• No. 47 overall prospect Leody Taveras (Rangers' No. 1) set his season high with four RBIs in one swing for Class A Hickory. Taveras, who finished 2-for-4, hit a sixth-inning grand slam as he led the Crawdads to a 6-5 win over Lexington.
• No. 66 overall prospect Mike Soroka (Braves' No. 4) put together his second straight scoreless start with seven strong frames for Double-A Mississippi. Soroka threw 66 of his 94 pitches for strikes and didn't issue a walk in the outing. The 19-year-old struck out four, gave up four hits and has a 2.45 ERA through 12 starts in his first taste of the Double-A level.
• No. 83 overall prospect Bobby Bradley (Indians' No. 4) turned in his first two-homer performance of the season for Double-A Akron. Bradley, who has 10 homers through 53 games, hit a grand slam in the third and a solo blast in the seventh.
MILB Video - Title: Bradley belts grand slam - Url: http://www.milb.com/r/video?content_id=1485546583
• Royals No. 6 prospect Chase Vallot hit his second grand slam of the season as part of a 3-for-4 performance for Class A Advanced Wilmington. Vallot gave the Blue Rocks an early lead with a grand slam, his seventh homer, in the first inning and then added another RBI via a double in the third.
• Nationals No. 6 prospect Sheldon Neuse had four triples through the first 86 games of his career. On Saturday, he upped that total with a pair of triples for Class A Hagerston. Neuse also added a double and finished the game 3-for-4 with three RBIs
• Reds No. 8 prospect Tyler Mahle got stuck with a no-decision despite a strong outing for Double-A Pensacola. Mahle, who has now held his opponent scoreless in two of his past three starts, threw six scoreless frames, giving up five hits and striking out nine.
MILB Video - Title: Watch: Mahle notches ninth strikeout - Url: http://www.milb.com/r/video?content_id=1486979083
• A day after Yankees No. 9 prospectMiguel Andujar saw his 16-game hitting streak snapped, the 22-year-old got back in the hit column with a 2-for-5 game for Double-A Trenton. Andujar hit a three-run homer as part of the Thunder's seven-run second and later added a double.
MILB Video - Title: Watch: Andujar rips three-run homer - Url: http://www.milb.com/r/video?content_id=1486966383
• Mariners No. 9 prospectD.J. Peterson continues to swing a hot bat for Triple-A Tacoma. Peterson went 4-for-5 with his eighth homer and two RBIs and is now 12-for-21 with two homers and five RBIs over his past five games.
• Braves No. 18 prospectLucas Sims picked up his fifth win of the season in what was arguably his best start of the year. The 23-year-old righty threw a season-high eight scoreless frames, giving up just two hits while striking out seven. Sims took the mound in the ninth seeking his third career complete game but was pulled after walking the first batter of the frame.
MILB Video - Title: Sims finishes the eighth - Url: http://www.milb.com/r/video?content_id=1485499983
"I was just trying to throw all my pitches aggressive and down in the zone and try to go right after guys," Sims told MiLB.com. "I was trying to keep them off balance as best as I could."
• Phillies No. 21 prospectDrew Anderson spun a gem for Double-A Reading, giving up just one hit over seven scoreless frames. Anderson, who has given up just two runs over his past 20 innings, relied on his defense as he notched just three strikeouts in the performance.
MILB Video - Title: Anderson notches a strikeout - Url: http://www.milb.com/r/video?content_id=1485475983
"I was just keeping the ball down and then mixing my pitches," Anderson told MiLB.com. "The curveball was working good and I was able to throw it for strikes. My changeup ended up coming to me in the seventh inning, and I started throwing it [too]."
• Blue Jays No. 22 prospect Jordan Romano struck out nine and gave up just one run in seven innings for Class A Advanced Dunedin. Romano struck out nine, which tied his season high, and didn't issue a single walk. The 24-year-old has given up just one earned run in four consecutive starts and has a 2.18 ERA through 13 games (11 starts) this season.
• Astros No. 23 prospectColin Moran homered in each of his first two at-bats, his first two-homer game of the season, for Triple-A Fresno. Moran, who now has a career-high 11 homers through 48 games, finished 2-for-4 with three RBIs.
MILB Video - Title: Watch: Moran cracks second homer - Url: http://www.milb.com/r/video?content_id=1486965183
• Brewers No. 25 prospect Jake Gatewood bumped his season home run total to nine with his first two-homer game of the season for Class A Advanced Carolina. Gatewood has had a strong season offensively and is batting .300 through 61 games after going 3-for-4 with two homers and two RBIs.
MILB Video - Title: Gatewood launches second homer - Url: http://www.milb.com/r/video?content_id=1485986983
• Mets No. 29 prospect Jordan Humphreys picked up his ninth win of season with another strong start for Class A Columbia. In the first half of a doubleheader, Humphreys gave up one run on six hits in six innings. The right-hander, who boasts a 1.41 ERA through 10 starts, has surrendered just one earned run in his past 19 innings pitched.