Sunday's best: Schrock comes up big for Midland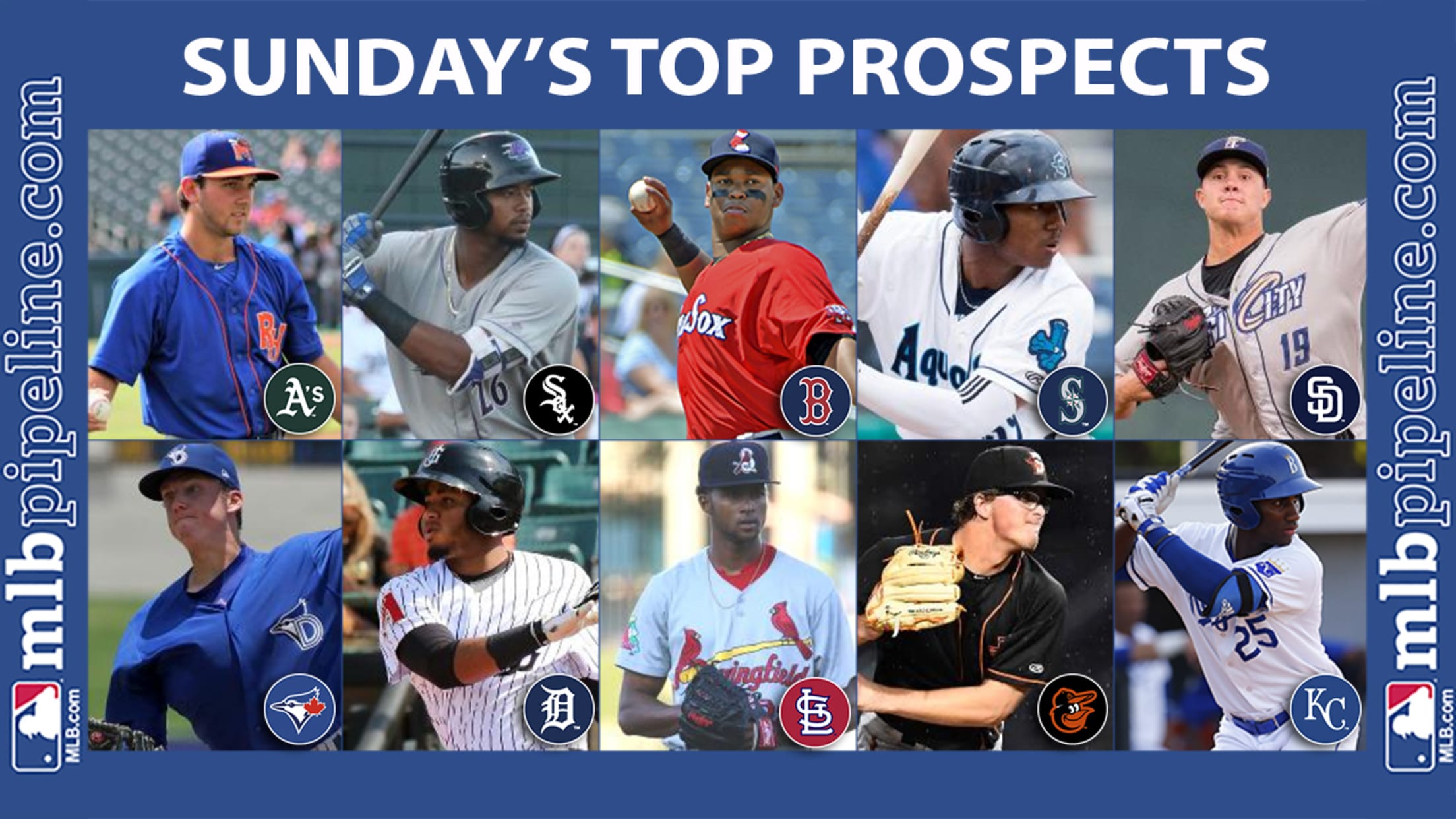 Max Schrock took full advantage of Double-A Midland's doubleheader, collecting a total of five hits and six RBIs in the two wins over Corpus Christi on Sunday.The Athletics No. 18 prospect got off to a fast start in the first game, a 12-2 Midland win, as he doubled in the
Max Schrock took full advantage of Double-A Midland's doubleheader, collecting a total of five hits and six RBIs in the two wins over Corpus Christi on Sunday.
The Athletics No. 18 prospect got off to a fast start in the first game, a 12-2 Midland win, as he doubled in the first, singled in the third and fifth and capped his perfect day with a two-run homer in the sixth.
MILB Video - Title: Schrock goes deep - Url: http://www.milb.com/r/video?content_id=1643305383
Schrock finished the first game 4-for-4 with four RBIs and although he wasn't perfect at the plate in the second game, a 13-1 win, he did extend his hitting streak to six games with a base hit in the sixth.
The 22-year-old added two more RBIs in the nightcap, but neither came via his lone hit. Schrock drove in the first run of the game with an RBI groundout in the first and then helped Midland tack onto the lead as he drew a bases-loaded walk in the fourth.
Schrock has played well this season, hitting .314 through 72 games this season, including a .337 average through 30 games in the second half.
Athletics No. 26 prospect Richie Martin also had a solid day for Midland, going 2-for-3 in each of the two games.
Other top prospect performances from Sunday's action:
• No. 12 overall prospect Rafael Devers (Red Sox No. 1) went 3-for-4 for Triple-A Pawtucket and then was promptly called up to the Red Sox. Devers hit .400 in nine games at the Triple-A level after hitting .300 through 77 games with Double-A Portland.
• No. 8 overall prospect Eloy Jimenez (White Sox No. 2) went 5-for-6 in Class A Advanced Winston-Salem's extra-innings win over Salem. Not only did Jimenez set a career mark with five hits, but he did so with a trio of extra-base hits. Jimenez hit a pair of doubles, along with his 10th homer of the season, and finished the game with three RBIs.
MILB Video - Title: Jimenez's fifth hit - Url: http://www.milb.com/r/video?content_id=1643271383
• No. 20 overall Kyle Lewis (Mariners No. 1) went 2-for-6 for Class A Advanced Modesto, but made those two hits count as he put together the first two-homer game of his career. Lewis hit a pair of two-run homers and is now hitting .353 with three homers in five games with the Nuts.
• No. 88 overall prospect Adrian Morejon (Padres No. 3) sturck out eight, a career high, over six scoreless innings for Class A Short Season Tri-City. The 18-year-old lefty gave up just four hits and didn't issue a single walk.
• Astros No. 14 prospect Yordan Alvarez continued to swing a hot bat for Class A Advanced Buies Creek. Alvarez collected a season-best four hits on his way to a 4-for-5 night at the plate. Over the past three games Alvarez has been on fire, hitting .636 (7-for-11).
• Astros No. 16 prospect Cionel Perez picked up his first win with Class A Advanced Buies Creek as he matched season high with seven innings on the mound. Perez gave up one run on five hits against Carolina, continuing what has been a strong season for the lefty.
• Blue Jays No. 16 prospect Ryan Borucki was impressive in his debut with Double-A New Hampshire, firing seven scoreless frames in a no-decision. Borucki, promoted to New Hampshire after posting a 3.58 ERA through 19 appearances with Class A Advanced Dunedin, threw 54 of his 85 pitches for strikes, struck out four and yielded just two hits in the outing.
MILB Video - Title: Borucki finishes the seventh - Url: http://www.milb.com/r/video?content_id=1643756483
"The biggest key to making the jump is to keep attacking and throwing strikes so that the hitters can put the ball in play," Borucki told MiLB.com. "Usually when a pitcher gets in trouble is when he isn't filling up the zone and is working behind in counts. Before the game, I told myself to get ahead and let the hitters get themselves out instead of me helping them out. That was the biggest key tonight - attacking the hitters with strikes."
• Cardinals No. 8 prospect Sandy Alcantara was lights out in a win for Double-A Springfield. The 21-year-old pitched a season-best seven scoreless innings and limited Arkansas to just three hits.
MILB Video - Title: Watch: Alcantara finishes the 7th - Url: http://www.milb.com/r/video?content_id=1644530583
• D-backs' No. 5 prospect Socrates Brito led Triple-A Reno to a win over Colorado Springs with a trio of RBIs and two runs scored. Brito, hitting .325 through 44 games, gave the Aces an early lead as he cleared the bases with a three-run double in the fourth on his way to a 2-for-4 performance at the plate.
• Mets No. 20 prospect P.J. Conlon led Double-A Binghamton to a 3-1 win over Harrisburg with 6 1/3 innings of one-run ball. Conlon gave up six hits and has given up one earned run or less in three of his past four starts.
• Orioles No. 15 prospect Alex Wells extended his scoreless streak to 30 with six scoreless frames for Class A Advanced Delmarva. Wells, who hasn't surrendered a run since June 30, threw 52 of his 74 pitches for strikes, struck out five and gave up just one hit. The 24-year-old lefty has reduced his ERA from 3.14 to 2.42 over his past five starts.
MILB Video - Title: Watch: Wells retires 14 straight to start game - Url: http://www.milb.com/r/video?content_id=1644536783
"It was really just him doing his thing today," Delmarva pitching coach Justin Lord told MiLB.com. "He's a strike-thrower. He throws three pitches for strikes and even though he's not an extremely hard thrower, he still challenges hitters with his fastball. He's got a little deception with his delivery and his arm action, so his fastball gets on hitters sometimes."
• Phillies No. 22 prospect Carlos Tocci collected a career-high five RBIs in Double-A Reading's loss to Erie. Tocci finished 3-for-5 with a double and is hitting .317 through 91 games in his first taste of Double-A ball.
• Pirates No. 6 prospect Will Craig hit his sixth homer of the season, and first since June 15, in Class A Advanced Bradenton's win over Clearwater. Craig, hitting .290 through 91 games this season, finished 3-for-4 with three RBIs at the plate.
MILB Video - Title: Watch: Craig rips a two-run homer - Url: http://www.milb.com/r/video?content_id=1644248183
• Royals No. 9 prospect Seuly Matias set a career high with five RBIs in Rookie-level Burlington's win over Bristol. Matias, who finished 3-for-5, put the Royals on the board early with a three-run homer in the first and then added RBI singles in the second and third.
• Tigers No. 11 prospect Dawel Lugo hit his first two homers with Double-A Erie after since he was traded from the D-backs to the Tigers on Tuesday. In his second two-homer game of the season, Lugo went 2-for-5 with four RBIs. The 22-year-old hit a three-run homer in the fifth inning and a solo shot in the ninth, bringing his season total to nine.
MILB Video - Title: Lugo's solo shot - Url: http://www.milb.com/r/video?content_id=1537131783