Atlantic Maroon captures Tournament 12 title
Ontario natives Griffin, Deans combine to pitch no-hitter in final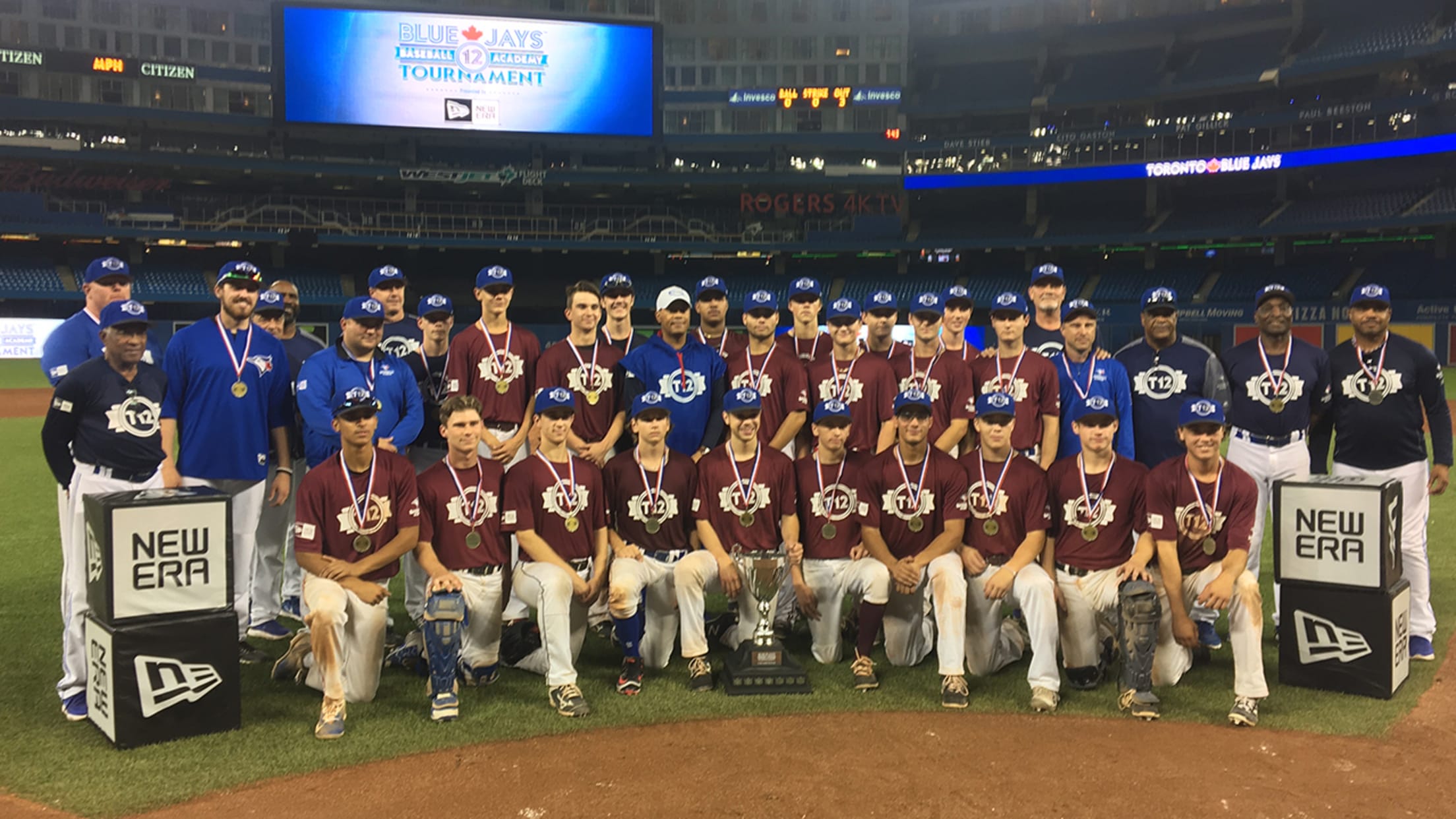 The Atlantic Maroon won the final game of the fifth annual T12 showcase in dramatic fashion. (Keegan Matheson/MLB.com)
TORONTO -- The Atlantic Maroon were crowned champions of Tournament 12 on Sunday night at Rogers Centre, and they won it with a little help from two new friends.Short on pitching entering the semifinal and championship rounds of the Canadian showcase tournament, Atlantic borrowed Caden Griffin of Nepean, Ontario, and
TORONTO -- The Atlantic Maroon were crowned champions of Tournament 12 on Sunday night at Rogers Centre, and they won it with a little help from two new friends.
Short on pitching entering the semifinal and championship rounds of the Canadian showcase tournament, Atlantic borrowed Caden Griffin of Nepean, Ontario, and Brandon Deans of Mississauga, Ontario, from the Futures Navy team, and the two combined to throw an incredible seven-inning no-hitter on the big stage.
"Just unreal," said Atlantic center fielder Micah McDowell of their performance. "They carried the load for us. We didn't have much pitching left, and they just picked us right up."
McDowell had a big day himself, hitting a single and drawing a walk en route to picking up T12 MVP honors from tournament commissioner and Hall of Fame second baseman Roberto Alomar. McDowell stood out over four days and will take home some encouragement from another Blue Jays great.
"Lloyd Moseby really mentored me the whole way through about just beating it into the ground and using my speed," said McDowell.

Shortstop Jake MacKinnon drove in the lone run of the game in the top of the sixth. The Mineville, Nova Scotia, native beat out a potential double play, allowing Max Grant from Fredericton, New Brunswick, to score. MacKinnon also pitched in semifinal action earlier on Sunday, and will take great memories from his T12 experience.
"It was really cool to hear their stories about stuff they've been through," MacKinnon said. "[Jesse] Barfield was really good with his stories; he told a lot."
Sunday prelim and semifinal recap
• A crowded Pool B went to a tiebreaker after preliminary play, with three teams tied at four points. Atlantic Maroon and Prairies Purple almost needed a coin flip to decide which team would move on, but Atlantic narrowly advanced based on having fewer runs allowed. The Prairies allowed enough runs in a 12-5 win Sunday morning to give Atlantic the edge.
• In the first semifinal, the Atlantic Maroon held on for a 5-4 win against Ontario Green after jumping out to an early five-run lead. After Ontario scored four in the bottom of the fifth, MacKinnon locked down the final two innings for Atlantic. McDowell stole two bases and scored three times for Atlantic. Dasan Brown doubled and drove in a run for Ontario, who got four strong innings of relief from Lukas Barry.
• In the other semifinal, Quebec Blue walked off Alberta Red on a single from Sherbrooke's Jason Begin. Antony Gilbert and Nicolas Tremblay had two hits apiece for Quebec. Ayden Makarus tripled and Ty Penner doubled for Alberta.