Hedges' 0-for-15 start doesn't dim value
Young catcher has shined defensively; plus notes on Margot, Renfroe, Cordoba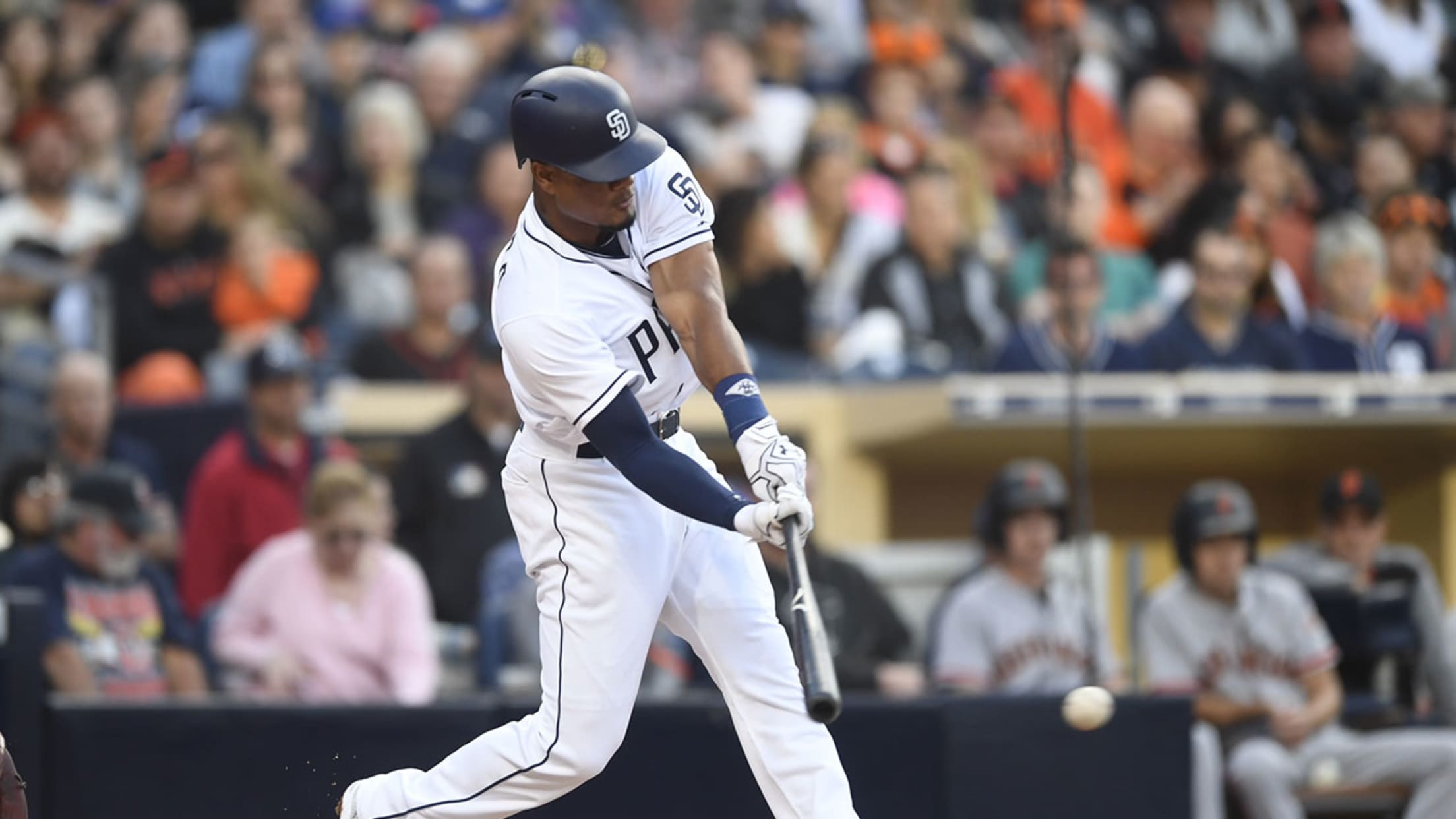 Shortstop Allen Cordoba was selected in the Rule 5 Draft despite having never played above rookie ball -- and he got his first career hit off Madison Bumgarner. (Padres)
Bill Center, longtime sportswriter for U-T San Diego, is an employee of the Padres.Austin Hedges is off to a 0-for-15 start this season with the bat, but he need look no farther than the San Francisco dugout Sunday afternoon to find someone who can commiserate with his plight: Giants catcher
Bill Center, longtime sportswriter for U-T San Diego, is an employee of the Padres.
Austin Hedges is off to a 0-for-15 start this season with the bat, but he need look no farther than the San Francisco dugout Sunday afternoon to find someone who can commiserate with his plight: Giants catcher Nick Hundley once got off to a 0-for-26 start while he was with the Padres.
But Padres manager Andy Green was quick to point out Saturday night that Hedges' slow start at the plate has done nothing to diminish his overall contributions to the Padres.
"Hedges has done an excellent job working with the pitchers," Green said after Hedges and starter Jhoulys Chacin combined efforts on 6 2/3 innings of shutout ball in the Padres' 2-1 win over the Giants at Petco Park.
The 24-year-old Hedges has been the textbook example of not letting troubles in one aspect of the game affect your overall play.
"Austin has really been focused behind the plate," said Green. "He's done an excellent job of getting in sync with the pitchers, of working with them."
Truth is, the bat is far from the most important tool a catcher brings to a game. Besides, Hedges 0-for-15 isn't as bad as it looks. He has struck out only four times. He has hit the ball hard. And when asked to give himself up, Hedges drove in the winning on Friday with a perfectly-placed squeeze bunt.
Game notes:
• Shortstop Allen Cordoba, 21, one of three Rule 5 players on the Padres' 25-man roster, singled off Madison Bumgarner in the second inning Saturday night for his first Major League hit. Before the game, Green joked about pitting Cordoba against Bumgarner in his first Major League start.
"Part of the thought process of putting a young guy like Allen Cordoba in there today. ... Cordoba doesn't know any better, just swing the bat and go play," said Green. "I hope the fact that Bumgarner doesn't know Allen Cordoba at all plays in our favor a little bit."
Still, Green wasn't quite ready for what he saw in the second, when Cordoba approached the plate to face Bumgarner for the first time.
As usual, the scoreboard crew was ready with some statistics. But all they had to work with were Cordoba's numbers from the Appalachian League last year -- he had never before started a game above rookie ball, and here he was facing Madison Bumgarner.
Cordoba grounded a lead-off single to left. He moved to second on Chacin's sacrifice bunt and scored on Manuel Margot's second double in as many innings off Bumgarner.
• The Padres started three rookies against Bumgarner Saturday night. And they opened with five straight hits. Center fielder Margot went double, double with a run scored and the game-winning RBI. Right fielder Hunter Renfroe had a first-inning RBI double and a single. And Cordoba had his single.
• Margot was 2-for-4 with two doubles, a RBI and a run scored Saturday. In his first nine games at Petco Park, Margot is 12-for-31 (.387) with five doubles, a triple, two homers, two steals and five RBIs.
• Renfroe, meanwhile, has four hits in his first seven career at-bats against Bumgarner, including two doubles and a homer.
• Chacin actually made his second start of the year at his new Petco Park home Saturday night. Chacin started a game in San Diego while with Venezuela's World Baseball Classic team. The Giants were 3-for-23 against Chacin Saturday night and own a .213 career batting average against the veteran right-hander.