Aybar has turned back challenges at short
Veteran has held off Sardiñas, d'Arnaud and Córdoba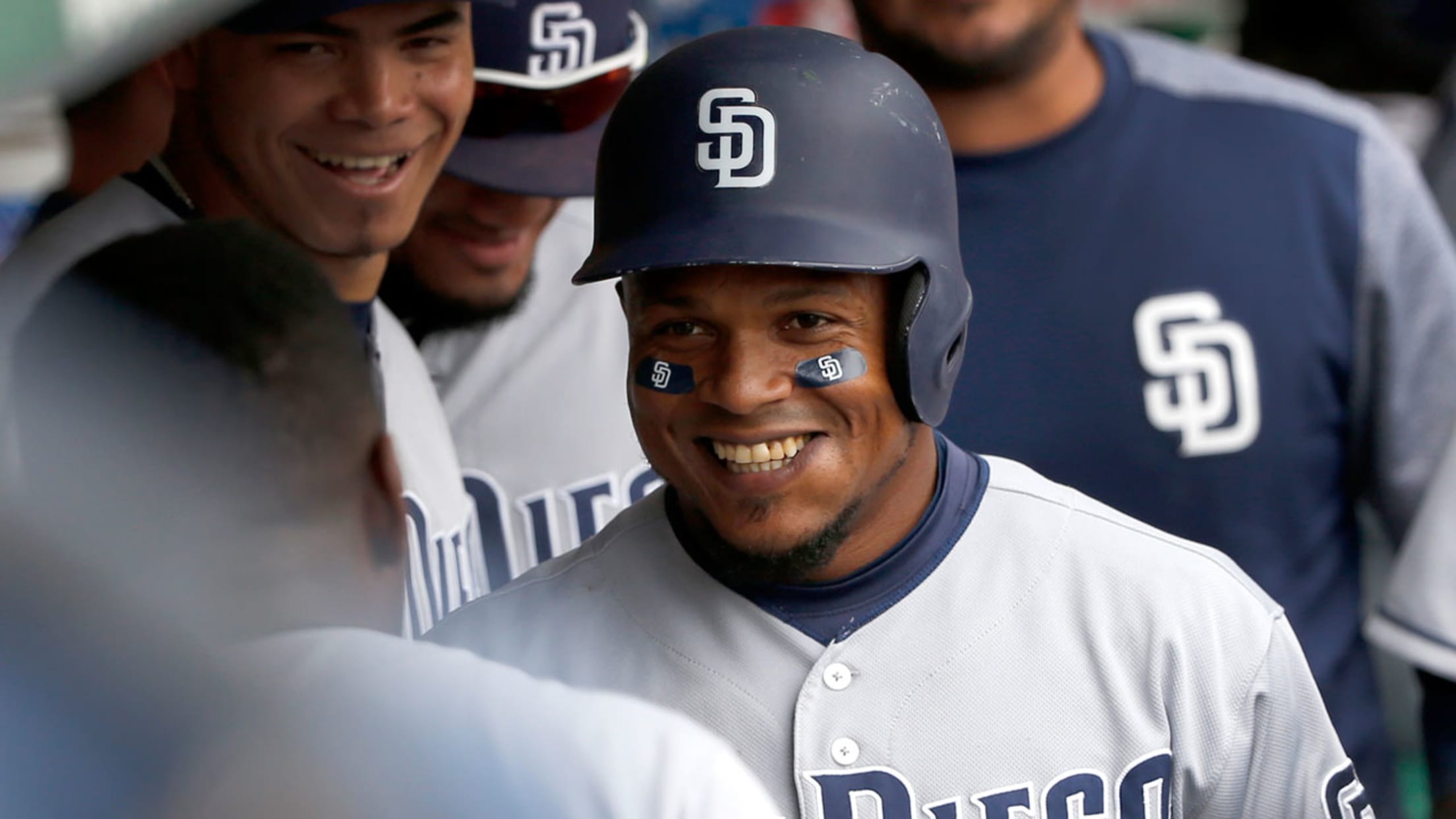 Bill Center, longtime sportswriter for U-T San Diego, is an employee of the Padres.The Padres have put up a series of challenges to veteran Erick Aybar at shortstop this season. Aybar and Luis Sardiñas went into spring training battling for the job. Aybar won and Sardiñas was designated
Bill Center, longtime sportswriter for U-T San Diego, is an employee of the Padres.
The Padres have put up a series of challenges to veteran Erick Aybar at shortstop this season.

Aybar and Luis Sardiñas went into spring training battling for the job. Aybar won and Sardiñas was designated for assignment in May and claimed by the Baltimore Orioles.

Then the Padres claimed Chase d'Arnaud and gave him a look at short. And Rule 5 draftee Allen Córdoba has been given a look.

What is interesting is that both times the Padres took a bit of a longer look at d'Arnaud and Córdoba, Aybar responded with stronger play in the field and at the plate.

It could just be a coincidence . . .

Aybar is hitting only .221 on the season. But he has seven homers and several of his shots have been of the game-winning variety. The 33-year-old, switch-hitting veteran is certainly an improvement over what the Padres had at shortstop last season. He's even pitched two innings in mop-up relief.

But it is most interesting to me what Aybar has done this season immediately after the Padres have taken a look at another shortstop.

D'Arnaud got three starts at short in a span of five games ending June 8. Aybar returned to the lineup June 9 and went 6-for-16 over the next four games with two doubles, a RBI and three runs scored.

Córdoba then got some starts. Aybar returned to the lineup June 18 and has gone 5-for-15 with two homers, four walks, two RBIs and four runs scored in his last five starts. Aybar was 2-for-3 with his sixth homer, a walk, a RBI and two runs scored Sunday.

NOTE WORTHY:

--RHP Carter Capps and El Paso manager Rod Barajas were ejected for arguing after Capps was twice called for an illegal pitch in a span of four pitches by first base umpire Brett Terry. It was the first time this season that Capps' unconventional delivery was cited.

--CF Manuel Margot did not play for Triple-A El Paso Monday night on his rehab assignment and has returned to San Diego after being activated from the disabled list with the placement of d'Arnaud on the paternity list. He has been out since May 27 with a calf injury. He was hitting only .150 on his rehab assignment with the Chihuahuas, but was 1-for-3 Sunday with two walks, two steals, two RBIs and a run scored.

--3B Cory Spangenberg hit in the cleanup spot Sunday for the first time as a Major Leaguer and went 0-for-3 with a walk and two strikeouts. Padres manager Andy Green admitted the 190-pound infielder who has four homers this season is not your classic cleanup hitter.