These are the best games each day this week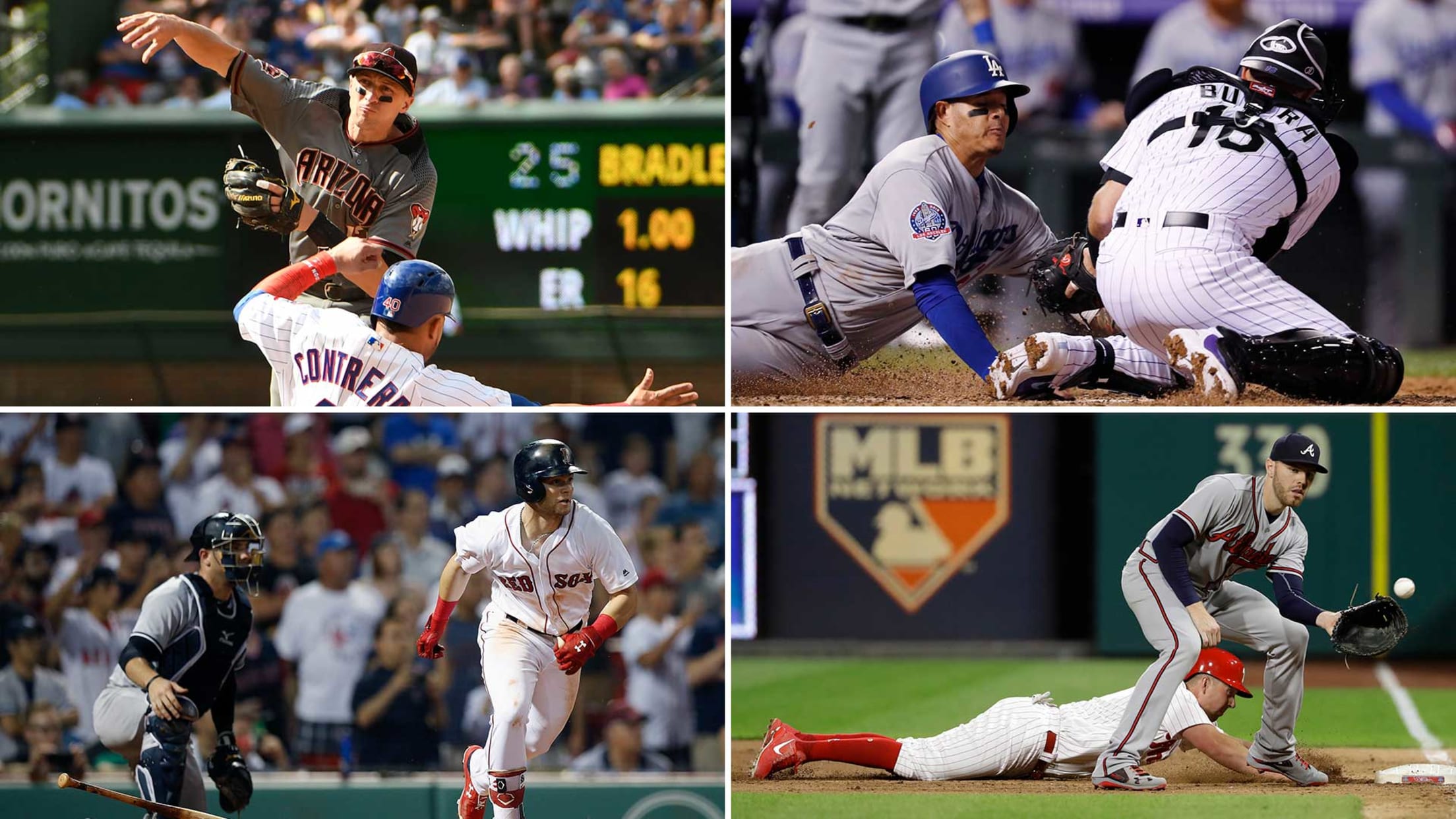 If you look really closely -- be careful, wear eye protection -- you can see the National League postseason race finally coming into focus. The Braves are closing in on their first division championship in five years, and the Cubs and Brewers are in very good shape.Unless something changes, there
If you look really closely -- be careful, wear eye protection -- you can see the National League postseason race finally coming into focus. The Braves are closing in on their first division championship in five years, and the Cubs and Brewers are in very good shape.
Unless something changes, there would be five teams -- Dodgers, Rockies, Cardinals, Diamondbacks and Phillies -- fighting it out for two spots. For all of you who love September chaos, these final two weeks of the regular season are for you. If we're really lucky, the NL races will go down to the final weekend or so.
In the American League, things are much more clear. The Indians have clinched one division title, and the Red Sox and Astros are closing in on the other two.
For now, the drama seems to be about where the AL Wild Card Game -- probably Yankees-Athletics -- will be played. The Yankees lead that race by 1 1/2 games with 13 to play.
That's where the next-to-last week of the regular season begins. Let's check out the best game each day.
Monday: Cubs at D-backs (9:40 p.m. ET, MLB.TV)
The D-backs have lost 12 of 16 as they begin a nine-game homestand against the Cubs, Rockies and Dodgers. Say this for them: If they bounce back to make the playoffs, they will have survived a stretch as difficult as almost anything they face in October. As for the Cubs, despite all the worry about getting their bullpen postseason-ready, they haven't spent a day out of first place in the NL Central since the All-Star break.
Tuesday: Rockies at Dodgers (10:10 p.m. ET, MLB Network, MLB.TV)
This is the kind of pitching matchup -- Kyle Freeland vs. Clayton Kershaw -- we love. For one thing, there are huge playoff implications for both clubs. For another, this has been a breakout season for Freeland, who has become the anchor of the Colorado rotation while pitching himself into the NL Cy Young conversation. Kershaw probably will not win his fourth Cy Young Award because of two stints on the disabled list, but in the things that can be measured -- 2.51 ERA, 1.01 WHIP -- he has been as dominant as ever.
Wednesday: Cardinals at Braves (12:10 p.m. ET, MLB Network, MLB.TV)
Despite back-to-back losses to the Nationals on Saturday and Sunday, the Braves lead the NL East by 6 1/2 games with 13 to go. Other than clinching the division, resting the bullpen and lining up the rotation will be manager Brian Snitker's priorities. The Cardinals seemed to be cruising toward a playoff berth until the Dodgers came to Busch Stadium, and they finish next week against the Brewers and Cubs in games that almost certainly will decide at least one postseason berth.
Thursday: Red Sox at Yankees (7:05 p.m. ET, MLB Network, MLB.TV)
This is a big series, but not in the usual ways. Red Sox manager Alex Cora will use these final two weeks to try and stretch out ace Chris Sale for the postseason and to line up roles for a relief staff that has had a tough month. For the Yankees, these final two weeks will be about locking down home-field advantage in the AL Wild Card race and deciding on who'll start that contest. Right-hander Masahiro Tanaka, who starts for the Yankees on Thursday, seems to be the likely choice.
Friday: Rockies at D-backs (9:40 p.m. ET, MLB.TV)
As the D-backs have fought to stay in the postseason mix, the Rockies have played some of their best baseball, winning 10 of 15 this month as they prepare for a week that includes three road games against the Dodgers and three against Arizona. Colorado shortstop Trevor Story leads the Majors in home runs and RBIs this month, and Colorado's bullpen has been excellent.
Saturday: Phillies at Braves (1:05 p.m. ET, MLB.TV)
The Phillies have lost 10 of 14 this month to squeeze their margin of error to almost nothing. Only the Orioles have a higher starting rotation ERA this month. Regardless, this season has been a dramatic turnaround, with the Phillies already having won 10 more games than they did in all of 2017. Atlanta's 3.35 team ERA since Aug. 1 is the NL's second-lowest.
Sunday: Red Sox at Indians (7:05 p.m. ET, ESPN)
Two really good teams make for a great evening, so get your popcorn. These two teams could meet in the ALCS, but there's still work to do in the regular season. The Red Sox are crossing their fingers that Sale and AL MVP favorite Mookie Betts will be healthy and at full go by the playoffs. For Cleveland, these final two weeks are mostly about the getting pitchers Trevor Bauer and Andrew Miller completely healthy and ready for October.