Parker working on adjusting mindset on mound
Littell continues smooth transition to bullpen; Vasquez sent to Triple-A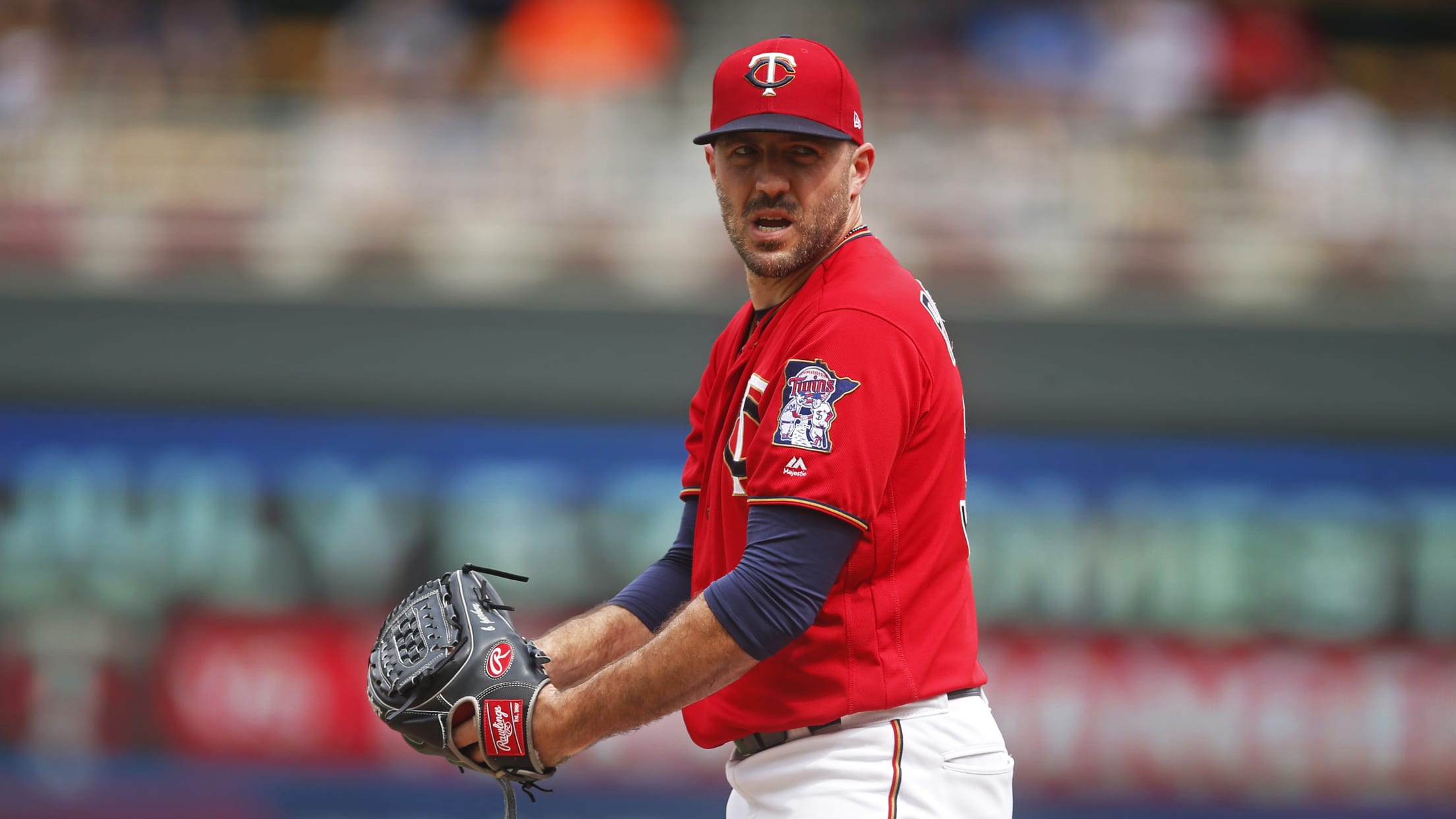 OAKLAND -- Blake Parker's recent outings haven't necessarily been pretty, and he knows it. But still, he finds ways to get the job done. The right-hander, who was signed during the offseason to bolster the back end of the Twins' bullpen, has dealt with runners on the basepaths in each
OAKLAND -- Blake Parker's recent outings haven't necessarily been pretty, and he knows it. But still, he finds ways to get the job done.
The right-hander, who was signed during the offseason to bolster the back end of the Twins' bullpen, has dealt with runners on the basepaths in each of his last 12 appearances, a span in which he has a 6.94 ERA and has allowed a .302/.383/.642 line. And yet, he has been scoreless in six of his last eight appearances, including a two-inning relief outing on Wednesday that earned him the win.
Parker struggled in June to establish a feel for his signature splitter, and admitted that he had been getting too results-oriented and not trusting his arsenal enough. He acknowledged that some of those mental issues have carried through into his recent outings.
"Sometimes, I pitch to not give up runs instead of pitching to get outs," Parker said. "That's a completely different mindset and changes the way that you attack the hitters. To be able to make an adjustment out there and get out of a couple of jams felt good, but it never feels good to put yourself into those jams.
"I don't know how to control it, I guess. You just have to go out there and stay aggressive and know you can pitch to get outs."
With that said, Parker has been able to navigate those jams created by early hits and walks, showing that he still has the stuff in his arsenal to compete with Major League hitters and get them out in big spots. Manager Rocco Baldelli said that Parker's usage in tight situations could contribute to that mentality, but credited Parker's ability to use some of those adverse circumstances to his advantage in certain cases.
"A lot of guys get to this point in their careers, and they have great careers, and they pitch or play in the big leagues for a long time, while also having some thoughts that might not be very typical, but it works for him," Baldelli said. "We're in a tight spot last night, and any run essentially ends the game. So he's going to probably think about everything he's doing a little bit differently than if the bases are empty and you're just trying to get so-and-so out."
Littell adjusting to relief role
Right-hander Zack Littell added another scoreless appearance to his growing resume as a reliever in Wednesday night's win, holding the A's off the board in a seventh inning in which he allowed one hit and one walk. Though Littell averaged 92 mph with his fastball as a starter last season, he has thrown as hard as 97 mph on several occasions this year.
"I think he's just really honed in on his strengths," Baldelli said. "He's basically just going out there and his stuff has ticked up in shorter stints, which is what we hoped would have happened when he moved to the bullpen."
Littell's relatively smooth transition to the bullpen has been a welcome development for the Twins, who have had other young pitchers -- namely, Fernando Romero and Adalberto Mejia -- show marked struggles this season as they have transitioned from starting to relief roles.
In four appearances for the Twins since he was converted to a full-time reliever, the 23-year-old Littell has allowed four hits in five scoreless innings with three strikeouts and three walks.
"You never know how a guy's going to go out there and pitch once the game starts, but as far as being in the mindset of being a bullpen guy and what he's trying to accomplish out there, he has not overcomplicated things," Baldelli said. "He's just gone out there and done it and it seems like it's come. You don't know if it actually did come easy for him, but he made it look like that."
Roster move
The Twins sent left-handed reliever Andrew Vasquez outright to Triple-A Rochester on Thursday, clearing a spot on their 40-man roster. The 25-year-old has a 6.35 ERA with 25 strikeouts and 18 walks in 17 innings for Rochester this season.
Injury update
Though all of the tests on Marwin Gonzalez's bruised right big toe came back negative, he was not in the Twins' lineup for the second game in a row on Thursday. Baldelli said that Gonzalez is available to play, but the Twins don't want to force the issue with the veteran, especially considering the proximity of the All-Star break.
"Once we get home, we can reassess this," Baldelli said. "He wouldn't have played in a couple of days, then there are three days left, then we have four days off. We can talk about what we want to do this weekend."