Snell feels good after throwing, nears return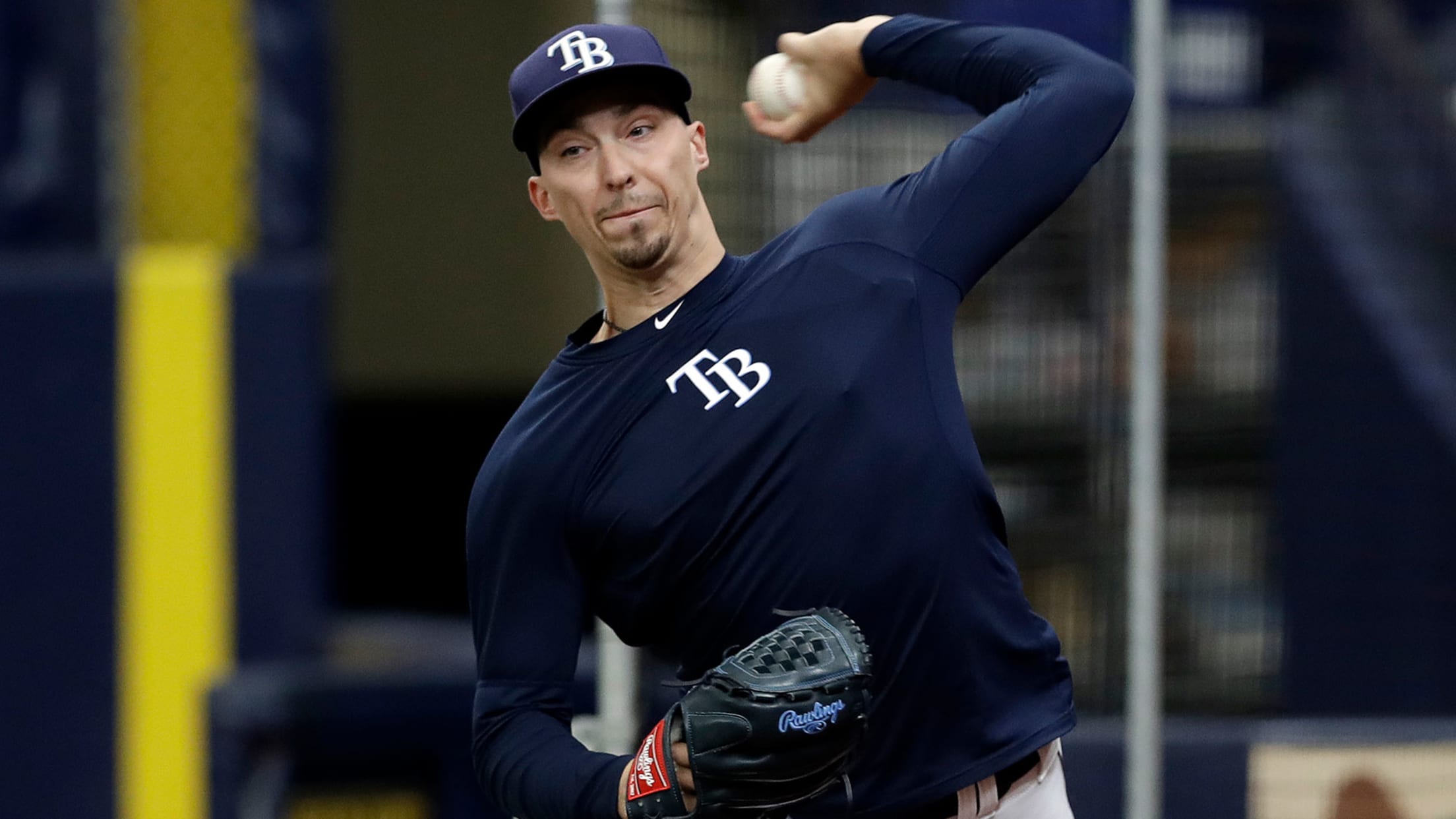 ST. PETERSBURG -- Blake Snell threw a bullpen session Saturday, and the Rays' left-hander appears to be getting closer to returning from the 10-day injured list. The reigning American League Cy Young Award winner was placed on the injured list Monday after fracturing his right fourth toe as he moved
ST. PETERSBURG -- Blake Snell threw a bullpen session Saturday, and the Rays' left-hander appears to be getting closer to returning from the 10-day injured list.
The reigning American League Cy Young Award winner was placed on the injured list Monday after fracturing his right fourth toe as he moved a decorative stand in his bathroom. He said everything "felt good" after throwing, a step toward getting him back in the rotation.
"Everyone was very encouraged, so that's a great sign that he's feeling good and continuing to make progress," Rays manager Kevin Cash said. "I was curious about how it would feel getting off a slope, and it seemed like it didn't bother him at all."
Snell threw about 18-20 pitches in his session, according to Cash, which could put him in line to throw another bullpen session on Monday to stretch him out a little more. If that goes as planned, the Rays will decide whether they want him to pitch on Wednesday against the Royals or next weekend against the Red Sox.
"If he throws a bullpen on Monday, he could totally pitch in a game Wednesday," Cash said. "But we'll just kind of have to balance whether we pitch him first day available [Wednesday] or pitch him against the Red Sox in Boston and find out what the workload is. I would imagine a lot of those decisions and thoughts are going to come based on the shape of our bullpen at that point."
Rays add arm to 'pen
For the second straight day, the Rays made a roster move to add a fresh arm to a bullpen that has been used heavily over the past couple of games.
Looking for a pitcher who could give them length, the Rays called up right-hander Jake Faria prior to Saturday's game and optioned righty Casey Sadler, who was called up Friday and pitched two scoreless innings against the Red Sox in the series-opening loss. Faria was used immediately, entering Saturday's game to start the seventh inning in relief of Charlie Morton.
"Jake has been here. He's had success up here," Cash said. "We realize Jake has the experience if we have to call on him to give us some help, he's totally capable and equipped to do that."
Faria was named a starter prior to the 2018 season, but injuries and inconsistency derailed his year. He came into Spring Training in better shape and focused on making an impact with the big league team.
Despite a decent showing with a 4.15 ERA in four appearances, Faria was optioned to Triple-A Durham with two weeks left in camp to be stretched out as a starter.
Faria was scheduled to pitch Saturday for Durham. In three starts there, the 25-year-old went 1-0 with a 6.35 ERA, 17 strikeouts and eight walks over 11 1/3 innings.
"Honestly the [numbers] don't look great, but I feel great," Faria said. "The problems I've run into is kind of what I ran into last year, just falling behind guys. It wasn't a stuff issue, it's just more about attacking hitters and getting ahead in the count."
Choi day to day with left calf tightness
Ji-Man Choi left Saturday's game against the Red Sox with left calf tightness and was listed as day to day. The first baseman started the game and connected on his second career triple in the fourth inning but was replaced by Yandy Diaz on defense at the start of the sixth.
Choi came into Saturday's game hitting .279 with one home run.
Other notes
• Joey Wendle, on the injured list since April 1 with a strained left hamstring, is fully healthy, but the Rays decided not to activate him for Saturday's game because they needed a pitcher for their thin bullpen.
"He's ready," Cash said. "Our pitching is jammed up. We've talked to Joey about it. We'll see how we get through today and we'll revisit it again."
• All positive news for Mike Zunino as he and his wife, Alyssa, welcomed the birth of their son. Zunino was placed on the paternity list Friday and should return to the lineup soon.
Juan Toribio covers the Rays for MLB.com. Follow him on Twitter @juanctoribio.