Plenty of silver lining for Snell despite loss
Cash 'really happy' with rookie's solid 6 2/3-inning start vs. Indians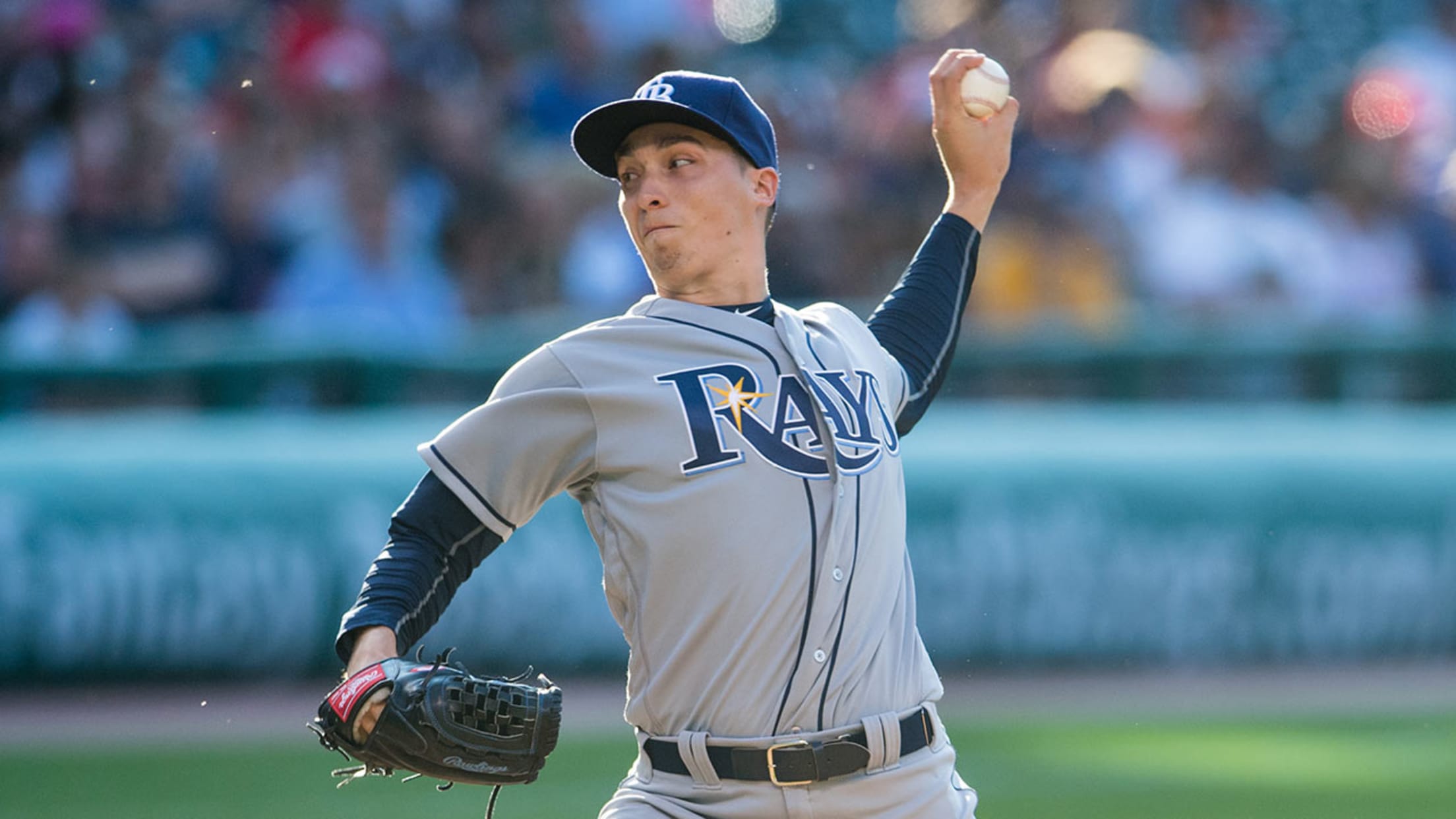 Blake Snell allowed three runs (two earned) on seven hits with three strikeouts in a loss on Tuesday. (Getty)
CLEVELAND -- Blake Snell certainly appears to be the real deal.The rookie left-hander made his third start of the season and second since being recalled on Thursday. Though he took the loss in the Rays' 6-0 loss to the Indians Tuesday night, he made strides from his previous start."Really happy
CLEVELAND -- Blake Snell certainly appears to be the real deal.
The rookie left-hander made his third start of the season and second since being recalled on Thursday. Though he took the loss in the Rays' 6-0 loss to the Indians Tuesday night, he made strides from his previous start.
"Really happy with the way Blake threw the ball," Rays manager Kevin Cash said. "I don't know how many times in his young career building up in the Minor Leagues he's been in the seventh inning. But the way he approached it and attacked hitters, it was really impressive."
On Thursday against the Mariners, the lefty showed quality stuff. Despite the bling, he only lasted 3 1/3 innings as the Mariners successfully ran his pitch count up to 92 pitches.
Tuesday he almost got through the seventh on just 104 pitches.
"I wanted to be more aggressive," Snell said. "But I definitely was happy to be around the zone more than my previous start. Definitely a positive there."
Despite throwing just 57 strikes, Snell managed to navigate his 6 2/3 innings like a seasoned hurler, allowing two earned runs on seven hits and three walks.
"It was all about throwing strikes early," Cash said. "I know that his strike-to-ball ratio wasn't at his best. But he didn't have many of the fall-behind, the 2-0, the 3-0, the 3-1 counts. He was competitive in a lot of at-bats."
Snell has handled adversity well, too. Nine runs have scored on his watch this season. Five of those have been unearned in his three starts, yet he's managed to keep his composure.
Take the two-spot the Indians hung on the scoreboard in the third.
Jason Kipnis hit a routine single to center field to drive home the Indians' first run, only the ball took a bad hop on Rays center fielder Desmond Jennings. The ball rolled to the wall, allowing Kipnis to round the bases to put the Indians up 2-0, resulting in a three-base error for Jennings.
"He doesn't waver," Cash said. "When we had a couple of defensive plays out there that were difficult, didn't get made, he doesn't change his approach."
Snell was particularly pleased with his changeup.
"My changeup's the best it's been all year," Snell said. "Felt like I had really good follow-through to make it look like it was a fastball. So I was really happy about that."
Indeed, Snell resembled the next great thing in the Rays' rotation on Tuesday night.
"I feel like I got a lot more confidence in myself out of that start," Snell said. "I just feel like I have to attack more. ... I should be fine."
Bill Chastain has covered the Rays for MLB.com since 2005.