Big wave of cuts expected early next week
Gibbons looks to get Major Leaguers more spring action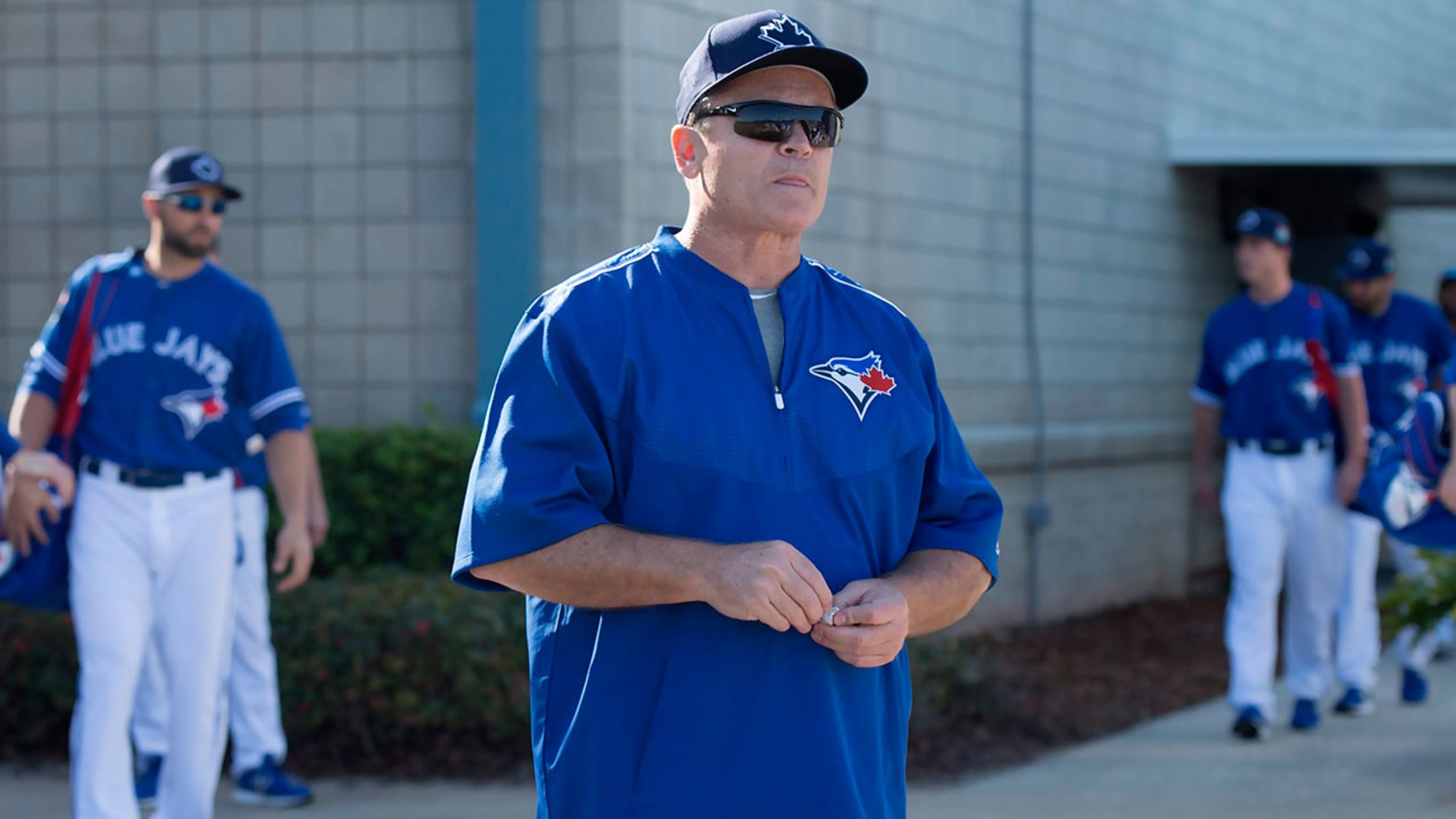 Blue Jays manager John Gibbons currently has 65 players in Major League camp at his disposal. (AP)
DUNEDIN, Fla. -- The Blue Jays have made two small rounds of cuts at Spring Training, but the big wave is expected to happen early next week when Minor League games get underway at the Bobby Mattick complex.Toronto previously reassigned outfielder Dwight Smith Jr., top prospect Conner Greene and right-hander
DUNEDIN, Fla. -- The Blue Jays have made two small rounds of cuts at Spring Training, but the big wave is expected to happen early next week when Minor League games get underway at the Bobby Mattick complex.
Toronto previously reassigned outfielder Dwight Smith Jr., top prospect Conner Greene and right-hander Wil Browning to Minor League camp, but that number likely will drastically increase in the very near future.
• Greene headlines second round of cuts
The Blue Jays need to start trimming their numbers at camp, which currently sits at 65, in order to ensure there is enough playing time and innings to go around for all of their potential big leaguers. The Minor Leaguers also need an appropriate amount of time to get ready for their season.
"We're getting close to that time, we'll start making some decisions," Blue Jays manager John Gibbons said Friday morning. "Guys who aren't going to make the team, they need to go down there and start getting ready for their season, get a lot of innings down there."
Toronto originally planned to schedule several unofficial Spring Training "B" games against the Phillies, but those will no longer happen. The Blue Jays were interested in setting up something on the side with their close neighbour, with Philadelphia's facilities just a 10-minute drive from Florida Auto Exchange Stadium.
• Spring Training:Tickets | Schedule | Information
Gibbons said the Phillies had some minor injuries to their pitching staff, and the club also had several split-squad games scheduled this month, so the extra work was not needed. Despite the change, Gibbons doesn't believe it will have an impact on the the timing of Toronto's cuts. There will be enough innings to go around for everybody, especially with additional roster moves coming soon.
"That won't affect us at all," Gibbons said. "Early on, that was the plan with the Phillies because they had excess pitching over there, and they had a number of guys who got banged up so they had to shut them down. Then they had two or three split squads that kind of ruined it, so that's off."