Blue Jays host Honda Super Camp in Victoria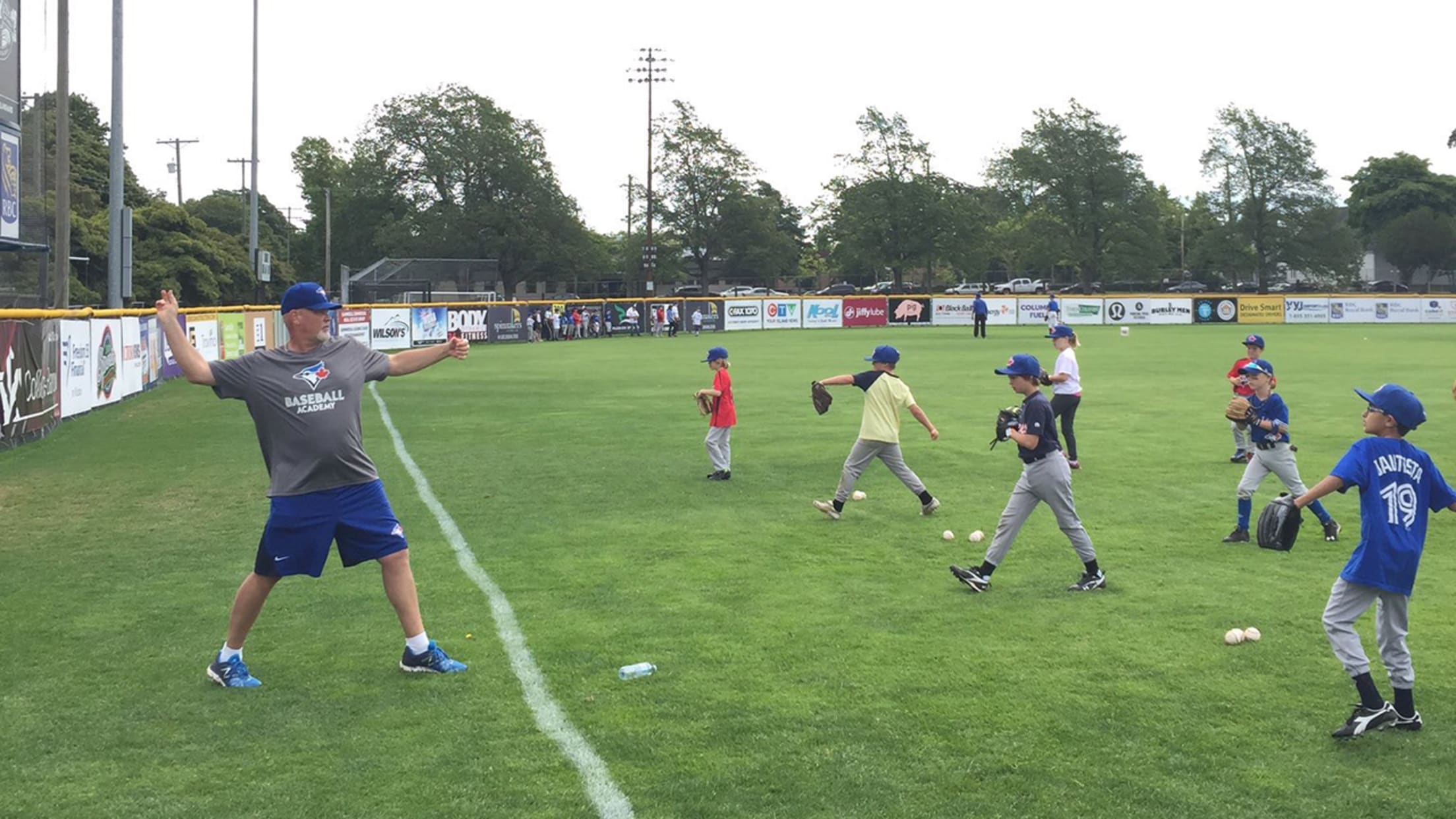 Former Blue Jays players gave kids instructions at the Blue Jays Honda Super Camp. (Jake Paddle)
Youth baseball players from Victoria, British Columbia, and throughout Vancouver Island had a chance of a lifetime on July 12 and 13, as the Blue Jays Honda Super Camps came to town, with many Blue Jays alumni serving as instructors at the two-day instructional clinic.Hall of Fame second baseman Roberto
Youth baseball players from Victoria, British Columbia, and throughout Vancouver Island had a chance of a lifetime on July 12 and 13, as the Blue Jays Honda Super Camps came to town, with many Blue Jays alumni serving as instructors at the two-day instructional clinic.
Hall of Fame second baseman Roberto Alomar headlined the list of alumni in attendance, which also included former outfielders Lloyd Moseby and John Mayberry, closer Duane Ward and infielder Rance Mulliniks.
This was the third year that Victoria has hosted a Super Camp, with this year's enrollment totaling 95 youth players, aged 9 to 16. This year's enrollment represented a slight increase over past years.
The Victoria Super Camp was hosted at Royal Athletic Park for the third straight year, in partnership with the Victoria HarbourCats of the West Coast League, who are currently the fifth-ranked summer collegiate baseball team in North America.
The Super Camp consisted of two days of instruction lasting approximately four hours each day, with players rotating through various stations, giving them the opportunity to learn the fundamentals of every facet of the game, including hitting, pitching, outfield and infield defence and baserunning.
A Challenger baseball game for youth with physical or cognitive disabilities also took place in the outfield following Tuesday's session.
Ward, the Blue Jays' single-season saves leader with 45 in 1993, has been an integral part of the Super Camps for several seasons, and he says it's all about the fundamentals.
"That's what we're trying to do in the time we have with these kids is teach the basic fundamentals of the game," Ward said. "Fundamentals are the basis for everything in the game. In the Majors, they do everything right; they hit the cutoff man, make all the routine plays."
Youth players participating in the camps are presented with a very unique opportunity to receive instruction from multiple Major League veterans, All-Stars and World Series champions.
Ward says that the young players are extremely eager to learn, but it is the parents who often times see the names of the instructors and educate their kids on the accomplishments of the instructors.
A fitting example of this is 12-year-old Elijah Sulz of Courtenay, British Columbia, who attended the Super Camp for the third straight year. Sulz first attended the Super Camp in Nanaimo, British Columbia, in 2014, where he created memories as he learned to hit from former Blue Jays Brian McRae and Devon White.
"When Elijah [Sulz] was hitting with Brian [McRae], he told Brian that he would hit a home run on his final swing or he would buy Brian a chocolate bar," said Cat Alberti -- Sulz's mom -- who made the three-hour drive south to Victoria from their home in Courtenay.
Sulz didn't hit a home run on his final swing, and Alberti says he was prepared to follow through on his promise.
The Super Camp in Victoria took place on the heels of a wildly successful Final Vote campaign for Michael Saunders that landed the Blue Jays outfielder and Victoria native in the MLB All-Star Game.
The Blue Jays also turned in their best first half since 1993, when they were on their way to their second of back-to-back World Series titles.
Ward says that success for the Blue Jays is good for baseball in Canada.
"The Blue Jays are in a good place right now," Ward said. "What the Blue Jays have been doing the last two years is good for baseball in Canada. When they are doing well, it really helps build a baseball fever throughout the country."
Mulliniks played 11 of his 16 Major League seasons with the Blue Jays, playing 1,115 games as an infielder for the team from 1982-92. Now residing in Visalia, Calif., Mulliniks is one of many former Blue Jays who return to Canada every summer for the Super Camps.
"The core group of us have been doing this for a number of years now, so it's easy to get guys to come up," Mulliniks said. "Many of us played together, so we have that camaraderie, and another thing we all share is a sense of loyalty to the Blue Jays. We all played for the Blue Jays, we all pull for the Jays, we are all still big fans of the team."
Who knows if the next Saunders was part of this year's Super Camp in Victoria. The important thing is youth across this country are being inspired by the great Blue Jays to reach their potential.
The Blue Jays Honda Super Camps take place in 14 locations across Canada during the months of July and August.
Jonathan Hodgson is a contributor for MLB.com.