Blue Jays look for positives during latest skid
Toronto has dropped five of six after falling in the first two games vs. Orioles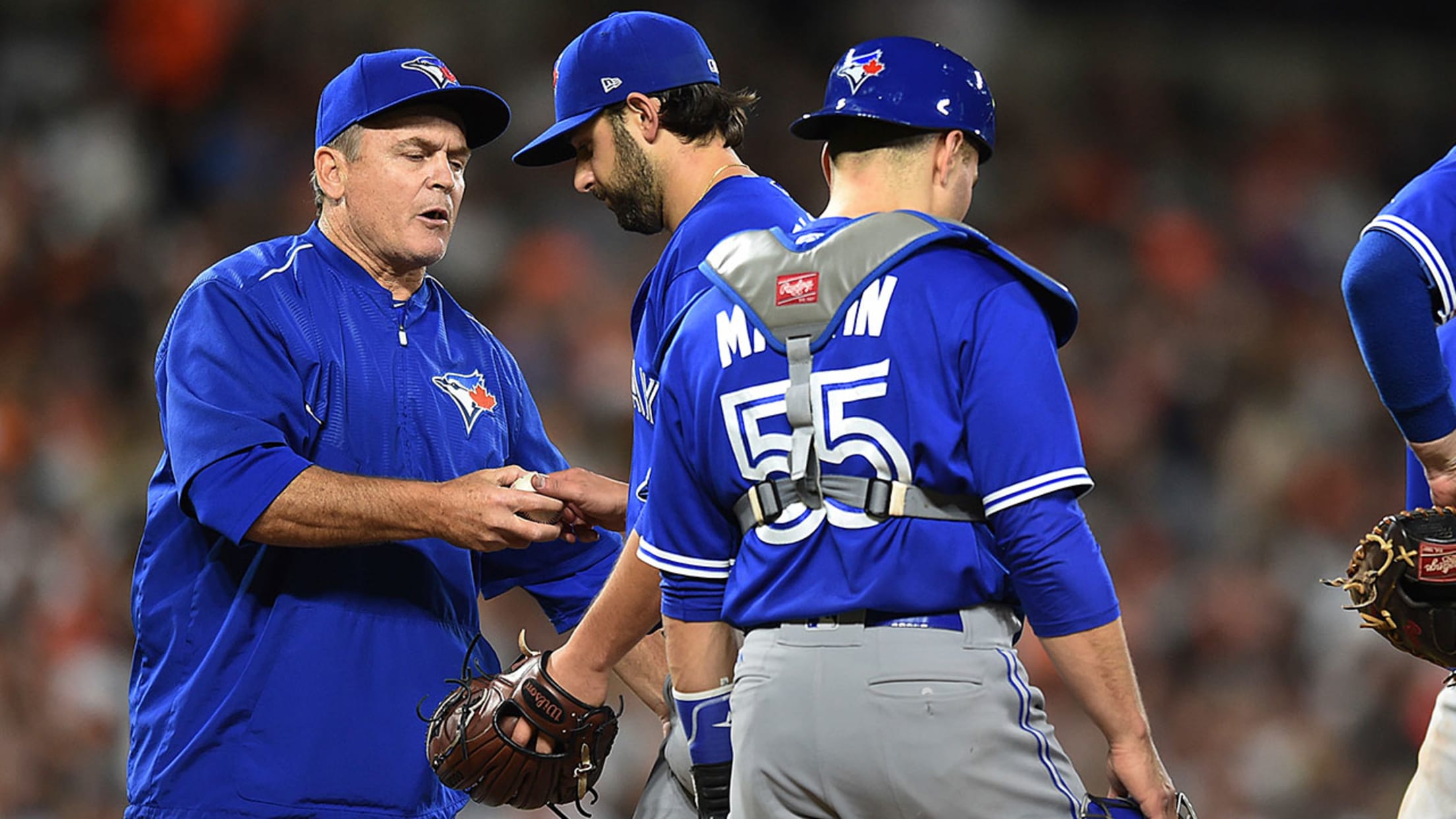 The Blue Jays have lost five of their last six and are 1-7 against the first-place Orioles this season. (AP)
BALTIMORE -- It was less than a week ago that the Blue Jays were riding high after a season-best five-game winning streak. They were gaining ground in the American League East and seemed to have momentum on their side. But how quickly things have changed.Toronto followed up that winning streak
BALTIMORE -- It was less than a week ago that the Blue Jays were riding high after a season-best five-game winning streak. They were gaining ground in the American League East and seemed to have momentum on their side. But how quickly things have changed.
Toronto followed up that winning streak by losing five of six, with the latest loss coming Saturday night, 7-5, to the Orioles. The Blue Jays' season once again appears to be nearing a crossroads, and they may not be able to dig a much deeper hole.
The recent skid has taken a toll inside the clubhouse. Blue Jays manager John Gibbons declined to speak with the media following Saturday's loss, and while his players are saying all the right things, the words coming out and the looks on their faces tell two very different stories.
"Losing tight games, especially division games, is always tough," right fielder Jose Bautista said. "We lost in extras yesterday, and unfortunately came up short today, but hopefully tomorrow we avoid the sweep. Get some momentum, take advantage of the day off, and go to Milwaukee and hopefully play well over there."
Saturday seemed to a perfect summation of how Toronto's season has gone to date. On the same day the Blue Jays got Russell Martin and Kevin Pillar back in the lineup, they lost Aaron Sanchez to the disabled list for the third time this season. Toronto has just two-fifths of its rotation from the start of the season intact, and the club is still without the services of Troy Tulowitzki, Josh Donaldson and Steve Pearce, just to name a few.
The injuries provide a partial explanation for the Blue Jays' woes this season, but they haven't been the only factor. Toronto got off to its worst start in franchise history this season at 3-12, and that was before the training room became a revolving door.
Toronto's 1-7 record against the Orioles is an issue, and so is an 8-15 mark on the road. For those looking for positives, the good news is that Donaldson is expected to begin a rehab assignment next week, J.A. Happ pitched at extended spring training on Saturday and Francisco Liriano might be ready to return at some point next week.
"It's hard to say that," Bautista said when asked if he feels snakebitten by the injuries. "But we wish we would've had, and continue to have, better luck in the health department. But winning teams find a way to persevere and come through and get the necessary wins no matter what. Hopefully we do that and at the end we're going to be in the race."
Another positive is that Martin did not feel any ill effects after the game from an injured shoulder that sidelined him since May 7. He was tested a few times on Saturday and made a couple of nice snags on errant fastballs from Mike Bolsinger, plays that before he went on the DL he likely would not have been made.
Small victories like that are the kinds of things the Blue Jays want to focus on, because the alternative is not all that appealing.
"I take it day to day," Martin said. "This is just one day. Tough game to lose, especially after coming back. Big home run by Bautista kind of lifted us but momentum can shift super quick in this game. Once again, they battled back. You have to give some credit to their team. They didn't get down. They kept battling."