Blue Jays' success good for Canadian ball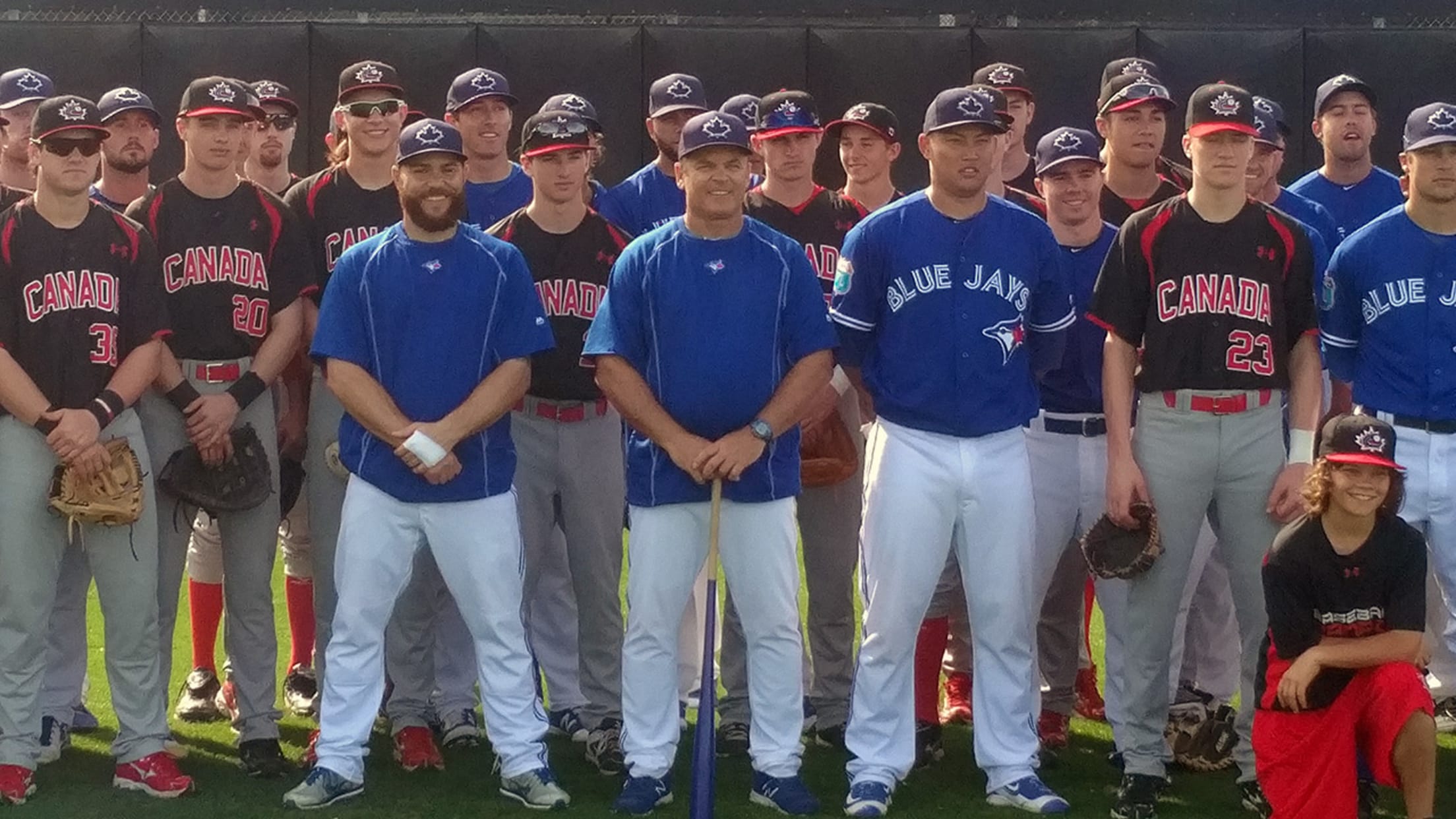 The Blue Jays hosted the Canadian Junior National Team on Thursday in Florida. (MLB.com)
DUNEDIN, Fla. -- The Blue Jays' deep run into the 2015 postseason meant not only great things for the franchise, but also great things for the Canadian national program.Baseball Canada expects to see an uptick in participation over the next couple of years as children from coast to coast have
DUNEDIN, Fla. -- The Blue Jays' deep run into the 2015 postseason meant not only great things for the franchise, but also great things for the Canadian national program.
Baseball Canada expects to see an uptick in participation over the next couple of years as children from coast to coast have been re-energized by Toronto's success. Television ratings reached record highs, and attendance was the best it had been in two decades, which can only mean good things for the growth of the sport.
Canada already has seen what a successful Blue Jays team can mean to the health of baseball. Star Canadian players such as Justin Morneau, Joey Votto and Ryan Dempster have all spoken in the past about the impact Toronto's back-to-back championships in 1992-93 had on their childhoods, and the hope is that the Blue Jays' latest run will eventually result in similar success stories down the road.
• Spring:Tickets | Ballpark | 40-man roster | NRIs
"It was euphoric from coast to coast," said Greg Hamilton, who is the head coach and director of national teams for Baseball Canada, on a Thurday afternoon in which the Canadian Junior National Team played the Blue Jays. "Everybody was baseball-focused, and it's impactful on young kids. I always say, the star power does matter, the power of their team being as successful as they were last year, it draws kids to the game.
Final from Dunedin: #BlueJays 12 #JNT 0.

Thanks to the @bluejays organization for hosting us today and supporting our Nat'l Team program!

— Baseball Canada (@baseballcanada) March 17, 2016
Thank you! #TeamC 🇨🇦 https://t.co/6O9ieF6LhZ

— Toronto Blue Jays (@BlueJays) March 17, 2016
"Kids aspire to be a part of that and part of that excitement, and you definitely see a spike in registration numbers when Canada's only Major League team is doing well."
Blue Jays outfielder Michael Saunders was 6 years old when the Blue Jays won the second of its back-to-back World Series titles. The memories might be somewhat vague, but he grew up in a time when baseball was arguably even bigger than hockey for a two-year stretch.
The veteran slugger missed out on Toronto's postseason run last year because of a knee injury, but he still saw firsthand the impact the Blue Jays' success had. Family and friends were constantly reaching out wishing his teammates luck and adding commentary on a string of success that captivated the nation's attention.
The amount of Blue Jays paraphernalia that can be seen in every corner of the country shows how closely people have been paying attention, and the more people who sign on, the healthier it will be for the sport north of the border.
"I know it is good, not only for Baseball Canada, but all of Canada," Saunders said. "When we were going on that run, even though I wasn't a part of it, my buddies would be texting me just taking off work for lunch break and the only thing they see is Jays gear, it's all people wanted to talk about. It caught like a wild fire.
"I also can remember guys like Morneau, Dempster, [Larry] Walker paving the way and making the younger Canadians believe that we're able to do this, because there was a point in time when I didn't know how good players from Canada could really be. ... Those guys made me believe in myself, and hopefully the Blue Jays and the Canadian players from my generation are doing the same thing for younger Canadians."
To Saunders' point, it also doesn't hurt that Toronto's success comes at a time when some Canadians are prominent players in the organization. Russell Martin is the star catcher, Saunders is the starting left fielder, and Pompey got in on the action last October by cracking the postseason roster as a reserve outfielder and late-inning pinch-runner.
Canada needs stars like Votto and Morneau to prove to the next generation of athletes they can make it, but it means even more when the recognizable names are playing in the same country. Even in today's internet age, not a lot of people were able to see Votto and Morneau play over the last few years, but almost every household was watching Martin and his teammates last October.
"Joey's a superstar, but he plays in Cincinnati and the kids don't get to see him every day, they don't get to appreciate how good he is," Hamilton said. "They understand he's Canadian, but you see the Blue Jays every day.
"The Blue Jays are part of the Canadian fabric, and when they had the success that they did, baseball was ahead of hockey in Canada, in terms of the hearts and minds of young Canadians. That's not an easy thing to accomplish. It's a difficult thing to create over a long period of time, but certainly in a short burst, it was incredible, and you'll see a spike. We saw it in 92-93, and we're seeing it now."