Mayza could succeed vs. left-handed hitters
12th-round pick has potential to be power lefty out of Blue Jays 'pen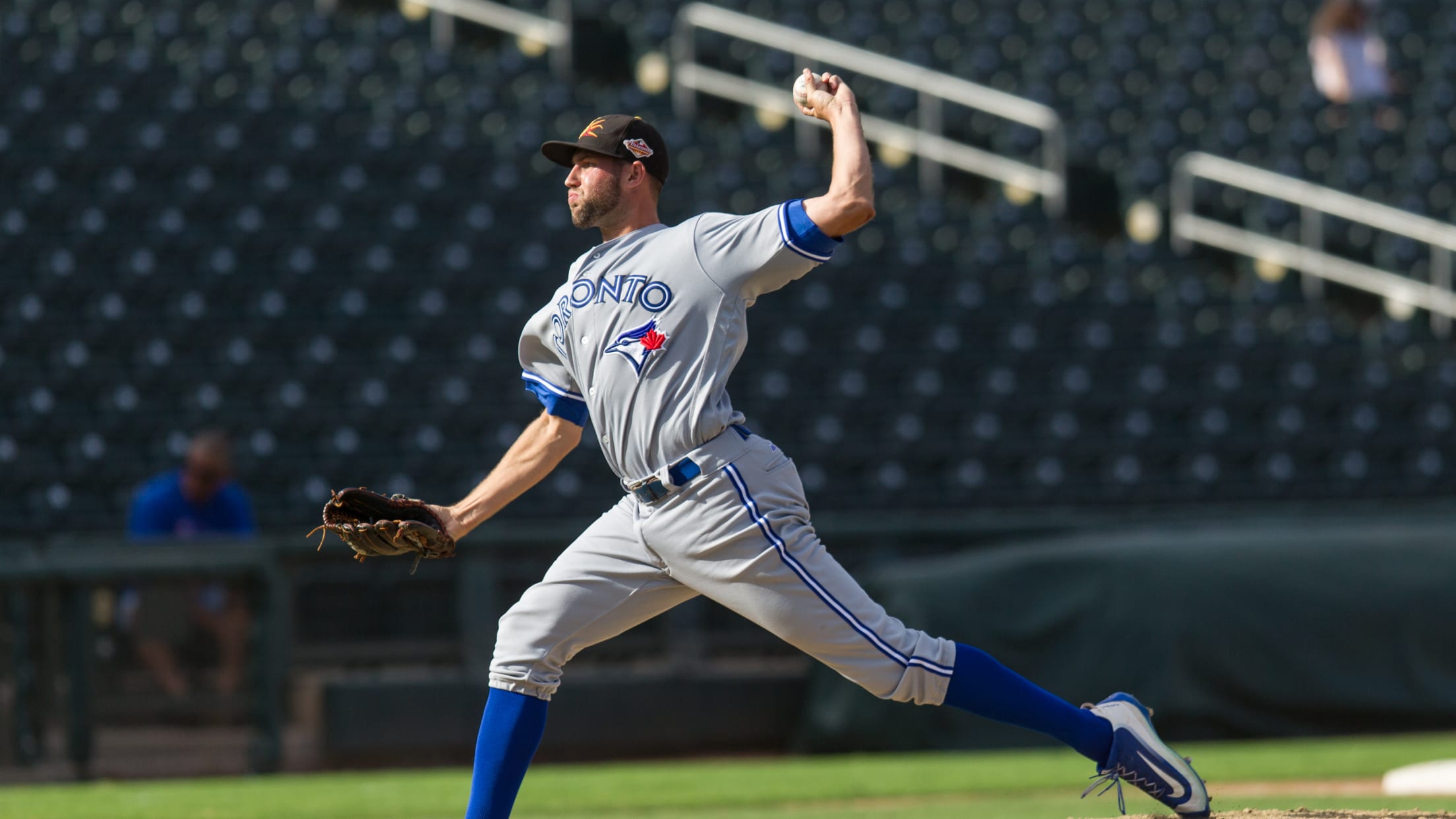 Left-hander Tim Mayza has struck out four batters in three innings of work this spring. (MiLB.com)
FORT MYERS, Fla. -- Left-hander Tim Mayza has never pitched above Double-A. There is a "big league" chance that could change this season.Mayza, 25, was a 12th-round pick by the Blue Jays in 2013 out of Millersville University of Pennsylvania. His stock is rising rapidly, matching the high-90s velocity on
FORT MYERS, Fla. -- Left-hander Tim Mayza has never pitched above Double-A. There is a "big league" chance that could change this season.
Mayza, 25, was a 12th-round pick by the Blue Jays in 2013 out of Millersville University of Pennsylvania. His stock is rising rapidly, matching the high-90s velocity on his fastball.
"He's a young lefty we'll be able to count on," said manager John Gibbons. "He's had a good spring. He's got a dynamite arm. Whether he makes the team out of spring ... or not, he might come quick.
"Mayza's got a really good arm. He's got a nice little slider. It's just a matter of, can he harness it enough?"
Mayza pitched a perfect inning in the Blue Jays' 6-2 loss to the Twins on Saturday. He entered the game with two outs and runners on first and second in the third inning. Two runs had already crossed the plate, with the Twins threatening to do more damage.
But on two pitches, Mayza got switch-hitting Jorge Polanco to line out, snuffing the rally.
Gibbons is looking for those kinds of opportunities for Mayza, challenging the lefty with difficult situations to see how he responds.
"Yeah, a lot of times down here a guy gets in a jam, he's thrown too many pitches," Gibbons said. "But then you also look for opportunities when you can get a lefty in."
In three appearances -- spanning three innings this spring -- Mayza has not allowed a run, giving up two hits and a walk with four strikeouts.
"The other day against Detroit, Russell [Martin] was catching him," Gibbons said. "[Mayza] faced a couple of lefties and blew them away. [Justin] Upton got a base hit off him. A low-ball hitter, it ran right into his bat."
The Blue Jays like the prospect of adding a power left-hander to their bullpen. That could be sooner than later.
"Oh, yeah," Gibbons said. "He's got to keep progressing. You come to Spring Training and everybody likes the kid, but you want to see him perform, and then the minute they perform you think, 'Well, maybe he's closer than we thought.' So, who knows. If things line up, the stars align. But sometime during the season, I would definitely think so.
"If he gets enough innings under his belt to get up there and feel comfortable, because if he does, he could dominate. I mean, really dominate."
Maureen Mullen is a contributor to MLB.com, and covered the Blue Jays on Saturday.