Dalbec nabs dual Minors honors from Red Sox
Boston's No. 6 prospect named offensive and defensive Player of Year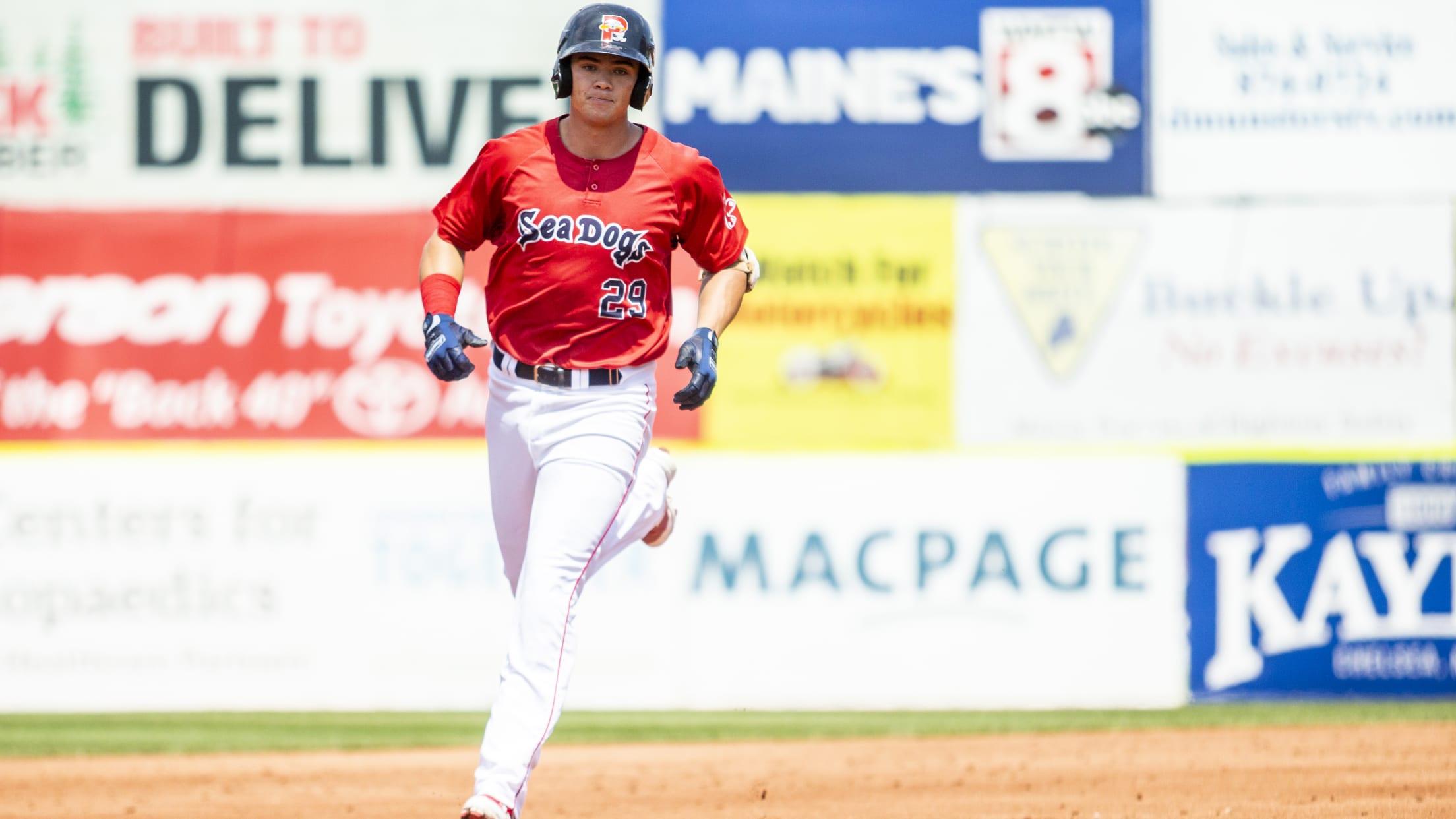 PORTLAND, ME - AUGUST 05: Bobby Dalbec #29 of the Portland Sea Dogs rounds third base after hitting a 2-run-home-run in the game against the Richmond Flying Squirrels on August 5, 2018 in Portland, ME at Hadlock Field . (Photo by Zachary Roy/Getty Images) (Zachary Roy/Getty Images)
BOSTON -- Standing on the same field where he hopes to take frequent aim at the Green Monster at some point in the near future, Red Sox prospect Bobby Dalbec got a rare double honor prior to Saturday's matchup with the Mets when he was named the organization's Minor Leaguer
BOSTON -- Standing on the same field where he hopes to take frequent aim at the Green Monster at some point in the near future, Red Sox prospect Bobby Dalbec got a rare double honor prior to Saturday's matchup with the Mets when he was named the organization's Minor Leaguer of the Year for offense and defense.
This is the first time since the Red Sox started giving out both awards in 2005 that one player has won both.
"I think it took a special performance on both sides of the ball," said Red Sox director of player development Ben Crockett. "From an evaluative standpoint, from a numbers standpoint, he stood out in both areas pretty significantly."
In 129 games in the Minors this season, including 29 at Double-A Portland, the 23-year-old third baseman belted 32 homers and had 109 RBIs in 455 at-bats.
Dalbec takes particular pride in being recognized for his defense.
"I really worked hard on my defense in the offseason and in Spring Training, and it's something I take a lot of pride in. It feels very good to be acknowledged for that," said Dalbec.
Dalbec, a right-handed hitter, is ranked sixth among Red Sox prospects by MLB Pipeline. The fourth-round pick out of Arizona in 2016 has flourished throughout his three seasons in Boston's farm system.
The breakthrough season Dalbec just had could get him an invitation to Spring Training in 2019.
"I hope so, but it's not in my control so I'm not going to stress about it or anything," said Dalbec. "I'm just going to continue to work hard and get better every day."
The Sox also recognized the following awards winners in Saturday's ceremony: RHP Denyi Reyes, Pitcher of the Year; INF/OF Kervin Suarez, Baserunner of the Year; OF Gilberto Jimenez, Latin Program Player of the Year; RHP Miguel Suero, Latin Program Pitcher of the Year.
Additionally, reliever Ryan Brasier received the Lou Gorman Award, which is given annually to the Minor League player who has demonstrated dedication and perseverance in overcoming obstacles while working his way to the Major League team.
Brasier, who pitched for the Hiroshima Carp in Japan last season, has been one of the top setup relievers for the Red Sox down the stretch.
"We're very proud of him," said Red Sox manager Alex Cora. "We're very happy we have him, and he's a testament to player operations. Somebody answered that email [that Brasier sent to all teams]. Somebody flew over there and watched him, and they decided to sign him and we're very happy he's here with us."