Ausmus coy about future as Tigers enter rebuild
GM Avila, manager will discuss 2018 plans at season's end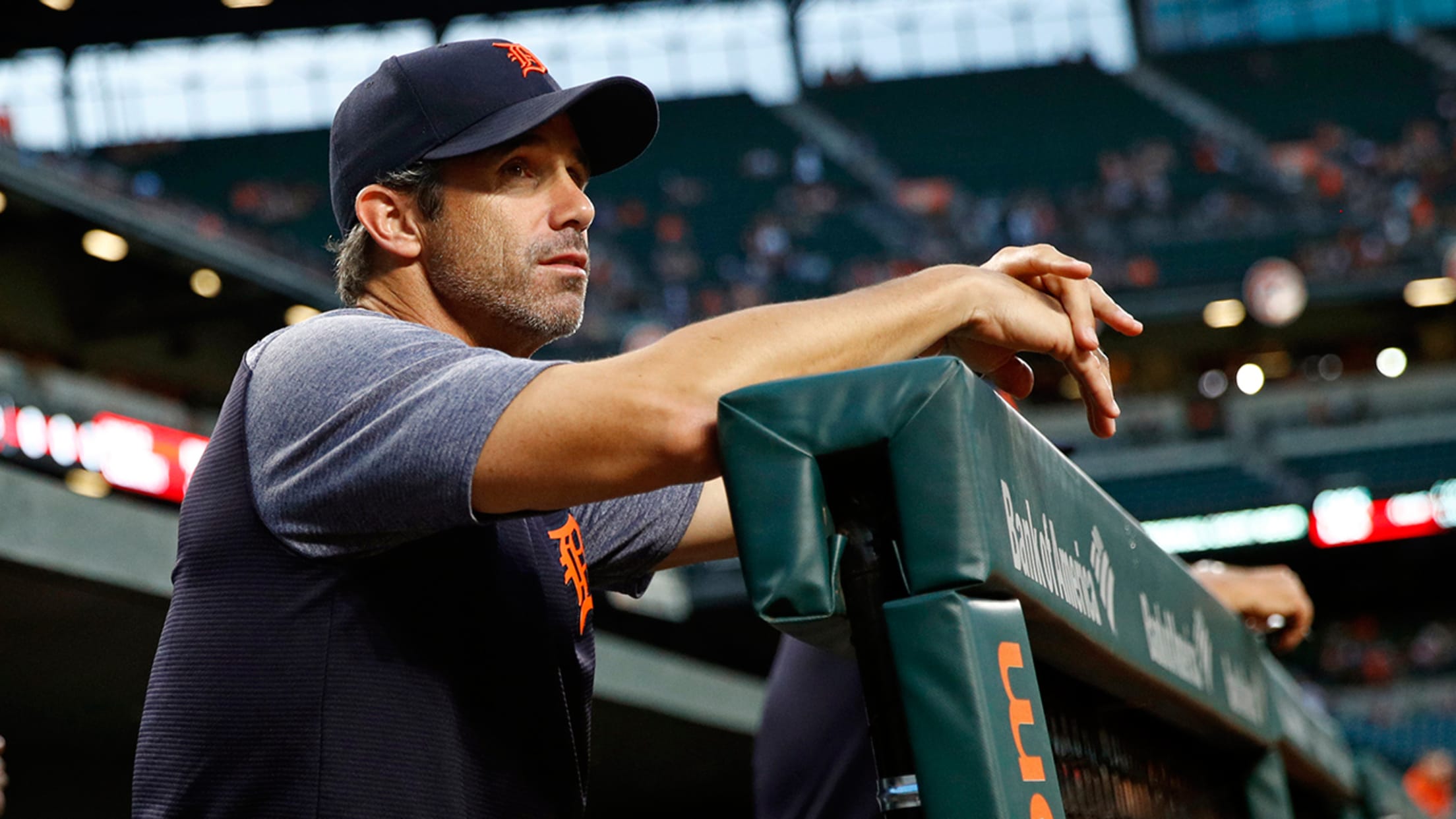 Manager Brad Ausmus has piloted the Tigers to one postseason appearance in four seasons. (AP)
DETROIT -- The remark from Brad Ausmus came at the tail end of a question about Nicholas Castellanos batting in the middle of the order and whether that would continue long-term."Next year you'll have Miggy, and Victor [Martinez] has another year, and the manager will have to figure out where
DETROIT -- The remark from Brad Ausmus came at the tail end of a question about Nicholas Castellanos batting in the middle of the order and whether that would continue long-term.
"Next year you'll have Miggy, and Victor [Martinez] has another year, and the manager will have to figure out where they all hit," Ausmus said at the end.
This fits in with his approach to just about every question about the Tigers for next year. He has referred to the team as "the Tigers" instead of "we," because there's no firm answer yet on whether he'll be a part of it. Ausmus' contract as manager expires at season's end, and unlike last year, there's no option for the team to exercise. For Ausmus to return, the Tigers would have to negotiate a new deal.
General manager Al Avila said when the season began that he would be open to negotiating a new deal during the season, but that hasn't happened. Since then, Avila has consistently said he and Ausmus will sit down around season's end, something they did in the days after last season ended to decide his option.
"Me and him will sit down at some point when we have time and things settle down and see where that goes," Avila said earlier this month.
Avila told MLB.com on Wednesday that he and Ausmus have not yet met to discuss his future.
Ausmus has generally declined to answer specific questions about his situation, a stance he has taken ever since last year. But when asked Wednesday if he believes what happens down the stretch will play into the decision on his future, he said, "I wouldn't think so."
Ausmus won't say whether he has been told anything, but he believes his fate has already been decided.
"I would imagine," Ausmus said. "I mean, Al's known me for four years."
Ausmus declined to answer a question about whether he wants to be back, though he has said recently he's not averse to managing a young team and teaching young players.
Ausmus entered Wednesday's series finale against the A's with a 312-323 record in four years as Tigers manager. The team's recent struggles have ensured this season will feature his highest loss total, surpassing a 74-87 record in 2015. His best season record-wise was his first: a 90-72 record and American League Central title in '14.
Ausmus is finishing out the final season of his original contract, signed when Avila's predecessor as GM, Dave Dombrowski, hired him to replace Jim Leyland following the Tigers' elimination in the 2013 AL Championship Series. Detroit's shift in focus since then from win-now to developing young talent makes the manager's position a much different job than what Ausmus signed up for originally, though that shift was expected to occur eventually.
When Avila picked up the option year on Ausmus' contract last fall, a few days after the Tigers' season ended just short of an AL Wild Card berth, the two sides knew a rebuild was looming. Avila pursued potential trades last offseason before a tepid trade market led him to keep the roster largely intact for one more run.
At the time, Avila said the two sides hadn't discussed a long-term extension, saying they agreed it was better for both parties to go year to year. That likely won't be a consideration this time around. Whoever manages the Tigers next year will likely want some long-term security ahead of a 2018 season that Avila acknowledged could be rough.