Rodgers opening eyes at Triple-A Fresno
Right-hander is 4-0 with 1.35 ERA in past four starts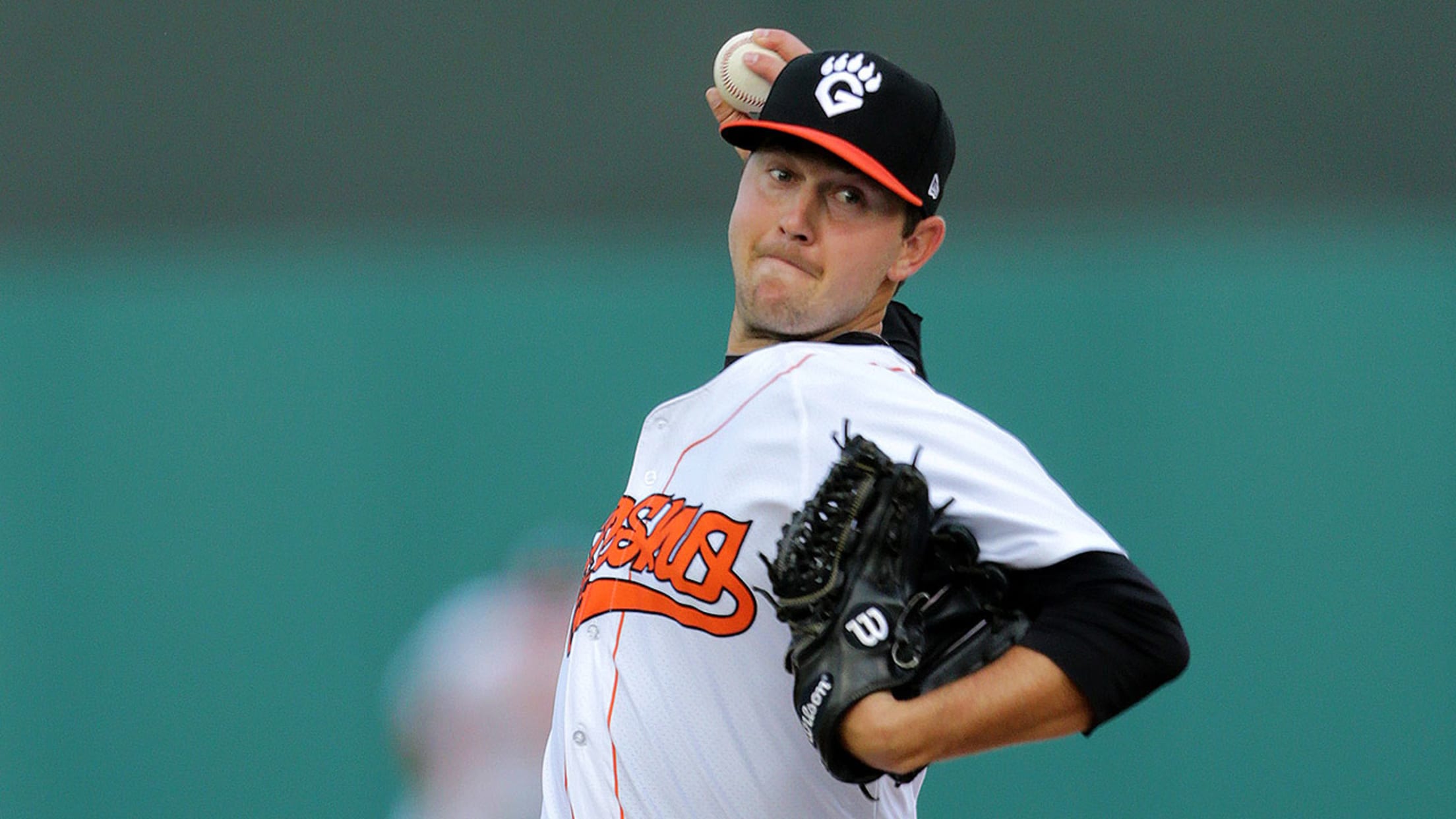 Brady Rodgers has progressed through the Astros' farm system since being drafted in 2012. (MiLB.com)
HOUSTON -- Four years after the Astros took him in the third round of the Draft out of Arizona State, right-handed pitcher Brady Rodgers is making some noise at Triple-A Fresno.Rodgers threw eight scoreless innings, allowing two hits and striking out eight batters, in Fresno's 1-0 win over Salt Lake
HOUSTON -- Four years after the Astros took him in the third round of the Draft out of Arizona State, right-handed pitcher Brady Rodgers is making some noise at Triple-A Fresno.
Rodgers threw eight scoreless innings, allowing two hits and striking out eight batters, in Fresno's 1-0 win over Salt Lake on Sunday, outdueling two-time Cy Young winner Tim Lincecum. Rodgers is 4-0 with a 1.35 ERA in his last four starts, allowing 15 hits and striking out 31 in 27 1/3 innings.
"He's been performing real well," Astros director of Minor League operations Allen Rowin said. "Last year was his first year at Triple-A, and it was probably the most difficult year of his career professionally or probably as an amateur. He had some adversity of guys hitting him around pretty good, and he and I talked and a lot of guys have been working with him, pitching coaches and front-office group, about how to better use his pitches."
Through 11 starts, Rodgers is 5-3 with a 2.90 ERA, having allowed 63 hits and only eight walks while striking out 66 in 68 1/3 innings. He went 5-12 with a 4.77 ERA in 26 games at Double-A Corpus Christi in 2014 before going 9-7 with a 4.51 ERA in 21 starts at Fresno last year.
MILB Video - Title: Rodgers notches 11th K - Url: http://www.milb.com/r/video?content_id=725276183
"He's just using his pitches better and knowing how to compete at the higher level," Rowin said. "He went through our system, on up through Double-A, and really had success everywhere he went and got to Triple-A last year, and it was the first year had got hit pretty good and he had to figure some stuff out, and he's done it."
Rodgers doesn't appear on lists of the Astros' top prospects anymore because of his age, but if he's figured something out at 25 years old, he could be in play to help the Astros sooner rather than later.
"If you have one or two good starts, it's like, 'Maybe he hasn't done anything to change what he's doing, change his skills,'" Rowin said. "He's changed his skills now from what we've seen over six weeks. He might have had one dud, but it wasn't even that bad of a start. He's had some really stellar starts at Triple-A this whole year."