Braves battling to get grip on defense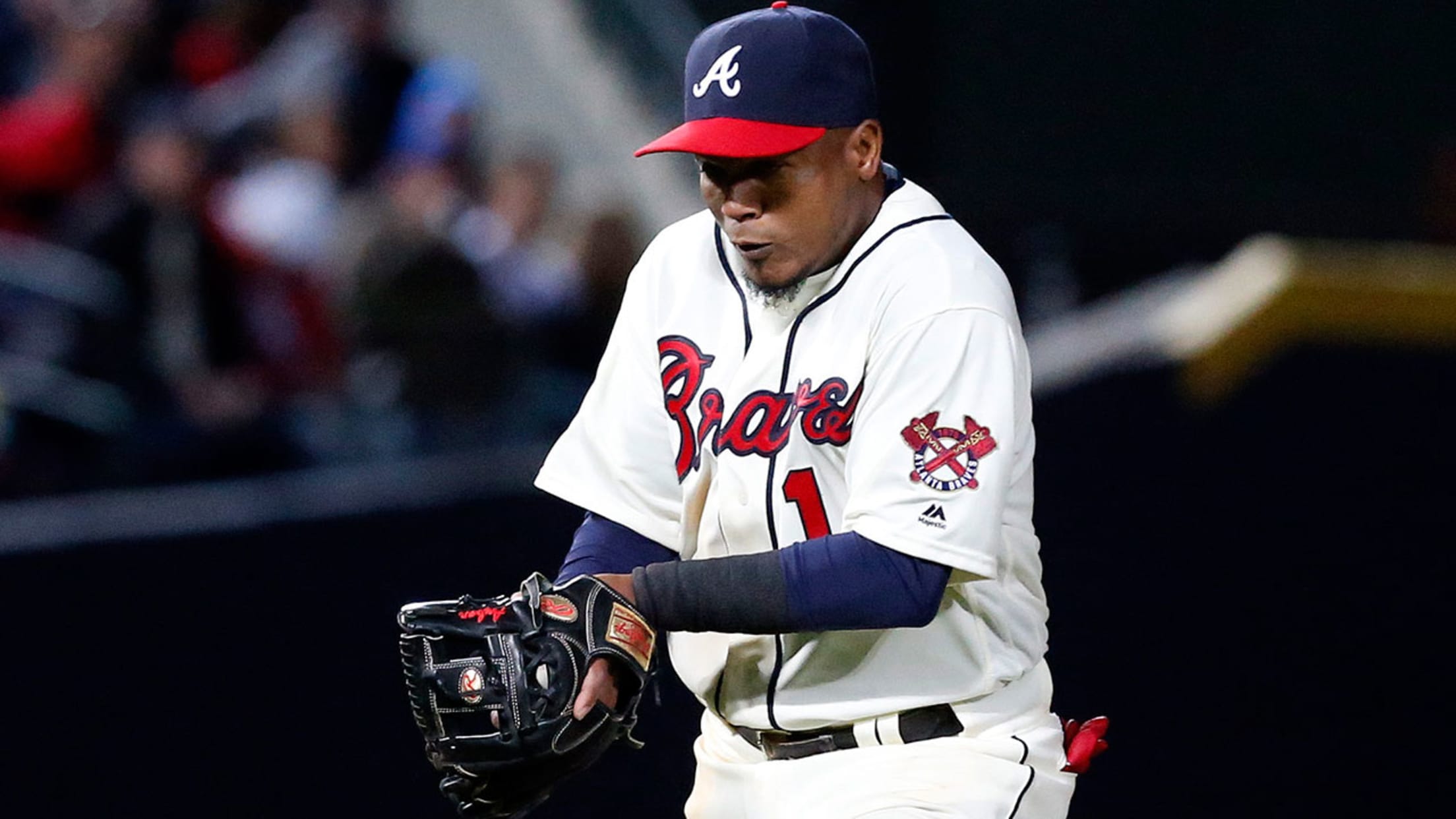 "It's something that we can rectify," Braves manager Fredi Gonzalez said of shortstop Erick Aybar's early-season struggles. (Getty Images)
ATLANTA -- A.J. Pierzynski will not continue to botch plays at the plate, and Nick Markakis will not lose too many more balls in the stadium lights. But after being burdened by costly defensive mistakes through four games, the Braves need to hope shortstop Erick Aybar does not continue providing
ATLANTA -- A.J. Pierzynski will not continue to botch plays at the plate, and Nick Markakis will not lose too many more balls in the stadium lights. But after being burdened by costly defensive mistakes through four games, the Braves need to hope shortstop Erick Aybar does not continue providing daily reminders that Andrelton Simmons is no longer around.
Though Aybar has created reason to wonder if he can be a serviceable replacement for Simmons, there was plenty of blame to go around as the Braves issued nine walks and were fortunate to be charged with only three errors during Saturday night's 12-2 loss to the Cardinals.
"We're not looking really pretty right now in all aspects of the game, offensively, defensively and pitching," manager Fredi Gonzalez said. "Today's game was not a good game for us. But it was only the fourth game of the year. Call it whatever you want. There's no panic or anything going on. But it's not really good baseball that our fans are watching right now."
Pierzynski was unable to secure a couple of throws that might have allowed the Braves to open this season with consecutive wins over the Nationals. The ever-dependable Markakis got into the act Saturday when he and center fielder Drew Stubbs fell victim to the Turner Field lights and did not see Kolten Wong's two-out fly ball before it hit the grass in the fourth inning.
At some point this season, every team will fall victim to these kinds of mistakes. But the Braves might not be able to overcome the repeated mistakes by Aybar, who has been officially tagged with two of the six errors charged against the Braves in four games.
There's no doubt that highly regarded pitching prospects -- Sean Newcomb and Chris Ellis -- were the primary targets when the Braves traded Simmons to the Angels in November. But the package also included Aybar, whom the team viewed as a veteran shortstop with enough of an offensive upgrade to overcome the fact that he, like most other shortstops, could not match Simmons' defensive excellence.
But the early returns have not been favorable for Aybar, who was fortunate to not be charged with an error when he grabbed Stephen Piscotty's two-out, bad-hop chopper and made an errant throw to first base that allowed the Cardinals to tally the last of the five runs -- four earned -- Julio Teheran surrendered over four innings Saturday. Aybar had also drawn Gonzalez's ire Wednesday when an errant two-out throw to first base helped the Nationals tally the first of their three runs during the decisive seventh inning.
Aybar was charged with an error when he fumbled Aledmys Diaz's potential double-play grounder during St. Louis' two-run fifth inning on Saturday. Then to top things off, his inability to record an out on Eric Fryer's two-out grounder allowed the Cardinals to throw additional salt in the wound with two more runs in the ninth.
Though Gonzalez has been frustrated by what he has seen, he has not yet been able to pinpoint why Aybar has had such a rough first week with the Braves.
"I don't know, because you've never seen enough of him live," Gonzalez said. "You've seen the videos, and sometimes videos don't give you a good read. Right now, maybe the league is different and the field he is playing on [is different]. But it's something that we can rectify."
Mark Bowman is a reporter for MLB.com.