O'Flaherty placed on DL with right knee strain
Weber called up Monday to give Braves' bullpen more depth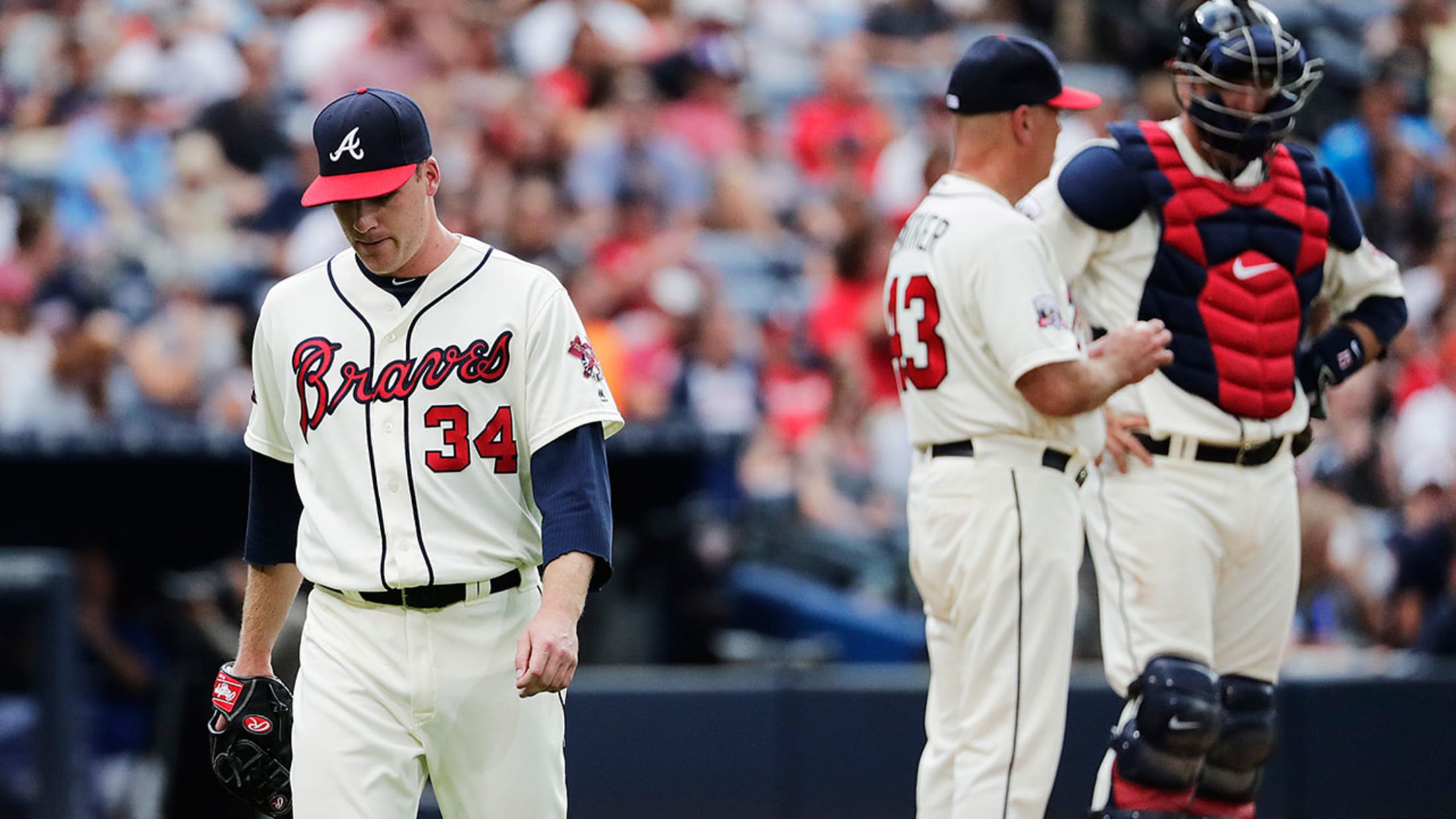 After pitching two innings against the Cubs on Saturday, left-hander Eric O'Flaherty experienced swelling in his right knee. (AP)
ATLANTA -- Given that they were already carrying an extra reliever, the Braves had the option to wait a few days to determine how soon Eric O'Flaherty might be available out of the bullpen again. After their pitching staff was taxed during the final two games of this past weekend's
ATLANTA -- Given that they were already carrying an extra reliever, the Braves had the option to wait a few days to determine how soon Eric O'Flaherty might be available out of the bullpen again. After their pitching staff was taxed during the final two games of this past weekend's series against the Cubs, though, they were forced to shut O'Flaherty down for at least the next two weeks.
The left-hander was placed on the 15-day disabled list with a right knee strain, and Ryan Weber was recalled from Triple-A Gwinnett ahead of Monday's 9-8 loss to the Reds at Turner Field. Weber pitched the sixth inning for the Braves, allowing three hits and two earned runs.
"[The knee] is just stiff and sore right now," O'Flaherty said. "The way they're talking, it should be good in four to five days as far as all that goes. But they can't be waiting around for me right now."
Uncertainty surrounding the rotation has increased recently, as the Braves have placed Mike Foltynewicz and Williams Perez on the DL within the past 10 days. It also hasn't helped that the previously-reliable Matt Wisler has lasted just four innings in both of his past two starts, allowing a combined 13 earned runs. Wisler's latest brief outing Saturday led to O'Flaherty making a two-inning appearance. Prior to entering the game, he felt something pop in his right knee while stretching in the bullpen.
"It didn't feel too bad when I pitched," O'Flaherty said. "So I went out and did everything normal, and it kind of swelled up that night."
A MRI showed no meniscus or ligament damage, and the Braves' trainers told O'Flaherty he could be available to throw again by the end of this week. But Atlanta was not in position to go short-handed after having to rely heavily on their bullpen after its starting pitchers (Wisler and John Gant) exited before the end of the fifth inning on over its last two games.
Though the Braves entered Monday with eight pitchers in their bullpen, they certainly wanted to avoid using Casey Kelly and Chris Withrow, who both threw at least 30 pitches on Sunday. Hunter Cervenka could have also fit into this category after combining to throw 44 pitches over the final two games of the Cubs' series.
Weber's callup will provide a fresh arm to the bullpen, as well as a long-relief option.
ODDS AND ENDS
• Braves manager Brian Snitker said he simply felt "it was time" to put Mallex Smith in the leadoff spot and bat Ender Inciarte second Monday against the Reds. Though he likely won't use this arrangement when his team faces a left-handed starting pitcher, Snitker indicated he wants to get a feel for how Smith performs in the leadoff spot. The rookie has spent most of the past month batting ninth, while Inciarte has occupied the leadoff spot.
• According to MLB.com's Jim Callis, the Braves gave 11th-round draft pick Matt Rowland a $400,000 signing bonus. Any bonus that exceeds $100,000 and is given to a player drafted after the 10th round goes toward the signing team's salary bonus pool. The Braves positioned themselves to provide this over-slot bonus by selecting five consecutive college seniors from rounds 6-10. These bonuses will count against the pool, but because the seniors do not have leverage, there's a chance none will exceed $25,000.
Mark Bowman has covered the Braves for MLB.com since 2001.